Haar kar jeetne waale ko Baazigar kehte hain aur Jeet kar haarne waale ko TEAM INDIA kehte hain.." – these were the lines that I was typing while India needed 25 from 29 balls and when Sachin got out !  But thanks to Jadeja and Dhoni who showed why exactly they are the costliest players in the Indian Premiere League.
A great test match overall. Even after a day being lost, nobody would have thought that we could actually have a result from the match and that too with an ever-exciting finish to the game. All credits to the Aussies for a great great third session today. Siddle and Starc were steaming in even after bowling long spells. They showed great commitment and bowled according to the field. During these overs only no boundary was hit for over 6 overs ! They – especially Siddle – troubled Dhoni a lot, beating him almost every ball. Sachin's dismissal was sad, frankly speaking I didn't expect any dive from the veteran. And then it was all Chennai Super Kings show at the PCA. Jadeja started smacking balls over the boundary ropes in long on and long off. Looking at him Dhoni too went behind Starc and hit him for 3 consecutive boundaries that sealed the match and the series for team India !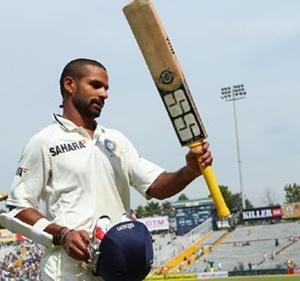 Well a lot of positives for both the teams this game. Biggest one being Shikhar Dhawan's debut and sublime batting. Murali Vijay's in form and 3rd century. Great bowling by the Indians in the whole match, but my pick would be Bhuvneshwar Kumar for taking 3 crucial wickets in the second innings that help India sniff a win. As for Australia it was their tail that showed that it can wag at times and that too very well ! Mitchel Starc missed out on a century but certainly showed that he can bat well.
All in all a great match. Four days of paisa-vasool cricket action. And my achievement ? Well, my prediction was 90% correct – all except Pujara played (I had not selected him due to his knee injury rumours) 
So waiting for the next match that will being on Friday and will take place at Feroz Shah Kotla, Delhi.