POTUS as he is known worldwide, President Obama carries out a weekly address on critical and important issues in the country. Wait a minute, this is exactly like the Mann ki Baat we have every week by the Prime Minister, so even this is 'copied' ? Let's not discuss this now, there's no point in it. The only difference I see between Obama's Weekly Address and Modi's Mann ki Baat is Modi addresses on the Radio through the state-run All India Radio, while Obama release videos for the weekly address. None the less just like the many programs launched by Modi in his Mann ki Baat, Obama has come up with an ambitious plan "Computer Science for All" or "CS for All".
Computer Science for all is a plan where President Obama wants to gives access to Computer Science for all the school children. The reason behind this is that most of the businesses have recognized Computer Science as a basic skill necessary for employment. And for this the President has pledged a budget of $4 billion in the funding the states to provide support and training for teachers. Doing so more number of children will get access to computer science and learn it as it will have an impact of their future since it is dubbed as the new 'basic' skill.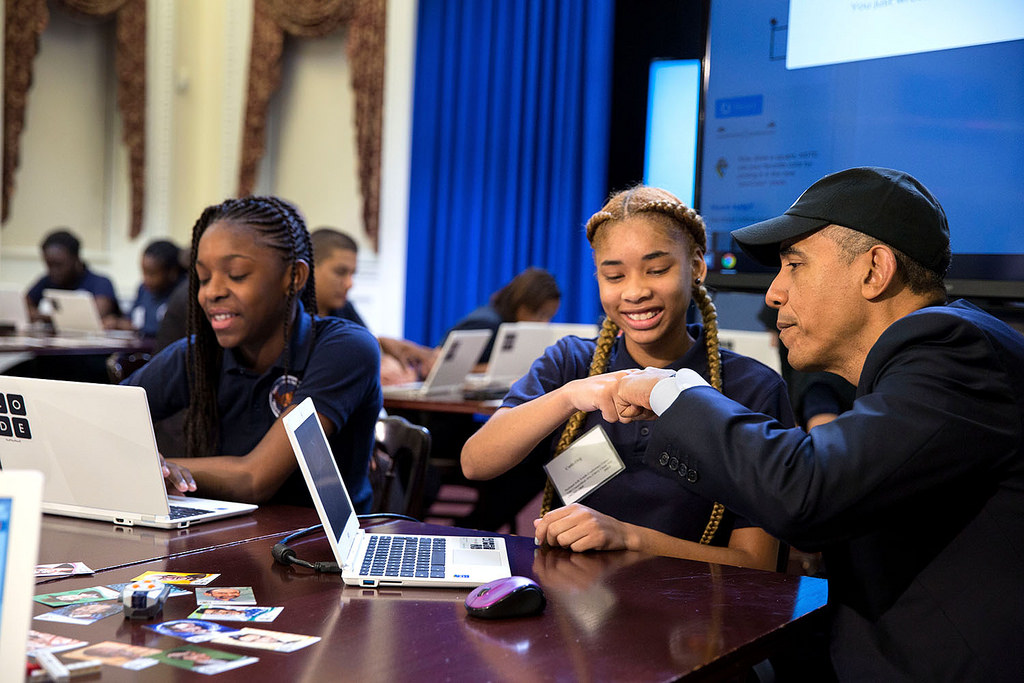 So how is there a 'Desi' impact on Obama's Computer Science for all ?
Well, for this initiative a lot of corporates are pledging their support including the likes of Salesforce,Google and Cartoon Network, yes Cartoon Network. And the reason I mentioned the 'Desi' connection is because many of the Indian Software Exporters providing the support to the cause. The Big names in the Indian Software sphere – Tata Consultancy Services (TCS), Infosys and Wipro have pledged support to the Computer Science for All initiative. TCS and Infosys have made investments of about $120 million to support and train computer science teachers in schools. While Wipro announced a $2.8 million investment in partnership with the Michigan University. Source
And how is this initiative beneficial ?
Firstly, most of the schools kids will have a feel of what computer science and coding is all about. And when you are exposed to something at a young age, you tend to be good at it in the future.
Since it will be the school children who would get the benefit, many girls would have developed interest in computer science and coding. This would address a major problem of gender stereotype that is imminent in the Software industry as more and more girls will get into coding, something which is already being worked upon by initiatives like women only Hackathons to increase women participation.
Also with the Desi connection, it is a way Indians are giving back to the community. They are not only providing monetary support but are ensuring that more and more people are getting into Computer Science thus creating jobs at some or the other level.
Lastly, it will be a great way for the teachers to enhance their skills with the latest that is happening around. This will have a good impact on their employ-ability too, so in the end it's a win-win situation for all.
Computer Science for all is a great initiative that will ensure that everyone has a basic skill of Computer science and more and more people join coding at a later stage, and with the desi connection, it will benefit both the countries and the community too and have a positive impact on all.
This blog post is inspired by the blogging marathon hosted on IndiBlogger for the launch of the #Fantastico Zica from Tata Motors. You can apply for a test drive of the hatchback Zica today.