With all of having smartphones today, we are constantly on the lookout to make more use of it. We browse through the App Store in case of Apple and Play Store in case of Android to find some great application that can help you get more from your smart phone. If you are interested in art, you will look for artistic apps that help you draw on the move. If you are a business freak, you want to have an app that gives you the latest updates on markets. So you see everyone wants apps. Once you download an app, you might want to review / rate it. Some apps might bug you until you provide a rating while others just wait till your provide a rating. You downloaded an app, didn't like it, gave it a 1 star rating and done. Have you ever wondered what impact it would have on the developer of the app ? The impact is huge if there's a single developer instead of a company.

Well, speaking as a developer myself. It's very hard to see a 1/2 star rating given to an app if it's not buggy. Many users simply download the app without reading the description and then simply give it a poor rating. Why ? Because it wasn't of their use, if that was the case they should have read the description ! That 1 star rating of yours has a huge negative impact not only on the app but on the developer also who is constantly working to improve their app. I'm in no way saying don't give 1 star rating. Give it, if it's not working, or giving the wrong output. Don't give it because you didn't like the appearance of the app or maybe the background color.
Also, giving a 1 star rating is fine if you have given your review. In my experience, people have given 1 / 2 star ratings without any review. Ok so you didn't like my app, but then at least give a reason why you didn't like it ? It has an impact on the developer who has no clue why his app got a 1 / 2 star rating. In such cases you are not giving the developer a chance to improve. I have had experiences where the user left a poor rating, with a valid reason. I then improvised on the app and added that feature and the user immediately changed his rating ! We want users like that who give constructive reviews and ratings to an app.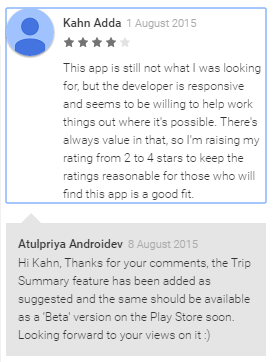 So the next time you download an application make sure you read the following:
Description: Read properly as to what the app does and what it doesn't. Don't download the app blindly going by its name or icon and then leave a poor rating because it wasn't something that you wanted !
Screenshots: All the apps have screenshots, which you can see before download the application. If you don't find it good enough, don't download it.
Review: Read the ratings and review given by other users. With this you get an idea of what the app does. Read the 1 star / 2 star reviews to get the real insight. Now if you download the app and leave 1 star rating without any review, it will have a negative impact of the app.
Well, now that you have read the how your 1 star rating for an app without any review / reason can have a negative impact on the developer. Since I've faced this issue, I thought to write it and ensure that the always, always give an explanation for your ratings. It will help the developer understand the issue and improve his application.
This blog post is inspired by the blogging marathon hosted on IndiBlogger for the launch of the #Fantastico Zica from Tata Motors. You can apply for a test drive of the hatchback Zica today.