The highlight of our country is the vast cultural and geographical diversity. We have people following different religions and speaking different languages. Thanks to the rising demands in terms of jobs that people are moving to different parts of the country. And when these people move, it's not only their household items that move. They bring with them their culture, way of living and the secret recipes along with them.
So from a Foodie's point of view, one of the best things that has happened due to people moving is a vast variety of food being made available in one's own city ! So I no more need to travel to Amritsar to get the perfect Chole Kulche or move to Bangalore for that perfect filter coffee or in fact travel to Kolkata for the famous mishti. Moreover with the pay cheques getting fatter, people splurge while dining out to get these authentic flavors. However, many (including me) often look for great deals at restaurants and cafes before stepping out. But it's very rare that you get a 'working' and 'valid' deal for your meal. So how do you get unbeatable discounts at your favorite restaurants ? The answer lies in The Bluebook. Don't worry it isn't a physical book !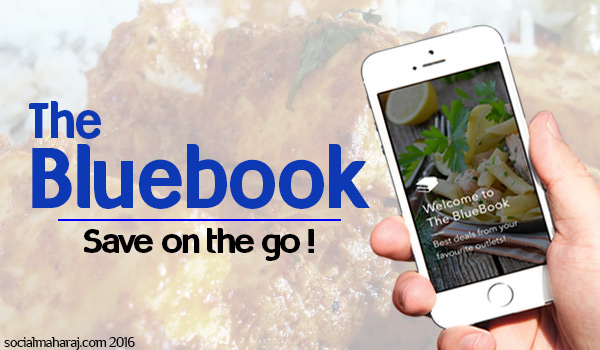 Save more with The BlueBook
The Bluebook – previously a physical book with coupons – has garnered a great response for its services. The app not only gets you discounts at your favorite restaurant, but it also helps you save big at a spa and even helps you save while you play ! From food, wellness, health to entertainment, the Bluebook gives you unbeatable discounts across various categories such as Microbreweries, Fine Dine, Cafes, Eat Out, Spa and Salon. The app which currently operates in Bangalore, Gurgaon and Hyderabad has tied up with more than 150+ restaurants only in Bangalore (and many more are being added as I'm writing this post) There are 500+ exclusive coupons that are accepted at major outlets. The app claims to help an average user save over 5000Rs annually, which  in my opinion is certainly a handsome saving.
How to use the BlueBook App
The BlueBook app is available on both Android and iOS platforms and the installation is a breeze. Once installed, the user needs to signup using their mobile number and verify the same with a OTP. One thing to note here is that the BlueBook is a subscription based service. So before you proceed, you need to subscribe to their 'pack' that is currently priced at 99Rs for a month. So you would be wondering why subscribe ? Well in my opinion, the amount you are paying to subscribe is way less than the savings you will accumulate by dining out. Also, the service is accepted at big outlets like SVM, Ohri's, Jewel of Nizam and other outlets. Moreover the discounts offered at these outlets are pretty good and are guaranteed. So subscribing to Bluebook is worth.
Once subscribed, you can search for restaurants based on your locality. After you have found your favorite food joint, simply select it and view the offers. From the list of offers available, choose the one that suits you the best and hit redeem.The staff at the restaurant will enter a unique pin and give you the discount on your bill. The entire redemption process is a breeze and redeeming the same at the restaurant is quick. No need of printouts, SMSs or anything of that sort, simply flash your smart phone and save as you relish your favorite food. What more, these deals are valid all around the year including weekends. Yes, you heard it right, you can enjoy a perfect meal with your friends and family on a Sunday too !
Should you get the Bluebook ?
Well yes, the app is definitely worth your time and money. For starters, you can start with their 'chotu' subscription for a month and check the service. The app is good and does the job. However, since the service is still gathering ground the number of restaurants is relatively low. Based on my experience in Hyderabad, there are limited options in areas like Ameerpet, Begumpet while a lot of options in HiTech City and surrounding areas. Even though the number is less, they have got some of the best names on board – Ohris, BlueFox, Minerva Grand, Dakshin Mandapa, Eagle Boys Pizza and many more. With some of the best restaurants, spas and gaming arenas available, the BlueBook deserves to stay in your smart phone and help you save as you fill your tummy 😉