Remember a few months back, you saw everyone's profile pics having the rainbow filter on Facebook ? Well most of the users who did that were probably not even aware of why they were doing it. Filters on Facebook, Snapchat stories, Prisma and all those post how should be Jim were a craze back then. And that's ones of the best part of Social Media, things spread like fire. And I'm sure you would have come across posts where people are asking for anonymous feedback ? SayAt.me has taken over the Internet in a matter of few days. So this post will talk more about SayAt.Me.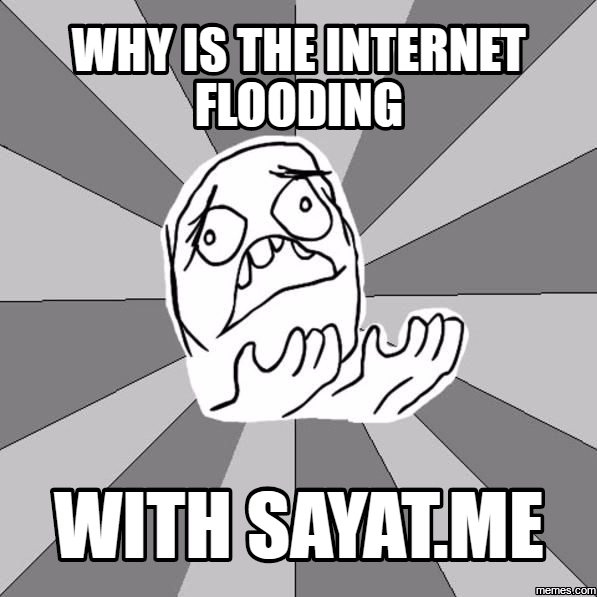 What is SayAt.me
First of all it's not sayatme, it's SayAt.Me a perfect example of domain hacking. This is an online service that allows you to capture anonymous feedback. So all you have to do is, sign up with any of your social media accounts like Facebook or Twitter. Once sign up you will get a personalised url that you can share. People then visit your link and feedback that are private. There's also an option to share feedback that you receive. In all it's a good service that is doing just what it says – anonymous feedback.
So why SayAt.Me is suddenly the new fad ?
Well who doesn't want feedback !? Everyone wants to know how and what others think of them. But I'm pretty sure, if you know who said what about you it would probably lead to sour relationships. Hence SayAt.Me has become the talk of the town. It's a great tool to help you gather anonymous feedback from people. Since the entire world is on Facebook, everyone from your nearby mechanic to the local politician are asking for anonymous feedback.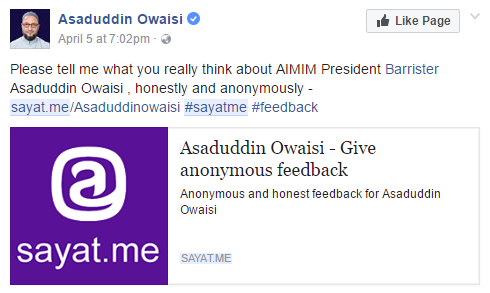 Now why did SayAt.Me suddenly gain this huge popularity ?
A while back I had written a post about Bhed Chaal on Facebook – which was about Facebook's privacy policy. The post went viral to such an extent that Facebook had to issue a statement. On similar lines, few people started using SayAt.Me and posted the links on Facebook. Since it was something new, everyone wanted to try it out. And I'm pretty sure, by the time you are reading this you would have seen at least a couple of posts about SayAt.Me on your TL. In short the internet is over flowing with these links and I'm sure the founders would be wear a big smile !
Have you used SayAt.Me ?
I feel this can be a great tool for companies too. They can use this effectively to collect anonymous feedback about their products / services. But things are different at the moment. Every other person is currently creating a link and sharing on their social media account. Well I'm not on this bandwagon yet and probably the below meme sums up most of us just perfectly !
Anyways, have you used the SayAt.Me ? What do you think about it ? More importantly why did you use it ? We would love to know what you feel about this.  Let us know your thoughts in the comments below.