Gone are the days when people used to retire from a 9-5 job sitting on the same desk for years. The youth today want change and that too at a quick pace. Everybody wants to follow their passion and be their own boss. Thanks to this we are seeing many people take up jobs that they love to do. Hobbies like Blogging, Vlogging, Film Making are no more just hobbies, they are growing careers. Thanks to technology that it is enabling millennials to do what they love. With the help of Internet and Social Media, people are now able to reach the masses. A lot of good content is being generated which is very well accepted by the audience. Who would have thought that small web series will be a hit compared to a conventional TV show !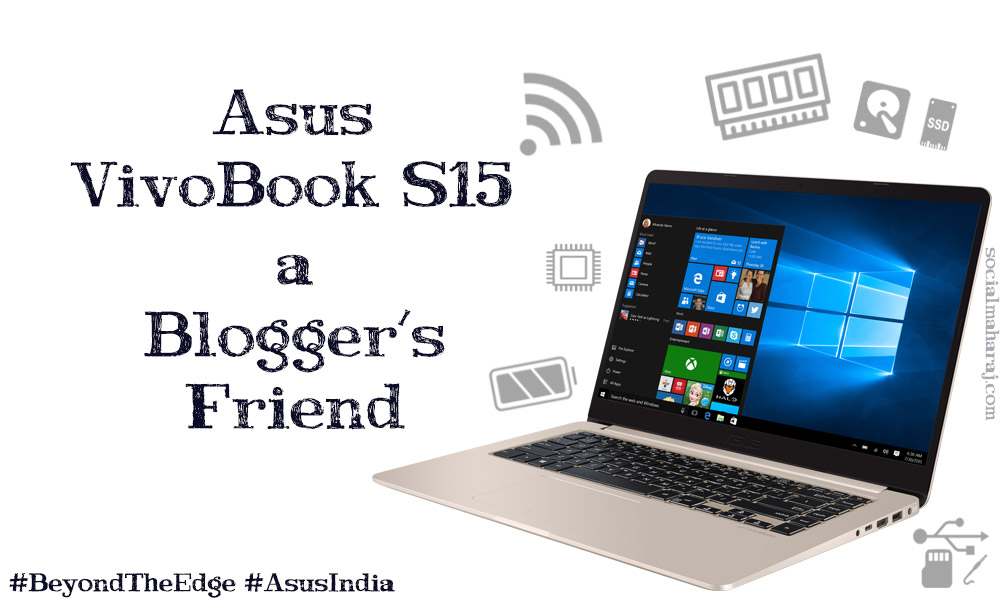 When you are a blogger, vlogger or an entrepreneur for that matter, people often fail to recognize the hard work that you put in. I always say, such people are a one man army. Every role from the CEO, CFO, Sales and Marketing to the peon is played by one person. For folks on Social Media front know that it's not at all easy to write posts or post videos. We need to work out on the content, then come up with the images, create the content, post the content and even market it so that it reaches the right people. So when you undertake so many tasks, you want your laptop / computer to do all of it with ease. Steps in Asus India with their latest offering in the portable computing arena – the VivoBook S15.
Why Would I want the VivoBook S15 ? – Read on for answer #BeyondTheEdge
Aimed at Entrepreneurs, Bloggers and YouTubers, the VivoBook S15 is designed keeping in mind the work these people do on a daily basis. With a powerful processor under the hood, a vibrant screen and an enduring battery, this is your perfect companion. Being a Blogger, I often make use of software to transfer and edit photos from my Nikon D5200 and write and publish posts. On the move, I always prefer a light weight laptop with a durable battery on which I can work irrespective of where I am – at the airport lounge or in my balcony. Further, being a blogger or Youtuber you got to have great connectivity options so that you stay connected with your reader and fans. This laptop from Asus is fully loaded, but I'll talk about the features that stood out for me.
Astounding Design
Taking cues from its Flamboyant, Elite series of laptops – the Zenbook, Asus VivoBook S15 too has a great design. The design is minimalistic, futuristic and graceful. The VivoBook S15 is comes with a 15.6 inches Full HD screen with 178 wide view angle. The screen feels larger than life, thanks to the ultra slim bezels at 7.8mm which Asus terms as NanoEdge. The brushed metal finish on the Asus VivoBook S15 ensures that it grabs the attention where ever you go. Weighing at just 1.7Kgs this Thin-And-Light Ultrabook is one of the lightest among the others in the segment. With this astounding design and feather weight the VivoBook S15 is the perfect companion for anyone who is always on the move.
More Power under the hood
The VivoBook S15 is the right mix of Beauty with Brains, under the beautifully crafted laptop is a powerful processor that handle anything you throw at it. Powered by the 8th generation top of the line i7 Intel processors, the S15 is a beast. From handling day-to-day tasks like sending emails or making presentations to the power-hungry process of rending ultra HD videos, editing photos in Light Room the VivoBook S15 can do it all. The i7 processor is optimised to consume less power thus providing a prolonged battery life. This powerful processor is mated with an even better Nvidia MX150 Graphics Card which provides better performance compared to its rivals. So no matter what you want to do – view cat videos, play FarCry or render your GoPro videos – the VivoBook S15 is there for you.
Enduring Battery with Supercharing
With beauty and brains, you also need endurance. What's the use of a laptop if you cannot step out of the house without the charger ? As they say, with great power comes great responsibility, the folks at Asus have taken this seriously. The Asus VivoBook S15 houses a 3-cell Lithium Battery that boasts of upto 8Hrs of battery backup. Not only the power but the speed of charging is fast too. The batter comes with supercharging technology which Asus claims, can charge 60% with just 49 minutes of charge ! That's close to 6Hrs charge in less than an hour, that's what you need. This is quite helpful when you are at the airport or in the train, an hour's charge is all you need to get going.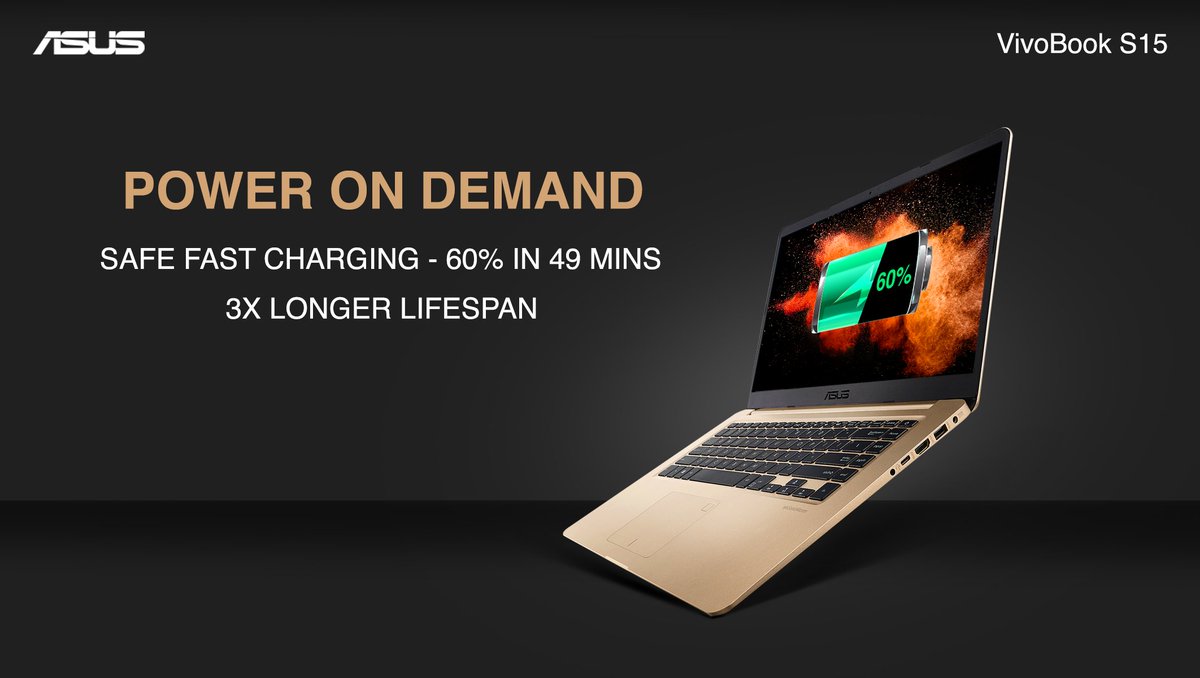 Go #BeyondTheEdge with the #AsusIndia VivoBook S15
Asus is a trusted name when it comes to computing. The Zenbook was a thumping success and I'm sure the VivoBook series will be on the same lines. The VivoBook S15 has got everything that you as a blogger, vlogger or an entrepreneur would need. The range of VivoBook starts from a little over 50,000 Rs and is worth every penny. Asus India have gone a step further and are providing a comprehensive 2 Years Free global warranty. So that's all about the VivoBook S15, the features I liked and how it will be useful to content creators and entrepreneurs. If you have already used this laptop or feel that I've missed out on anything, please mention in the comments below or tweet to me at @atulmaharaj