WhatsApp groups serve an important purpose for us all. They are an excellent way to keep in touch with loved ones and know what's happening in their lives. For all the good, such groups have their negatives as well – they are a viral source of fake news. One such rumor that I received claimed that Combiflam is banned and went on to give the reasons. The name Combiflam rang a bell. It was something I'd used in the past and it was quite effective. Not one to believe everything I read on WhatsApp, I decided to check if there was any truth to this rumor. I surely had to because Combiflam was in my medicine box!
The search for the truth begins
I did a quick check of Combiflam online. I found out that Combiflam is a non-steroidal, anti-inflammatory drug that acts as a mediator to suppress hormones that cause pain and inflammation in the body, head, etc. As they are common problems, I'm sure the tablet must be in use in every household. So, getting to the truth and writing about it would not only help me, but help others as well.
Combiflam is not banned – that's a fact!
My 1st step of fact-checking started at my local pharmacy. The pharmacist claimed that Combiflam was available on prescription. He had heard about the ban and believed that it was just a vicious rumor circulating online. According to him, Combiflam was a safe drug to consume for pain management.
While doing my research, I came across a TV show called Khabar Pakki Hai which investigates about various topics going viral on social media. They busted many myths about Combiflam in the episode. The show had an eminent authority from the Drug Controller General of India (DCGI). She addressed all the rumors and revealed how baseless they really are.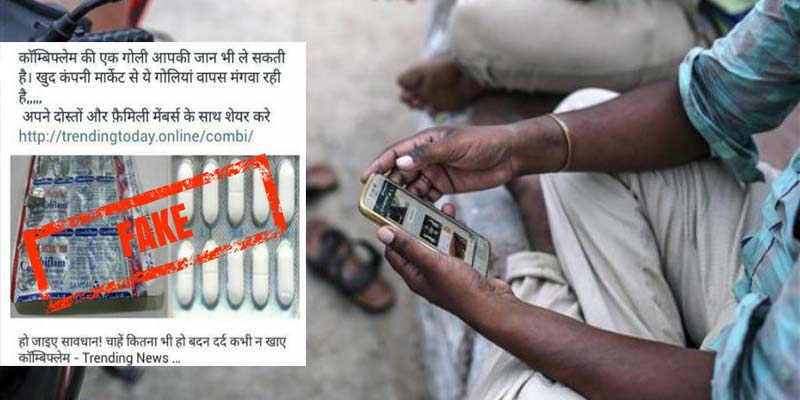 Finally, I felt that I should get the info from the horse's mouth. The brand itself. I found a helpline number for Sanofi (that's the company that makes Combiflam) and took up my queries with them. The phone connected me to a customer care executive who patiently answered all my queries. He assured me that Combiflam is available in the market and the news I'd heard was false. He mentioned that Combination was available and trusted in many countries including UK, Australia, New Zealand, and more.
The menace of fake news is real
WhatsApp has become an easy medium to spread myths and incorrect news. The unfortunate fact is that Indians fall prey to such rumors easily and react in very strong ways – from smearing a reputable brand to rioting on the streets – and we have seen all of them.
One needs to scrutinize all information – on WhatsApp, social media, email, etc. One shouldn't trust information blindly without verification. I am constantly bombarded with information and 'news' daily on my WhatsApp groups. I caution everyone to use their judgment. It is best to collect the facts before trusting something – especially forwarding it blindly online. In fact, WhatsApp itself is creating awareness among consumers to use the platform responsibly. And to think twice before spreading rumors.
Heard the rumor that Combiflam is banned? What were your thoughts? Comment below or tweet to me at @Atulmaharaj and tell me how you keep fake news and rumors at bay.