During my Kerala trip some time back, I did spend a night in Fort Kochi before navigating to Munnar and Alleppey. While in Fort Kochi I did fall ill for a brief time after I came back from Alleppey, maybe it was because of the heat and the Activa ride. Anyways, I also met one of my school friends who's a very accomplished doctor now. Alongside I also did Cafe Hopping in Fort Kochi and managed to cover only 3 cafes. Fort Kochi area is quite happening. Last time I was in Kochi during the Tata Motors Tata Nexon Bloggers Drive where we stayed at the magnificent JW Marriott near Lulu Mall. One place that I did visit while in Fort Kochi was Indian Naval Maritime Museum. Why ? Well my interest in planes and ships (everything related to travel) pulled me here. So here's a quick tour of the Indian Naval Maritime Museum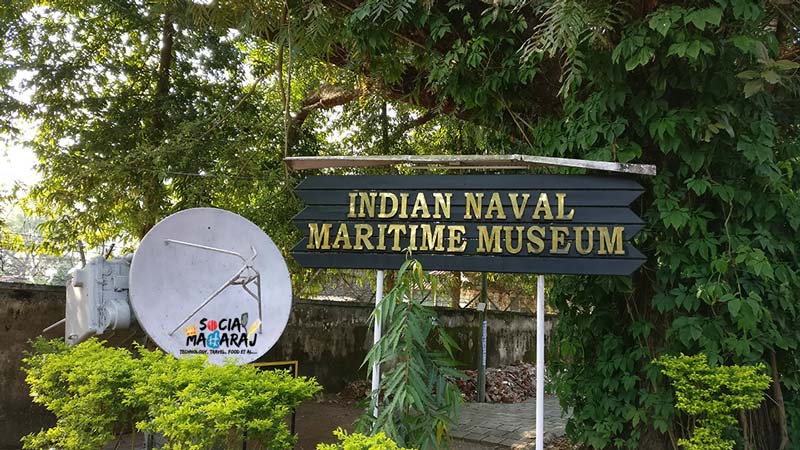 Indian Naval Maritime Museum
The Indian Naval Maritime Museum or SNC Museum is located on the KJ Hershel Road and it easy to spot. There are two huge radars at the entrance. Kochi is also home to INS Dronacharya which is the Indian Navy's gunnery school. The campus is huge and the area is just about it. Moving on, I went walking from my hotel in Fort Kochi to the museum – about 2kms – and that was a bad decision. It was extremely hot and humid and I'm not used to that type of weather. Eventually took an Uber back to the hotel.
Entry at the Maritime Museum
The entry to the museum is ticketed and the ticket cost is quite moderate. The ticket cost of Indian Naval Maritime Museum is Rs 40 and there is extra charge for the camera. However your mobile camera is free. Once inside, you are greeted with the artillery in the garden. From the Machine Guns to Torpedoes, there's every thing. At the fag end of the museum you can spot replicas of many warships of the Indian Navy. There's also an actual Navy Helicopter placed along with other artillery.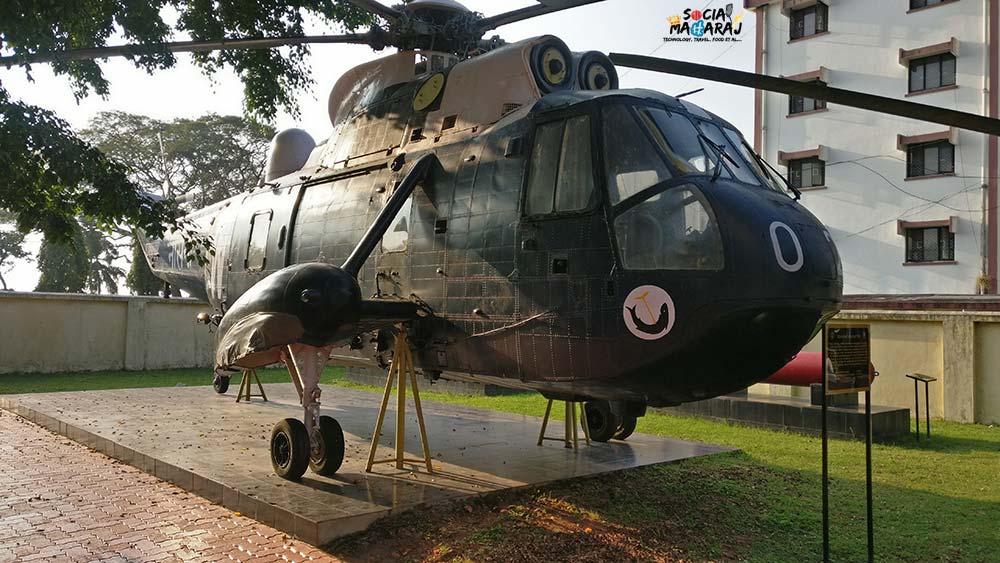 The Left Side
The Indian Naval Maritime Museum has two side to it. Once you enter, the one on the left talks about the history of India and the naval landscape. It depicts era from the time India was discovered to a lot of wars that were fought at sea. There's depiction of a lot of ship building facilities and the stories behind it. This part of the museum also pays tribute to INS Gaj 1973 and has some compass and tools on display. Also to note, the AC here is quite strong, contrast from the weather outside.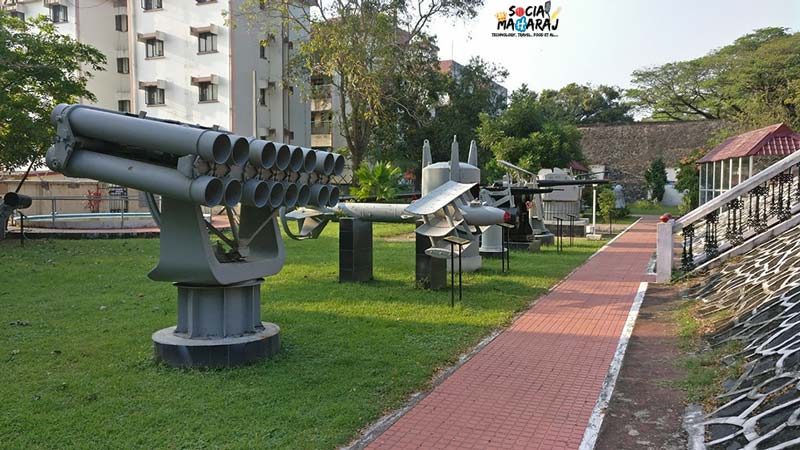 The Right Side
The other half of the Maritime Museum talks about the history of the Indian Navy. Right from the days it was only about a few ships to the modern day fleet. It depicts the scenes from the Indian Navy's Operation Vijay very minutely and if you are interest to know the history of Goa liberation, this is great place to be.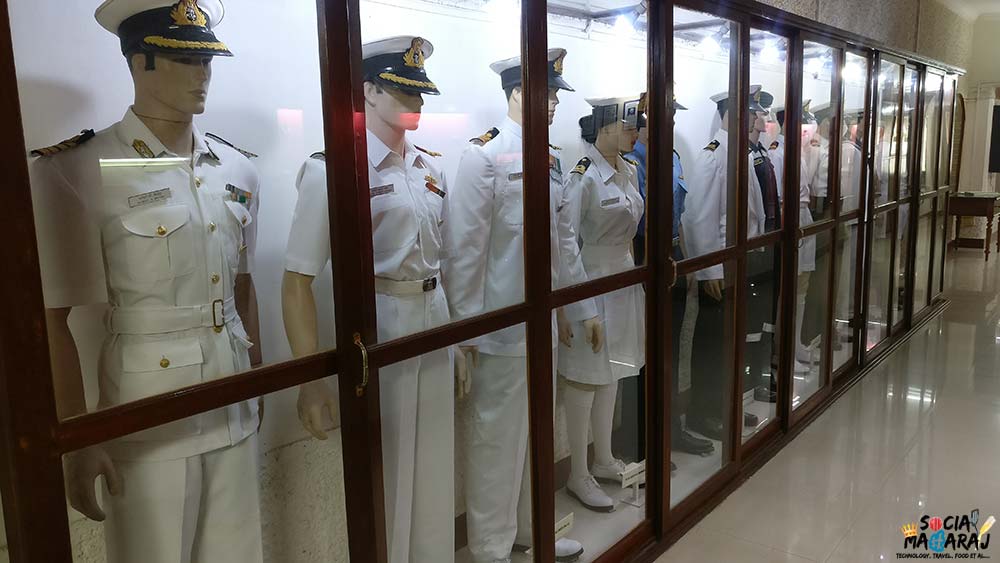 Apart from this the museum also shows the various ranks in the navy along with the badges and their uniforms. This was something new to me and I spent quite sometime here. One thing that I noticed was the naval map of the International Fleet Review of 2016 that I witnessed in Visakhapatnam. Looking at the map, I didn't realize that there were so many ships ! A good experience in the end.
Maritime Museum Kochi – should you visit ?
If you are in Kochi – Fort Kochi to be specific – you could spend time here. Only if you have extra time to spare. The museum is quite small and it won't take more than 30 mins to get a glimpse of everything. The museum lacks signboards so you wouldn't know where to go next. There's no guide facility either and no one present in the museum. I feel that the navy could appoint a guide who could talk about the achievements of the Indian Navy, it would be great. This was similar of my experience of the INS Kursura in Vizag. Anyways, that's about the museum. It wasn't what I was expecting, but at that price, it was good enough. Hope you found this helpful. If you think I missed out anything, drop in a comment below or tweet to me at @Atulmaharaj