While the holiday season here in India is almost over with Dussehra & Diwali, for most of the rest of the world it's just about to start. One of the things that many people – especially fitness enthusiasts – are concerned about the holiday is their eating habits. While I don't call myself a fitness enthusiast as yet, I still haven't been able to get back to my morning routine of dance workout with cult live classes.
The festivities have somehow managed to derail me on the workout front. However, I've been eating healthy and nutritious food in the forms of salads, veggies et all. And recently I tried superfoods from GoodLyfe and this post is going to be all about sustainable eating with superfoods from GoodLyfe review.
What is the GoodLyfe Project
Every brand/company has a basic principle upon which their business operates. In the case of the GoodLyfe project, it is sustainability. While I was introduced to the word during my environmental science class back in school, I understood it much later in life. From learning about sustainable tourism to sustainable eating, we've come a long way.
The GoodLyfe project is all about sustainability. They are committed to creating a good lyfe for their customers, communities, and more importantly the planet. They've tied up with farmers that use only organic & sustainable farming methods. They are a completely Indian company with Made in India products. Their products are 100% organic and manufactured keeping in mind a sustainable world.
What are superfoods and why you should have them?
Before I actually talk about the superfoods from GoodLyfe, here's a short description you must know about superfoods. All the nutrient-rich goods having a positive effect on health are considered superfoods. Being purely a marketing term, the world is divided on its usage. However, one thing that is clear is that superfoods have rich nutritional content compared to their non-superfood counterparts and have better health effects.
It is often advised to take any sort of food after consulting your health practitioner or dietician, there's usually no harm in having most of them unless you already have some medical condition. Having spoken about superfoods, let look into the superfoods from Goodlyfe.
Superfoods from GoodLyfe – Review
A few weeks ago, the team from GoodLyfe reached out to me and told me about their superfoods and the concept of sustainability and shared with me their Happiness Superfood series. While their current product lineup is small, they have quite a few of them in the pipeline. Their current offerings of 100% organic superfoods include Amla, Moringa, and Ashwagandha superfood powder. Their Moringa is sourced from Chhattisgarh, Ashwaganda, and Amla from Rajasthan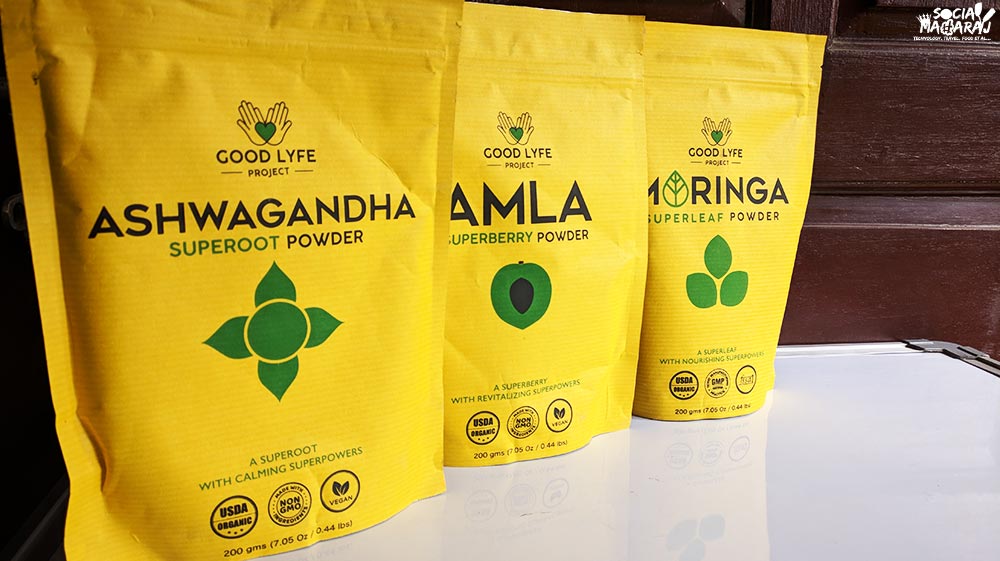 I was sent in the Champion League package as they call it which is a combination of all Amla, Moringa, and Ashwaganda superfood powder. The packaging is simple and biodegradable. With that, you know that sustainability is at the core of everything they do.
Moringa, made from leaves of drumstick tree is loaded with 7 times more Vitamin C than oranges and 15 times more potassium than a banana. Amla on the other hand is the Indian gooseberry and is packed with Vitamin C. Ashwagandha, also known as the king of herbs is considered helpful for beating stress. So the Champion league packaged of superfood from Goodlyfe contains all the nutrition you may need.
How do you use superfoods from GoodLyfe?
All the three – Morniga, Ashwagandha and Amla – are in powdered form. The 100% organic powder can either be taken with a glass of warm water or milk. However, being a Foodie, how could I have it as mentioned on the pack? I figured out that there are multiple ways to consume the superfoods from GoodLyfe as they've mentioned in their superfood recipes as well.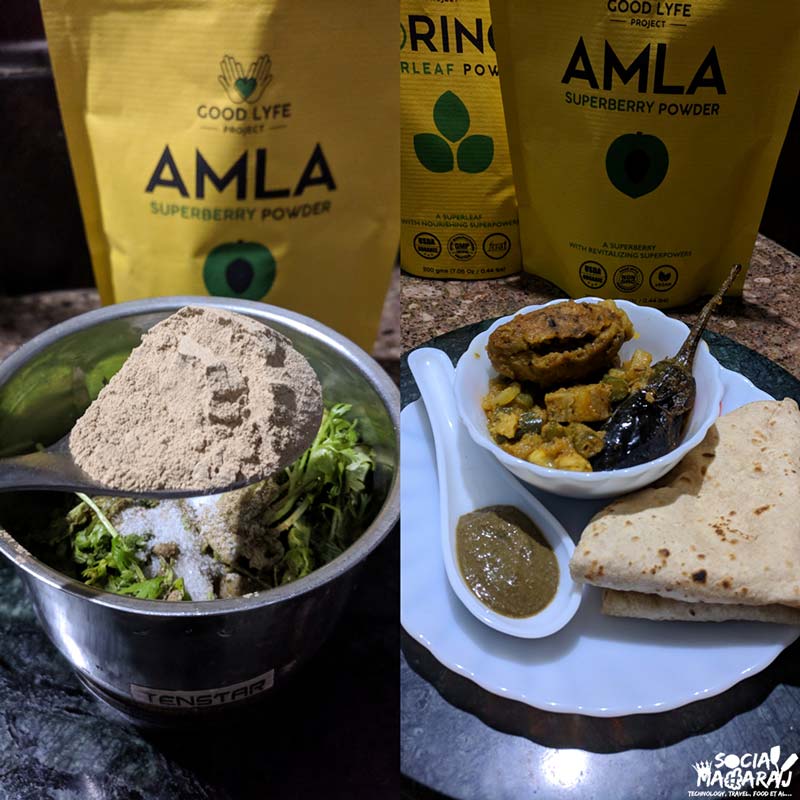 There is one dish that I had tried with Amla powder. It was a coriander chutney with Amla powder. Being tangy, Amla makes a perfect ingredient from the chutney. I used alongside my Gujarati Undhiyu. As for Moringa, I plan to use it to make Pyaaz Paratha. With a generous amount of Moringa superfood powder in the paratha mix, I'm sure it would delicious and healthy too.
Should you try Superfoods from GoodLyfe?
Well, if you are looking towards sustainable eating and moreover want to consume healthy and nutritious food, you should try superfoods from GoodLyfe. Though their product range at the moment isn't vast, these 100% organic superfoods are good to start with. These superfoods can be used either as part of your food or even become a part of your beauty hacks! There have been studies suggesting the health benefits of each of these and consuming them in your daily diet doesn't do any harm.
However, I'd like to mention that I'm not a health expert and request you to consult your health advisor before consuming anything. What are your thoughts about Superfoods? Do you consume any of it? Let me know in the comments below, Tweet to me at @Atulmaharaj, DM me on Instagram, or Get in Touch with me.