For someone like me who loves their food, especially the ghar ka khaana – Rajma Chawal, Chole Kulche, and all those masaaledaar food, anything different is welcoming. I know there are people who simply cannot survive without their comfort food and often don't want to try new things. However, I'm not on that boat. For me, anything that is different from my regular menu is most welcome. So last weekend when I was invited for a tasting session at Guilt Trip, Banjara Hills, I was all in because I knew it would be different from my regular food. So here's my experience of the no guilt trip at Guilt Trip – Review.
Chic et Classic Ambiance at Guilt Trip
There are a lot of Guilt Trip branches in Hyderabad and this one in Banjara Hills is the latest entrant. Located right across the KBR park, the cafe is easy to locate. If you are coming from Punjagutta, then take the Kaifi Azmi Road straight to KBR park crossing Park Hyatt. From the signal take a left and your destination would be on the left 😉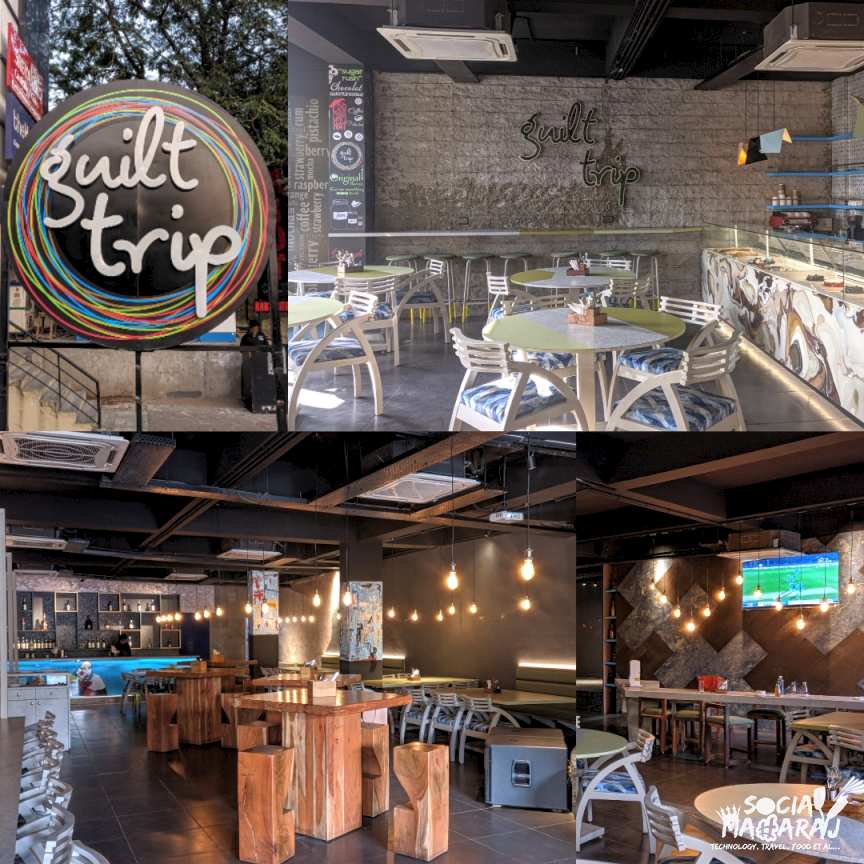 This outlet of Guilt Trip is a mix of cafe, restaurant, and a bar. You get a typical cafe vibe the moment you enter the cafe. Chic walls, warm and welcoming interiors with groovy music is what you look for in a cafe. Move a little inside and you have a stage and a regular restaurant seating which eventually ends at a bar counter. Overall, loved the different worlds Guilt Trip has tried to achieve in this Banjara Hills outlet. Let's continue to my Guilt Trip review and talk about the food.
No Guilt Trip at Guilt Trip Review
The cafe cum bar has a good menu with a mix of continental, Thai, and Asian food with vegan options for almost everything. While you do get your regular Pizzas and Pastas, they do have some really good salads and health bowls. One good thing about Guilt Trip is that they don't use frozen food, so even if you order their burger, you're guaranteed that the patty isn't reheated and given to you.
My Guilt Trip Review will be about the set menu we had for the day. It was a health-focused all-vegetarian meal with lots of greens. Mind you that the restaurant serves non-vegetarian dishes as well, just that this session was all about fitness and healthy eating.
Welcome Drink, Salad, and Soup
We started off with a couple of welcome drinks but with a twist. These were healthier drinks compared to the regularly served packed fruit juices and aerated beverages. We had a mix of Orange & mint and another one with celery & spinach. Both the drinks looked pretty good and were refreshing as well. Orange is known to be a naturally refreshing fruit and the same was the case with these drinks as well.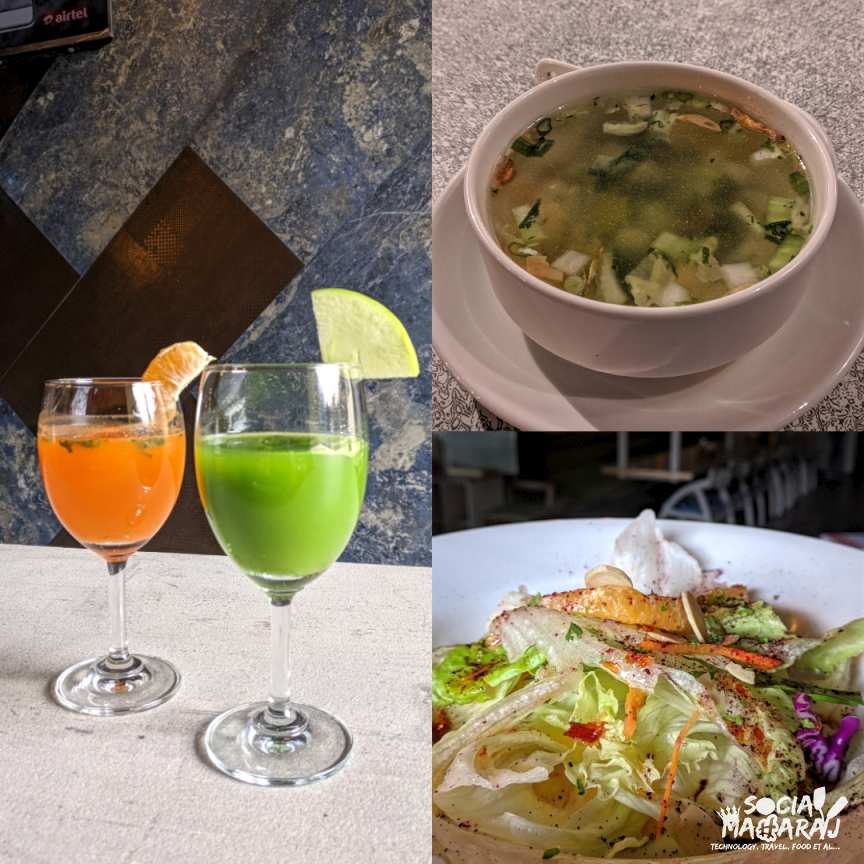 While I've started eating a lot of salad during my meals off late, having a variation was good. We had a Mesclun with Orange segment honey lemon salad. This salad had a variety of lettuce, herbs, and roasted nuts with honey. A vegan version was sans honey. Personally, I would have loved the salad more if honey was a little less since it was on the sweeter side for me. But those nuts made the salad amazing.
Moving to the soup, we had a vegetable clear soup. I've tried the clear soup at a lot of places, but this one tops my list. Being someone who digs straight into the main course, liking a soup is HUGE! The soup was loaded with veggies which had the crunch and retained their flavors well. This wasn't one of those cornflour-laden thick soups which have clear in their name but aren't clear.
Starters and Main Course
As mentioned, this was a health-focused curated menu, the next starters and the main course were on the same lines. We had honey glazed water chestnut along with Mezze platter with falafel & hummus. Water chestnut was nicely done, it was stir-fried to the right level so that it retained the crunch. It wasn't too saucy which was good. Hummus and Falafel were nicely done too. Being a fan of falafel and Hummus, I liked it. Though the quantity was on the lower side. It was accompanied by veggies and a tangy sauce.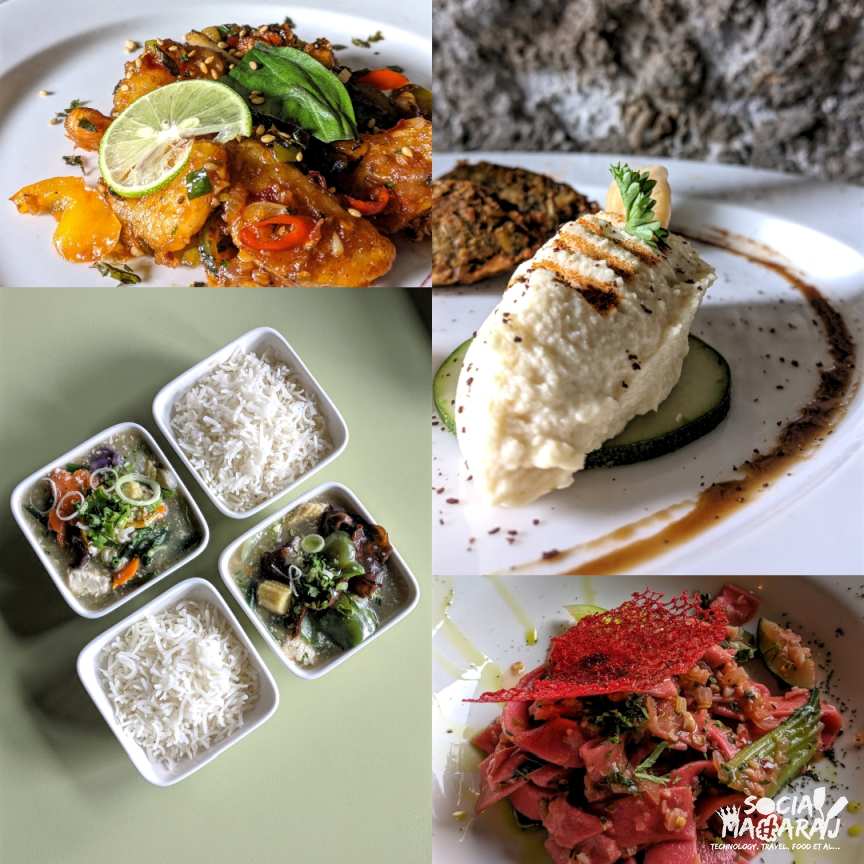 By the time we started the main course most of us were already full so we requested to reduce the portion size. We had Redbeet fettuccine with pepper chino along with Thai curry and rice. The beetroot pasta was hand made. The pasta sans any sauce was welcomed by one and all. So you now know that it was pink not because of the sauce but because of beetroot. It was perfectly done with a drizzle of olive oil, fresh veggies, and garlic.
Talking about the Thai Curry and rice, this again wasn't the regular red or green Thai curry but rather a clear Thai curry. It had all the veggies that you could ever think of – broccoli, mushroom, tofu, spring onions, and all other greens. It was served with a portion of white rice which went quiet. Overall, it was a great meal.
Drool-worthy desserts
How could we not try desserts at Guilt Trip? While they had plenty of options for desserts, we opted for a modest spread. We had cupcakes which they boast of along with cheesecake and Apple Cinnamon Fritters. Chocolate, Vanilla, Red, Blue Velvet, and Rainbow cupcakes. We opted for the smaller bite-sized cupcakes and totally loved them. Not being a fan of cream, I should have had it without it. But nonetheless, those were good.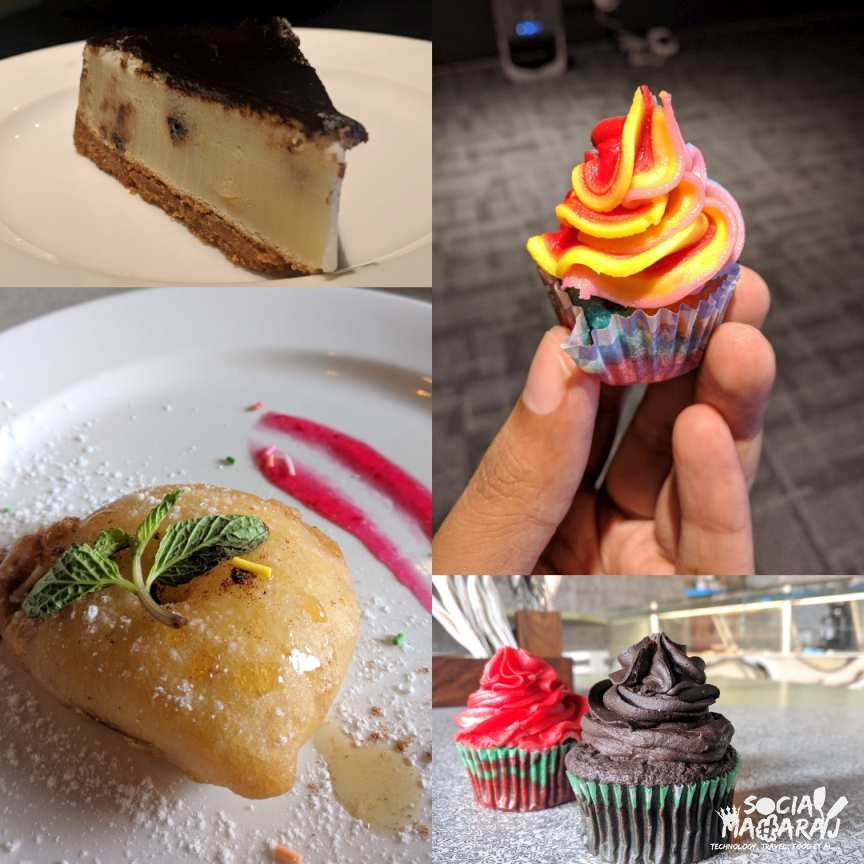 The chocolate cheesecake could only be photographed by me as others who weren't going to eat finished it! But from the looks of it, it looked super good. The Apple Cinnamon Fritters wasn't that sweet as I assumed from the looks of it. It was mildly sweet and like Apple Jalebi that I had at someplace, I cannot recollect now.
Conclusion: Go guilt-free at Guilt Trip
Let me clear one thing that though my Guilt Trip review was about a health-focused meal, they have a lot of dishes for you to indulge. Shyam who is the head chef there was patient to explain to us about every dish he prepared and was aware of our needs. For instance one of us preferred vegan and Shyam ensured that a vegan variant of every dish was served.
Overall, the carefully curated health-focused menu was pretty good. All dishes complimented each other pretty nicely and we had a good experience. While this fixed menu isn't available yet, you should soon see them on their menu. Though the portion size was slightly smaller for some dishes in this curated menu, I'm sure if you order it from the menu it would be just fine.
So have you been to Guil Trip? What among the dishes that I've mentioned you'd love to try? Let me know in the comments below, Tweet to me at @Atulmaharaj, DM me on Instagram, or Get In Touch.