1.85 Bn. That is the number of daily active users on Facebook. I won't deny but most of us are a part of that number. Facebook is one of the fastest-growing social media platforms. People from all walks of life get on Facebook to network and connect with people. While it's good, people create a lot of fake Facebook profiles as well. And that's where things get ugly. I don't know how common is this scam elsewhere, but it's quite common in India. I had a recent experience with my own fake Facebook profile being created & here are 4 ways to spot a fake Facebook profile.
When someone created my fake profile
It was a Friday evening and I had just come back from a heavy lunch. Blame it on the heat or the number of things I ate, I passed out. I just crashed into my bed and it was around 6 PM in the evening. A few hours later I noticed my Mi Band 4 buzzing like crazy and I woke up to something strange. More than 30 missed calls and numerous messages saying "Bro your Facebook Account is hacked" For once I was terrified. I quickly opened the app and I was able to log in and see the updates. Which meant that someone had created my fake Facebook profile!
Many of my friends messaged to check on me and enquired about my new profile and the friend request. And whoever called/texted, I'm proud of you! I'm happy that you didn't fall for this and instead called/confirmed with me before accepting the friend request. However, there were a few friends how did fall for the trap and accepted a friend request from my fake Facebook profile. That profile basically texted all my friends asking for money! More about this scam in the subsequent blog.
So for all those who accepted the new friend request from my fake Facebook profile, here's how you can spot a fake Facebook profile. While most fake Facebook profiles will have the same name and photos as the original one, I will not talk about it in the following section.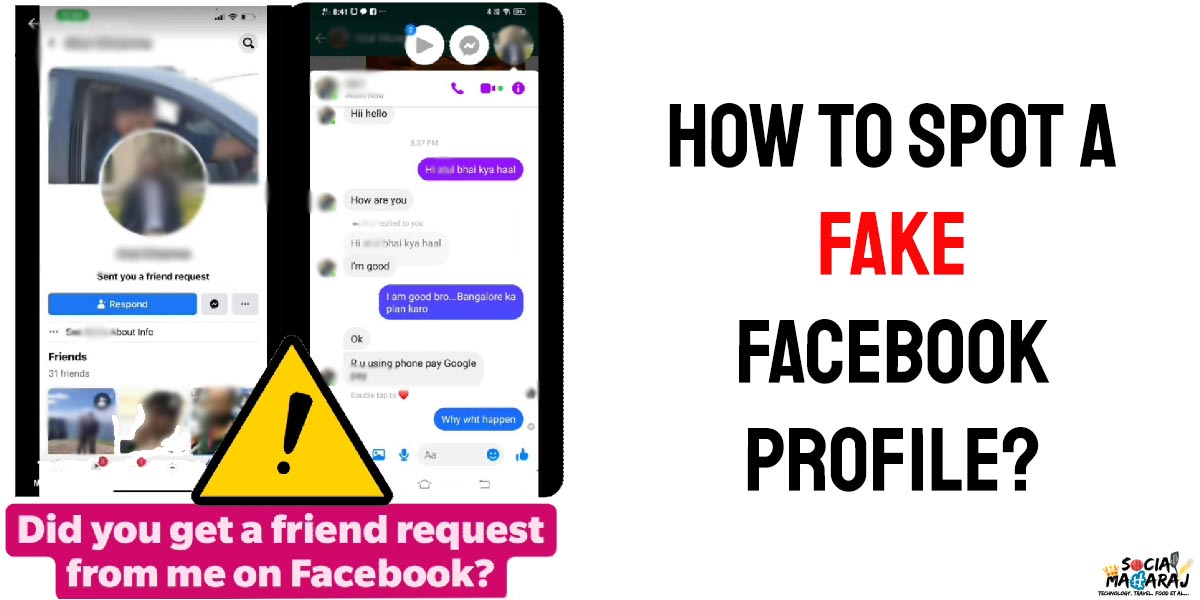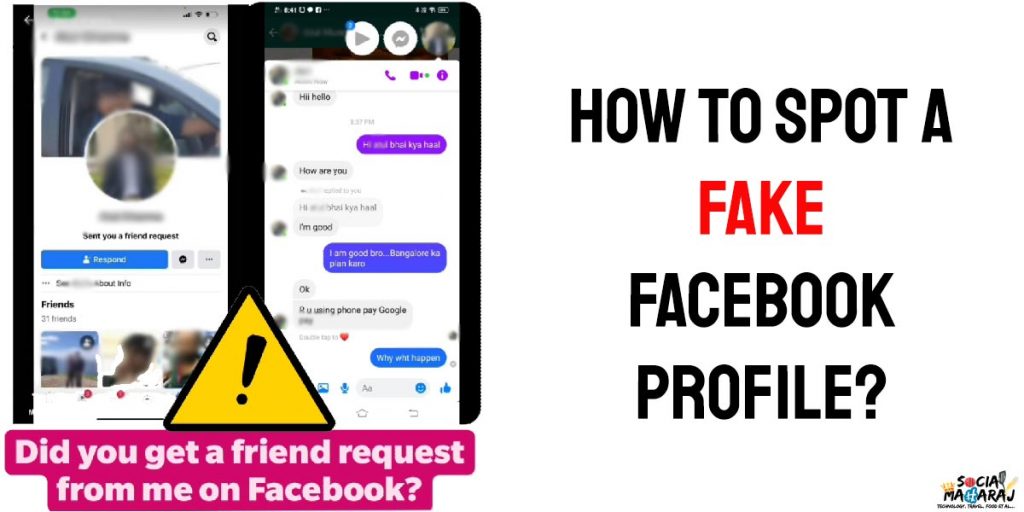 5 Ways to Spot a fake Facebook Profile
1. Different name in the URL
One of the first ways to spot a fake Facebook Profile is the Facebook URL. For those of you who don't know, every Facebook profile has a unique URL and no two people can have the same URL. For instance, https://facebook.com/Atulmaharaj is a URL, nobody else can use this. So if they want to create a fake Facebook profile, the URL will be different.
So if you are using Facebook on browser, look for the different name in the URL. If you find it different/unusual from the person's original name, then my friend it is a fake Facebook profile. However, one thing to note is that this is not possible when using the Facebook mobile app, so how do you spot a fake Facebook profile on the mobile app?
2. No or unusual Content Feed
Assuming that you are not able to spot a fake Facebook profile using the first option, the next best option is to verify the Facebook content feed. Most of the fake profiles created for the purpose of this scam are fresh. Meaning, there won't be any content, updates on the feed. For instance, most of my blog posts shares are public on Facebook. So if it's a new Facebook profile, either you will see a post saying that it's my new account, etc. or you will see some content. If there's no content on the feed or you find something fishy, you know it's a fake profile.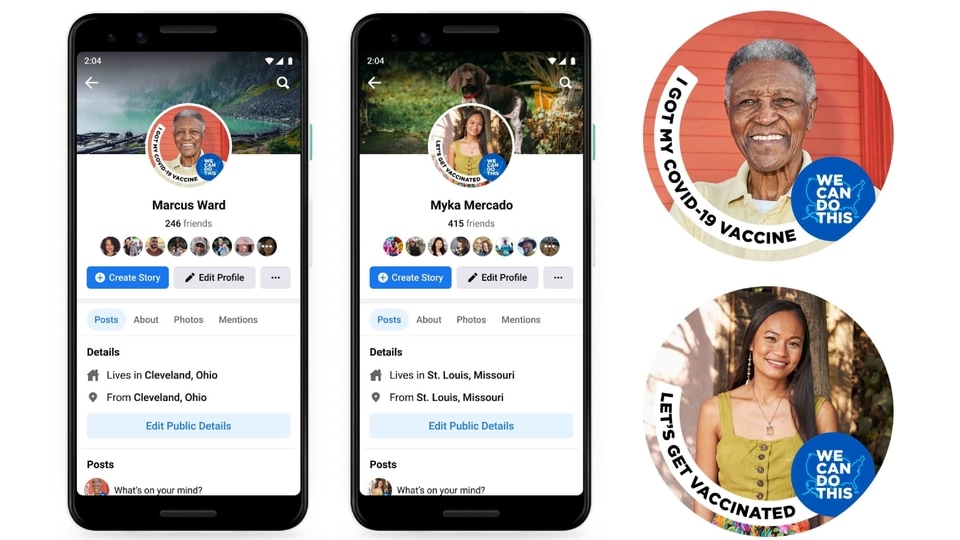 3. Incomplete/Inaccurate Account information
Another way to spot a fake profile is by looking at the account information provided. For a genuine person/profile, you'll see this to be updated. Details like date of birth, place of stay, work and education history, other updates, etc. So when someone is creating a fake Facebook profile, they don't spend so much time replicating the account details. This is a great way to spot a fake profile. You know the person & have met them probably, you can immediately verify if the account information is inaccurate or incomplete.
4. Check with your friend
If you get a new friend request from someone with whom you are already friends, don't accept it without verifying. Because when you accept it, the next targetted person in line will "assume it's a genuine profile" as you are on the friend list. Hence always confirm with the original person either via text/call however and confirm if they are them. Only if they confirm, accept the request else report the fake profile.
Other ways to spot a fake Facebook profile
While the above-mentioned steps were the most effective way to spot a fake profile, there a few other ways you can spot one too. However, these scamsters are smart and they will have this taken care of. So in most cases, you will not be able to differentiate between a fake and original profile based on the following details:
Profile and Banner Photo: Most new fake Facebook profiles use the same profile photo and banner photo. In case they are not, you know it's a fake Facebook profile.
Friends List: These fake profiles send friend requests to their friends and many of them blindly accept it. That way if you see the friend list, you will see a lot of mutual friends and familiar faces. However, if you find something unsual there, you know it's fishy.
Photo Grid, Album, Likes, Activity: While most of the new Facebook profiles will have these empty, these are a great way to spot a fake Facebook profile.
Lastly, if you fall for this and accept a friend request, and receive a text from the fake profile. Identify the way the person is texting you. I'm assuming that you've met the original person and you know their style of texting. So when this fake profile is messaging, you know it's not the original person and hence it's best to cross-check with the original person before taking any action.
Stay Vigilant, Stay Safe
Identity Theft is common nowadays, but being a victim of it was something I never thought of. Though there are a lot of ways to prevent your Facebook profile from being copied, I will read about this more and have a blog post to help you prevent Identity Theft. Nonetheless, the last few hours have been crazy for me responding to texts and calls and updating all the profiles that it's not me. Hence, I kept all my other pending blog posts on the back burner and this takes priority above all.
So the next time you get a new friend request from the person whom you are already friends with, use these ways to spot a fake Facebook profile, contact the person directly before accepting it. If it turns out to be fake, report the profile to Facebook. Stay Vigilant, Stay Safe.
Have you faced anything like this earlier? Let me know in the comments below, Tweet to me at @Atulmaharaj, DM me on Instagram or Get In Touch.