"Motte Odia aase ni" (I don't understand Odia) was the first phrase I learnt in Odia. In fact, for almost a quarter of my life, Odisha always meant either Konark Sun Temple or Chilka Lake. That's what the GK books taught us! For a person like me who has travelled across the country, it was astonishing that I didn't meet a single Odia person until I landed in Hyderabad 7 years ago. Thanks to these people who not only taught me the nuts and bolts of the language but also made me try Odia food. In this post, I'll talk about my tryst with Odia Cuisine and why you should try Odia food too.
Simplicity Of Odia Cuisine
Understanding the Odia language or the script might not be that simple. But the Odia cuisine isn't like that. Compared to the other cuisines that I've tried, Odia Food is very subtle when it comes to spices. It isn't spicy like a Kolhapuri or a Rayalaseema food, neither it is rich like the Punjabi Food. You'll rarely see oil floating on an Odia dish or a dish that is extremely spicy. Even then, Odia food is flavourful. Being a vegetarian, I was surprised to see a plethora of vegetarian Odia dishes that had me swooning over them.
Further, the interesting geographical location of Odisha makes the food more balanced. It can be seen as a point where both the Southern and Northern flavours meet. They make use of coconut in their dishes and even mustard. Though I'm no expert in any cuisine, these are my thoughts regarding Odia food. Having understood about Odia cuisine, you might be wondering how did my romantic relationship with Odia food start?
My Tryst with Odia Cuisine
Like I mentioned earlier, after moving to Hyderabad, I met a lot of Odia folks. Some of them have become best of friends. There were many in my team at work also. One of the guys had returned from a vacation and had bought in sweets for us. One of them was this golden brown cake. While I thought it was a cake, it wasn't. This soft, fluffy and golden brown cake looking sweet was Chenna Poda (pronounced as Chenna Podo). It literally means baked cheese in Odia. That was my first time trying an Odia dessert and I was floored!
Fast forward to now, I've had so many Odia dishes in the past few months that my love for Odia cuisines grows stronger with every bite. The first dish that I had tried recently was Dahi Bara Alu Dum. This is a unique Odia street food quite popular among the locals. It's a variation of Dahi Vada. It consists of a Dahi Vada, some Alu curry topped with sweet tamarind chutney. Each item brings its own flavour which refreshes the palate.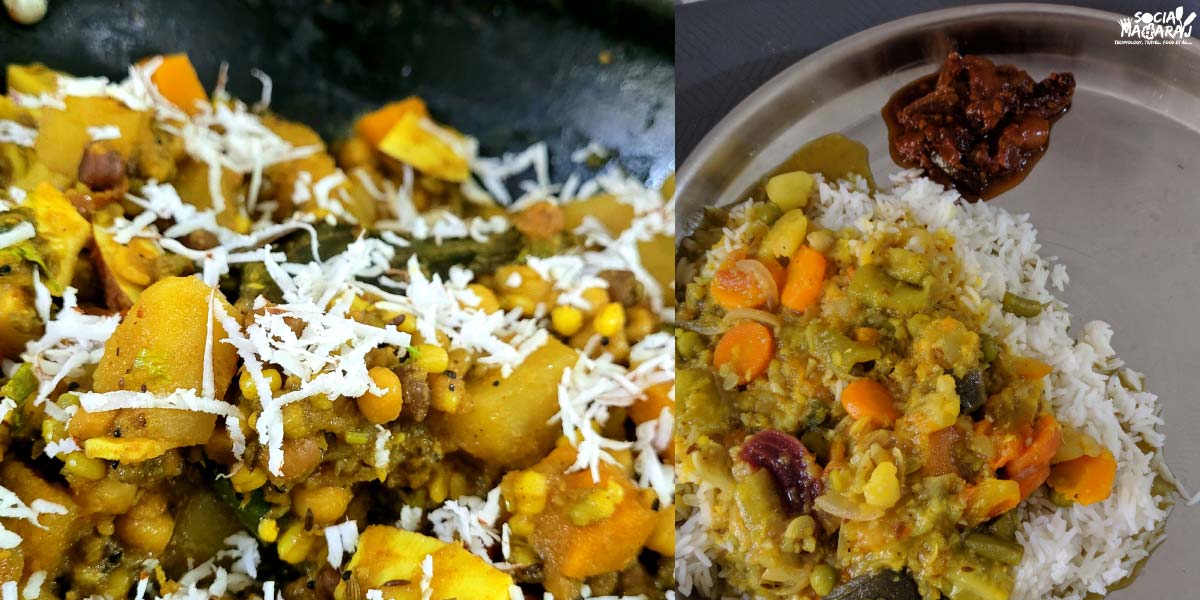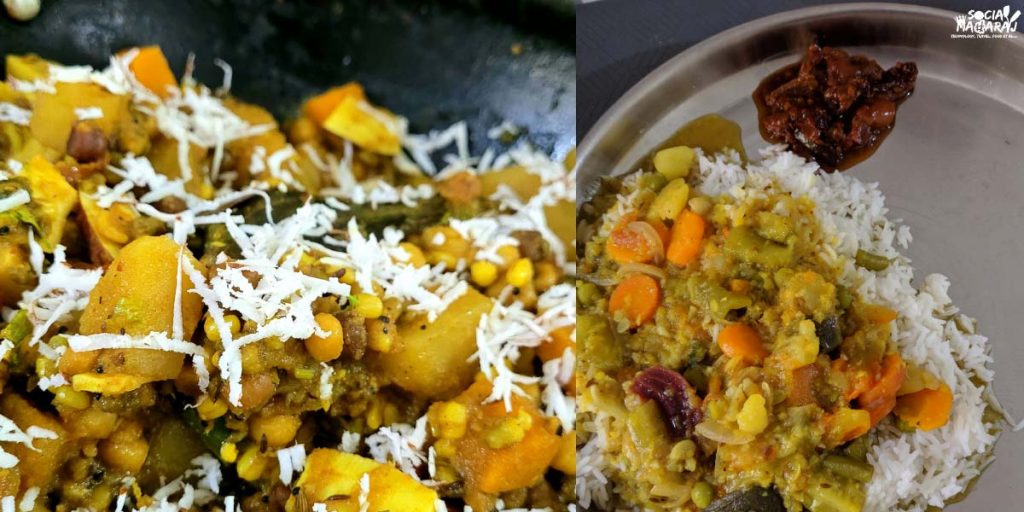 The other Odia dish that I'm in love with is Ghanto Tarkari. In fact, I had it for the first time the last weekend and have been having it for 3 consecutive days now. The original dish Muri Ghanto – fish head curry with rice – was modified by Biharis who replaced fish with veggies and rice with dal decades ago. One can add a variety of vegetables and dal in it. It's easy to cook, truly delicious and a healthy dish. Can either be eaten with Rice, Roti or nothing. It's a complete meal.
Have you tried Odia cuisine ever?
I loved the simplicity of Odia food (at least the dishes I have had to date) The food is simple, easy to cook and uses spices that are easily available. It's sad that I haven't been to Odisha yet and the food now makes mu want to visit it even more. The state has a rich culture and heritage, be it the language or food. Thanks to my friends who have fed me such delicious Odia food that I've become a fan. I'm looking forward to having more such Odia food in the future.
Meanwhile, have you tried Odia Cuisine Ever? If not, I'm sure you want to try it now. Let me know in the comments below, Tweet to me at @atulmaharaj, DM me on Instagram or Get In Touch.