Statues have been a symbol of creativity and expression for centuries. They have been erected all around the world to commemorate events and people and serve as landmarks. Some of the most famous statues in the world include the Statue of Liberty, USA, and Christ The Redeemer in Rio de Janeiro, to name a few.
However, in recent years, a new trend has emerged – building incredibly tall statues. I have been fortunate to visit the Statue of Unity in Gujarat which is the tallest in the world. Read more about things to do at the Statue Of Unity. Another statue of BR Ambedkar was unveiled in Hyderabad a few weeks ago. Seems like building tall statues has become a point of national/state pride.
One such example that I'd like to talk about in this post is the Statue of Equality. While I drove passed it many times, (and also saw it from my plane's window), I visited the Statue Of Equality last week. And this blog post is going to be about my honest experience of visiting the Statue of Equality.
Please note that my experience in this post will be only around the destination as a tourist spot and nothing related to the culture, tradition, teachings or to hurt anyone's sentiments.
What is the Statue of Equality?
The Statue of Equality pays homage to the teachings of Acharya Sri Ramanuja and commemorates his 1,000-year birth anniversary. A philosopher and social reformer advocated for social equality and inclusivity. Unveiled in February 2022 by the prime minister, the Statue of Equality is the latest addition to the list of places to visit in Hyderabad.
The 216 feet tall statue is made from bronze and is also the second-tallest sitting statue in the world. It depicts Acharya Sri Ramanuja holding a copy of the sacred text Bhagavad Gita and extending his hand in a gesture of blessing and equality.
As per the information available on Wikipedia, the statue was built in China and later the 1600 different parts were shipped and welded by engineers over the span of 15 months. The base building on which the statue stands is 3 stories high. At the top, there's a lotus base that is carried by elephants and the statue sits on top of it.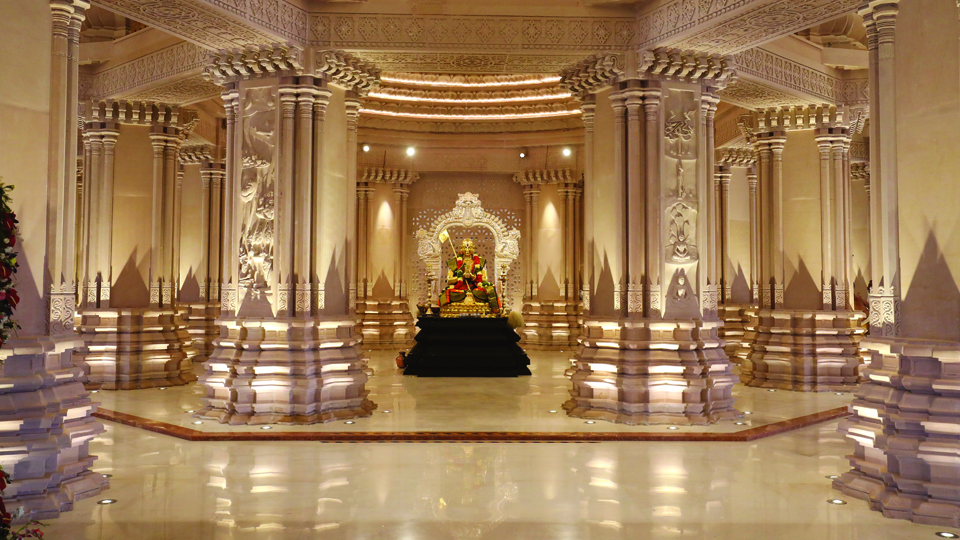 There's also the actual golden statue that is placed on the floor below. It's made from 120 kgs of gold and is the replica of the large statue that you see. There's also a gallery here that shows the work and preachings of Ramanuja.
Apart from that, there are also 108 Divya Desas that surround the area around the statue. These are 108 small temples dedicated to Vishnu and Lakshmi. There's a meditation gallery, and a small museum as well beneath the statue.
Visiting the Statue of Equality
The Statue of Unity is located in Muchintal which is about 40 km from Hyderabad (depending on where you stay). It's about 16 km beyond Hyderabad airport which makes it a good choice for a short driveby. In terms of getting there, it's fairly simple. You can take the ORR from wherever you're coming and take exit 16 and drive towards Jadcherla. From the highway, this place is about 5 km. The roads are fairly nice all throughout.
Statue of Equality is closed on Wednesday and open on all other days from 11 AM to 8 PM. It has a ticketed entry priced at Rs 200 per adult. You can also pay an extra Rs 500 for AV gear that will give you details of all the spots you visit. You can either purchase the tickets at the venue or online.
Apart from that, you need to know the following things;
They have a dress code that you need to adhere to
Mobiles are not allowed inside the premise
No food allowed inside
No baggage allowed inside: they have a cloakroom outside
The parking fee is Rs 50 (only cash for cars) for up to 4 hours
There's a small food court sort of inside where you can eat millet ice cream, juices, and a few other things. There's no option for a proper meal or something based on my visit.
With all the basic details out of the way, let me share my honest experience of visiting the Statue of Equality. Please note that since mobiles weren't allowed inside, I don't have any photos to associate with my experience.
My Honest Experience at the Statue of Equality
It was a long weekend when a few of my friends decided to visit here. For them, it was going to be a good drive but for me, it wasn't. From where I stay, it's not that far. It was a Friday evening and we planned to be there by 4 PM. Tickets were booked online and QR codes were kept ready.
For all of us, the drive to the statue was fine. However, it was total chaos at the venue. There's only one entry gate where traffic from both sides needs to enter. I spent almost 25 minutes at the entrance gate and moved barely a few meters before heading into the parking lot.
They charge Rs 50 for parking, but in cash only. So you need to wait there too. There's ample parking space, but depending on where you park, you might have to walk a lot to enter the statue. Also, you need to take off your shoes before entering. While they have a place to drop your footwear, most people remove them in their cars and walk barefoot. I also left my phone in the car.
Poor Management Leading To Chaos
We entered the entrance hall and since we had the e-tickets, we had a separate place to go to. However, nobody there knew what was to be done with these. The staff there looked puzzled and only after a while someone came in and figured it out. So they see the ticket and put a stamp on your hand and everyone with you. Now since mobiles are not allowed, you need to walk all the way to the cloakroom that is outside the building to deposit your phone.
We spent almost 20 minutes waiting for our friend to deposit the phone and come back. There are entry gates as you find at metro stations. And it's absolutely chaotic. If you are traveling with babies or the elderly, make sure to take extra precautions. Even people who look educated were literally stomping everyone's feet and breaking the queue. I could have recorded this if I had my phone.
We crossed that hurdle after 15 minutes and thought it was done. But no, there's another check for your bags and here the queue is even more chaotic. We spent another 10-15 mins in this queue as people just cut the queue and got in. After this harrowing experience, they stamped an Om on the hand.
Reaching the Statue of Equality
After this, there was another queue of pushy humans who were in a dire hurry to see the huge statue. We reached the base of the statue and saw the 108 steps that we had to take to reach the statue. We went to the left and asked someone for the elevator, and only elderly people are allowed. The guard over there wasn't quite happy to let us into the elevator because we didn't visit the 108 devadiyas. (It would easily take an hour if not more to visit each of these temples)
Anyways, we sent our parents in the elevator and we climbed the stairs to the top. I don't know about others, but I found the steps to be quite large and not comfortable to climb one step at a time. At the top, you get a beautiful view of the 108 temples, the beautiful sky, and the sight of aircraft approaching the airport. It's cool and windy and possibly the best spot here. The elevators are too slow and we had to wait for 15-20 minutes for our parents to reach the top.
It was also the time for the fountain show that takes place in the evening. There was folk music linked to the fountains and even though we were at the top, we didn't quite get a view. It was extremely crowded. The fountain show at Lumbini Park I guess is much better than this one.
Once this was done, we decided to take a leave and came down. From there we had another queue that took us to the exit hall. There are some shops there selling medicines, jewelry, and food. We tried millet ice cream which was nice.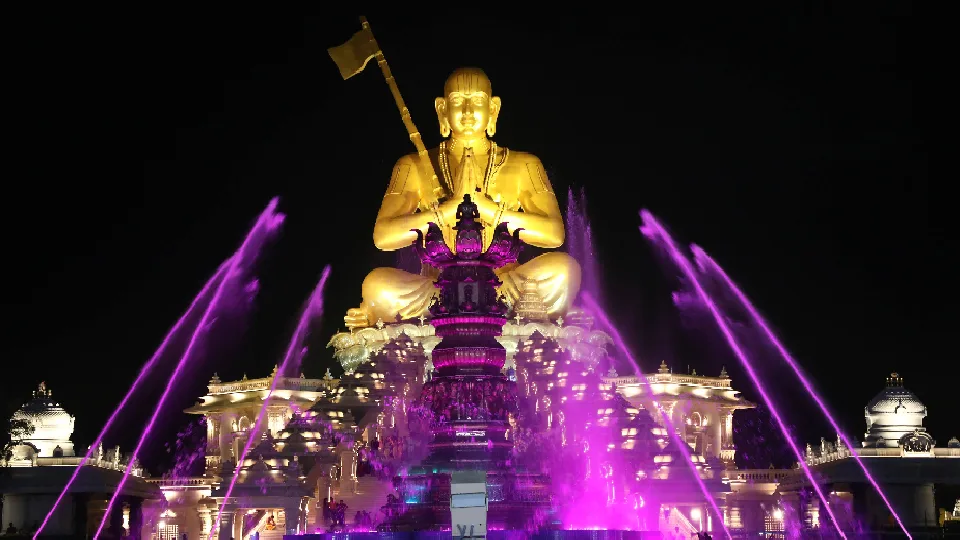 The real struggle was to go back to the entrance hall to collect our phone and then drive out of the parking. It took me exactly 30 minutes to get out of the parking. The guards over there manually check the receipts and collect cash if you've overstayed. But they don't bother about the chaos, I even had an altercation with one of them on this.
Worth One Visit Only – Conditions Apply
I was so happy that the harrowing experience of visiting the Statue of Equality was finally over. Maybe because I've been to the Statue of Unity before I had high expectations. But it was utter chaos. One thing that I'd surely recommend is don't visit the Statue of Equality on a Weekend, you'll spend more time in chaos. It's better to look at it from outside or probably from your flight.
The management can be improved a lot. Etickets processing can be surely better. Why have the deposit room outside the room when you are checking tickets inside? There's unnecessary chaos inside and no guard is bothered to take care of it. That has to be managed better. Lots of unnecessary checking, even Delhi airport doesn't have that much checking.
So that was my experience of visiting the Statue of Equality, I'm surely not going back again. To all my relatives and friends reading this, I'll do a drive around the statue, please don't expect anything more.
Have you been to the Statue of Equality? How was your experience? Let me know your thoughts in the comments below, tweet to me at @Atulmaharaj, DM on Instagram, or Get In Touch.