I remember my old days when I had to run around looking for a charging port for my battery-sucking Android phone. It could last barely a day. And the usage included twitter (barely 30mins a day), call(5-10mins), SMS and yes 2g data was always on.
So after getting my iPad mini, I am certainly enjoying its battery capacity. As usual I was going through a complete charge cycle(charged till 100% and then drain it till 0) and I just love the battery usage.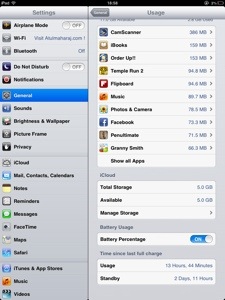 Just see the above screenshot, have used it for over 2 days (standby) and played some games for quite a time. Deeply impressed and have realised that why my friends always said iOShas a good battery life than android.
I guess it's time for android to learn something from iOS 😛