It's been just over a week since I shifted to Hyderabad to join Wipro Technologies. As said in the previous post, I had to hunt for a PG (Paying Guest) accommodation for my stay. Our reporting location was Wipro's main campus in Manikonda. (The one opposite to Wipro Lake and Wipro Circle in Gachibowli)
This article is helpful for all those who are being trained or working in the following companies: TCS, Wipro, IIRM, Microsoft, Infosys, Deloitte, ICICI, CA in and around Gachibowli.
As for PGs there a lot of PGs around the area. One can find the PGs in the following areas:
Anjaiah nagar – This area is a bit far from the Manikonda Campus, but its manageable as there are a lot of buses, shared autos coming towards Wipro Circle. Close to Gachibowli junction.
Rajiv Gandhi Nagar – This area is also close to Anjaiah Nagar and near to the Gachibowli flyover.
Indira Nagar – Well, this area can be termed as a PG Hub as most of the PGs are here and many students opt for PGs here. The area is surrounded by shops and super markets and cafes, restaurants hence this is the ideal place for people looking for PGs. The rates here are like 6.5K – 8K for a two sharing room (WiFi, 3 times Food, laundry, TV) to about 10-12K for a single sharing room. Some well knows PGs are GSR Luxury Men's PG, Ramya Sri PG! Aarushi PG (in KFC lane) I've been told it serves good food 😉
Telecom Nagar – Again, this is a area close to Indira Nagar and off the Gachibowli flyover.
Gowlidoddy –  Another area with lot of PGs. This is near the Q-City campus (a little ahead from there). There are many PGs here for men and women with single, two, three and even four sharing rooms available at a very affordable rate. (I feel, the value for money is very high here) One can get a single sharing room for about 8-9K while a two sharing room can be from 5.5K-6.5K. The facility provided include WiFi, TV, 3 Times Food, Drop to office location. The area has a small market which has all the basic needs. Near the PGs there is a coffee point, dosa point and a couple of dhaba / food joints. Some PGs are Aamani, Silver Sands.
Kondapur / Kotthaguda: these places are quite far from Wipro, TCS campus but thanks to frequent shared auto service you can reach here within no time. Here you can find flats, PGs . Favourable areas could be near Google office or around the Kondapur bus stand.
Khajaguda: this area is 'off' the Nehru ORR toll road and is quite near to Lanco Hills. The area has a more of flats and less of PGs and is about 15mins drive from Wipro Circle. Lots of shared autos, buses [116N from Gowlidoddy to Koti] have a stop at Wipro Circle and at Khajaguda too.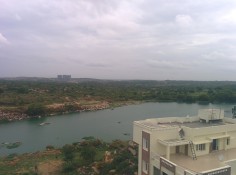 I'm myself staying I used to stay at Gowlidoddy in Sri Sai Aamani PG. This is off the main Gowlidoddy Road (opposite Shangri-la appartments). The PG's location is the best I guess,  with a lake facing view, if you get a room on 3,4,5 floor facing the lake then be ready for a 24×7 windy room.
Coming on to the facilities, WiFi is pretty good while the TV service is average. Drop facility is there, but it depends on your timings so for some it might be of great use while for others it might be of no use. Other services include Laundry(Extra charges of 400 pm.) The building is newly constructed, so the interiors are pretty good. Though the 3/4 sharing rooms become clumsy and  congested but the single and double sharing rooms are better.
The food – I basically like the food (love South Indian Food :P) The food served is hot and nutritious as green vegetables are served often. Chapati/Roti is served too. Breakfast include items like Idli Sambhar, Upma, Lemon Rice, Tomato Rice etc. Non veg too is server sometimes alongwith a sweet dish at times.
[Jodhpur Waala Food House – a pocket friendly place for ghar ka khaana – Read More]
Updated on March 22, 2015: Well, I see many people reading this post, hence thought to update. As I mentioned above that I was at Sri Sai Aamani PG, well here's the true review – it isn't that good. There is a huge problem of 'bed-bugs' and the owners are least bothered about it. Few of my friends were hospitalized for the same reason. They say they would spray insecticide but never did, in the end I had to throw the bed out of my room itself ! Slept on floor for almost a month. Also when you are leaving, the refund process is quite tough as that guy won't refund the money easily. (Not in my case though) but in general, I would suggest not to pay a lot in the beginning itself. You must be wondering that I talked so good about the PG earlier, that's because I wrote this post when I had stayed there for a month, and this update is after staying there for over 3 months. My suggestion, look for Silver Sands or some other PG in Indira Nagar, near KFC, near Indian Bank etc. the PGs there are better than the ones here.
So, guess this is all that is required when you are looking for a PG in Gachibowli, Hyderabad. For any other queries / suggestion DO get in touch with me. If you want me to add anything to this, then also please let me know !
And if you liked this post, do share your experience below and by any chance you are in wipro, do let me know, we could chat over coffee 🙂
Cheers !
[Looking for IT Training Institutes in Hyderabad ? Read this for more]
Disclaimer: The postings on this blog are my own and doesn't necessarily represent my employer