Technology is moving at a lightning pace as we all would agree. There have been huge changes over time in various things we did. From the old rotatory phones to phones with video calling facilities, the room-sized computers to smartphones that are powerful than the computers themselves ! These changes are being observed not only in one field but in all the fields be it the F&B industry, Aviation, Healthcare or Governments for that matter.
Looking at computer and specifically at the gaming industry, things are evolving way too quickly. It wasn't long ago I used to play Contra on my 8-bit cassette based video game. Today it's all about swanky gaming consoles and powerful computers that run games at 4k resolutions. Augmented Reality and Virtual Reality are taking a lead with market leaders like Sony coming up with PlayStation 4 VR version. Amidst all the ARs and VRs, comes in another market leader of yesteryear's known for handheld gaming – Nintendo with the all new Nintendo Labo. What is Nintendo Labo ? How does it work ? What is the price of Nintendo Labo in India ? All your questions answered here.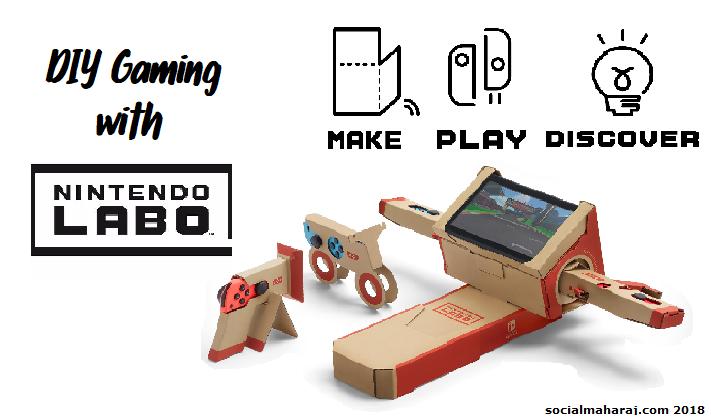 What is Nintendo Switch ?
Nintendo has been long known for their handheld gaming devices. It was the Game-Boy while I was in school to the all new Nintendo Switch. The company has been doing everything to get back in the handled gaming market as smartphones eat the major chunk of it. Released world-wide last year, the Nintendo Switch is probably the first hybrid gaming console. The handheld console allows you to play games anywhere at anytime. The highlight of the Nintendo Switch is their Joy-Con controllers that provide a great gaming experience. These are two separate controllers that either attach to the console on either side, or to any other joystick like a steering wheel or a gun. With the docking station you can seamlessly transfer your gaming to your TV !
What is Nintendo Labo ?
Now that you know about the Nintendo Switch and the Joy-Cons, it's time to talk about DIY gaming with Nintendo Labo. Nintendo Labo extends the gameability of the Nintendo Switch as players can now build some fun peripherals called Toy-Cons. Nintendo Labo comes with cardboard sheets that are thicker than a cereal box and thinner that Amazon packaging. These cardboards come in various flavours depending on how you want to play with it – a house box, a piano, a fishing rod, a bike handle and a robot toy con.  They have neat cutouts and come with AR enabled To-Do guide that helps you make the Toy-Con.
How it works – Nintendo Labo ?
While I mentioned about the features of Joy-Con earlier, there's one feature that I didn't talk about. One of the Joy-Con comes with IR enabled camera that helps you interact with the real world. Now since IR works on simple concept of emission and reflection, each Nintendo Labo Toy-Con has a slot to put the Joy-Con which then uses these toy-con to interact with the Labo software. For instance the Piano Toy-Con, has little IR strip attached to every key that are read by the IR camera to determine which note is played. Same goes for the other Toy-Cons as well.
What that does is, it brings the AR-sort-of gaming experience at an affordable price IMO. Moreover it allows the user to build the toy-con from scratch and then use it to play their favourite game. I totally liked the concept. However since it's made out of cardboard, I wonder how long would it stay. I've experienced the Google Cardboard VR headset and that didn't last long. Would wait for customer reviews for this one. But as of now, the Nintendo Labo has surely garnered a lot of attention.
Nintendo Labo in India ? Not Yet 🙁
The company announced the Nintendo Lab last month and plans to release it by April. It will be release on 20th April in the US and Australia. On 27th April in the Europe. The standalone Labo kits will be available starting $60 for the variety kit and $80 for the robot kit. In India, the Nintendo Switch is available on Amazon for roughly 32,000Rs for the 32GB variant. As for the Nintendo Labo, there's no plan for it to be launched here. However one would be able to import the Toy con to India. That said, I loved the entire DIY gaming concept with the Nintendo Labo. What'd you say ? Leave your views in the comments below or tweet to me at @Atulmaharaj