"Aur yeh aakhri gend, wide of the off stump, Gavaskar ne point ki disha mein ek aur chauka jadd diya aur isike saath Bharat ne match jeet liya hai…" Those were the days when people were glued to their radio sets listening to nail-biting commentary of test matches. Soon the radios made way for CRT TVs and now every paan shop has one. I was glued watching Sehwag's blistering innings during the ICC World Cup at one such shop in Delhi. The CRTs faded away and made way for LCDs, LEDs and flat panel TVs. In the past decade or so, TVs haven't just slimmed down but have also become smarter. The Idiot Box is no more idiot, it's a window to a world of information today.
With Android opening its doors to TVs, the viewing experience has changed all together. Accessing internet on TV and consuming services like YouTube is just a fraction of what a smart TV can do. But all of this, doesn't come cheap. With every add-on feature, you need to shell out good money. For instance 2 years back I got a 42″ smart TV for 50,000 Rs ! However, what if I tell you that you can get all of this in a Smart TV at a price cheaper than your smart phone ? Yes ! A 55″ 4K LED Smart TV for less than the price of an iPhone 7 or a OnePlus 6. Phone se sasta TV ! I wish this was available back then, would have tried this for sure.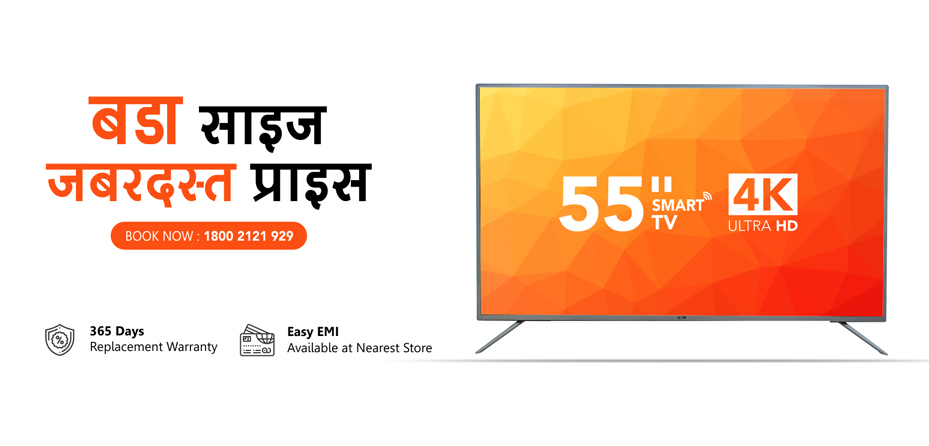 HOM Smart TV – Mobile se sasta TV
With the belief of "Har Family ka member, Mobile se sasta TV" presenting HOM Smart TV. A Made in India smart TV that comes with latest features that you can afford without burning a hole in your pocket. HOM is entering the Indian market being the 1st to offer a TV at an affordable price of Rs 34,999 ! Which actually is cheaper than many smartphones in the market. So what exactly you get in that price ? Read on about the features of HOM Smart TV.
4K Ultra HD Display & crystal clear audio
This 55″ 4K UHD Smart TV is everything you would need an ideal TV to be. The HOM Smart TV comes with a 55″ 4K Ultra High Definition screen. The display is crystal clear and pretty vibrant for its price.  Moreover, the TV is thin on the bezels which ensures that this TV blends with your living room. This is the screen size you want to see your favourite cricket match or the upcoming Fifa World Cup in Russia. Messi's free kick would look so amazing on this !  The TV also comes with powerful and crystal clear audio with advanced Auto Noise Removal technology which makes your TV viewing experience more exciting.
Connectivity – Connect with anything you want, anyway you want
From the connectivity point of view, the HOM TV comes with 3 HDMI ports, 2 USB and a VGA port along with a standard RJ 45 (LAN port) along with a built-in WiFi that allows you stream your favourite videos from your hard disks, NAS and even your Android phone as the HOM TV also comes with Miracast built-in. I'm a frequent user of Miracast, sharing photos and watch videos from phone is so easy and simple now !
HOM Smart TV with Smart Remote
Smart Remote is one of the premium add-on which is provided at an extra cost by most of the other TV manufacturers. But with the all new HOM Smart TV, the smart remote is bundled with the 55″ 4K LED Smart TV. Yes, the smart remote provided not only makes it easy to operate the HOM Smart TV, but it also allows you to control other appliances in your house. One remote for all ! The Smart Remote uses WiFi, Bluetooth and Infrared to control other appliances around you.
Live Weather Updates
I've never come across this feature on any TV. The HOM Smart TV provides live weather updates over your TV channels. So whether it's a storm brewing up or the sun beating hard, you will get all the latest weather updates live on the HOM Smart TV. The next thing that I'd expect would be live update of Cricket scores, life would be sorted !
Android TV with Built in Apps
This HOM Smart TV comes with Android 4.4 out of the box. With Android, you can not only watch your regular boring TV programs but you can also watch exciting content from the internet. Movies, Music, Sports, Games and everything else you can think of. The HOM Smart TV takes TV viewing to another level by providing Android – YouTube, Games and Apps – all you need. Not many other players in the market are providing Android TV with those specifications and more importantly at that price – Bada Size, Zabardast Price.
HOM Smart TV: Phone se Sasta TV, Har Family ka Member
I'm still not able to come to terms with the fact that the HOM Smart TV is probably the cheapest 55″ 4K LED Smart TV in the market. With a price tag of less than Rs 35,000, the HOM Smart TV is the Cheapest 55″ 4K LED Smart TV in India. To back their technology, HOM TV is providing a 365 days Replacement Policy. So if you unearth any any minutest issue with the TV, you can get it replaced within a year of purchase. I'm sure no other brand is giving a replacement policy. Also, while other brands are going for the online only channel with flash sales, HOM Smart TV will be available at regular stores as well as mobile store so that it is accessible for the masses. That's a great marketing strategy considering the Indian scenario.
That's about the Phone se Sasta TV,  pretty surprised to see such a complete package on offer at such low price. Backed with their motto of Har Family ka Member, they are ensuring that every household can have a smart TV and enjoy its benefits without overshooting their budget. What's your say ? Don't you think this is a great deal considering the fact their sales channel, replacement policy as well as the pricing ? What ever you feel, drop your view in the comments section below or tweet to me at @Atulmaharaj and let me hear what you have to say !