Food is considered to be THE way to reach a man's heart. It's also a bond that brings people closer. It brings people from diverse backgrounds and cultures together. I've been in Hyderabad for a little over 6 years now and over time I've explored quite a few restaurants in the city. During this journey, I also met some amazing Food Bloggers and other foodie Instagram influencers. Over the last couple of years, the Hyderabad Food Insta Meet has become an annual affair. Last year during the Hyderabad Food Insta Meet 2.0, I was at the Glass Onion restaurant in Gachibowli.
But now things have totally changed. COVID had bought the F&B industry to its knees and its people like you and me who need to come forward and help them get back. I've been doing my bit by regularly ordering food from Zomato or Swiggy over the last few months. Recently, I was out visiting Ohris Eatmor too. You would have guessed from the title itself, this is going to be my experience of Hyderabad Food Insta Meet 3.0 in the new normal.
The Venue – Heart Cup Coffee Gachibowli
Hyderabad is home to some really good cafes. Whether you are a coffee lover or not, the cafes here are well equipped to tickle your taste buds. Some of the famous ones where I've also been to are Roastery Coffee House, Kaficko, Aura Cafe, Heart Cup Coffee to name a few. Heart Cup Coffee, Begumpet is one where I've been quite a few times with my friends as it was close for all of us.
They have another one in Kondapur and a brand new one that recently opened in Gachibowli. Heart Cup Coffee Gachibowli is located behind Sandhya Convention, right opposite Diner's Pavilion. The road to the place is still under construction, but the cafe is fully functional with all the precautions in place.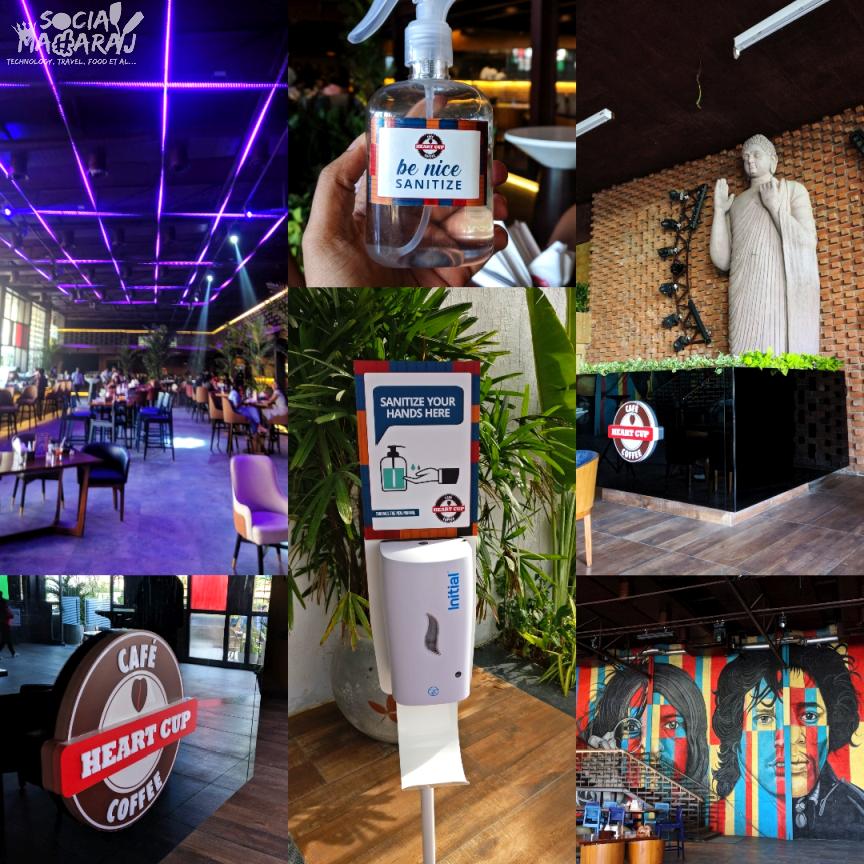 Heart Cup Coffee Gachibowli is a spacious cafe with indoor and outdoor seating options served with some great ambiance and music. Since this was the venue for the Hyderabad Food Insta Meet 3.0, we had a set menu hence I didn't actually get to see the menu and try items off it. I'll try to visit the cafe sometime and might have a dedicated blog post for Heart Cup Cafe Gachibowli. The one in the Begumpet is congested and gets claustrophobic especially when people smoke inside 🙁 At the Gachibowli outlet, people can go out and smoke. Overall, I loved the ambiance and space.
The Event: Hyderabad Food Insta Meet 3.0
What happens when you have some of the best foodies under one roof? Pictures! (Gotcha! You expected food, didn't you? 😉) While food is by default present, shutterbugs were at work. On one side we had the paps snapping the pretty & handsome influencers while on the other, the food was being clicked in all angles possible. While you may think that people would be busy eating and tasting at such an event, it's more about clicking photos, sharing stories, reels, and whatnot.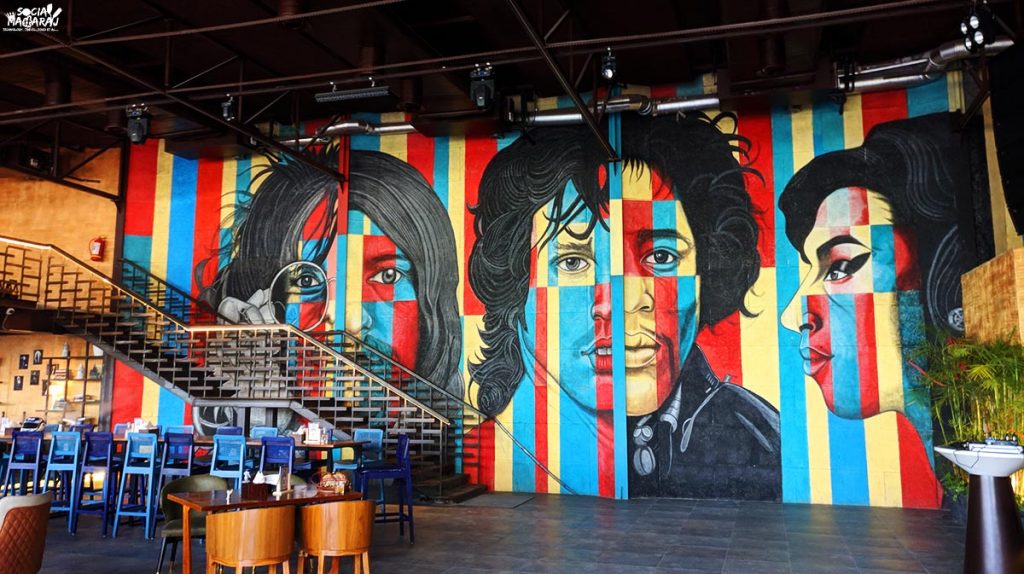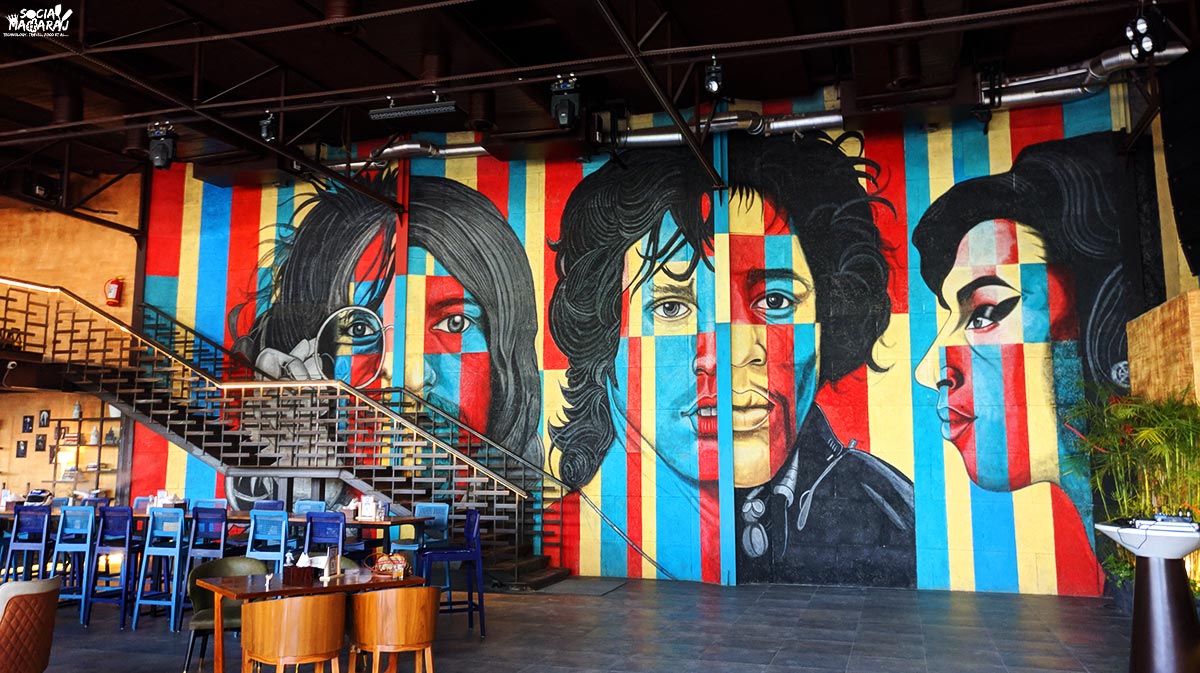 It was good that the venue had taken precautions for COVID and we had sanitizers everywhere. Even the servers were taking all the care while serving us. There was also a panel discussion where we had a marketing manager of a leading hotel chain, a decorated chef, and a social influencer on board. They discussed how the situation is changing and how people like you and me only can help revive. There was also a brief discussion about new media like podcasting too. (In case you haven't checked out my podcast yet, go check it now!)
The Food & Goodies
Coming to food, there's no doubt it was pretty good. Though I felt there could have been better vegetarian options. I tried the Corn Tikki along with the Paneer Cheese sandwich & Crispy Veg. The corn tikki was nice, the paneer cheese sandwich could have been better and crispy veg had only beans. While I'm sure the regular food off the menu would be much better, this was ok. There was also Sushi, Water chestnut, and Nachos on offer.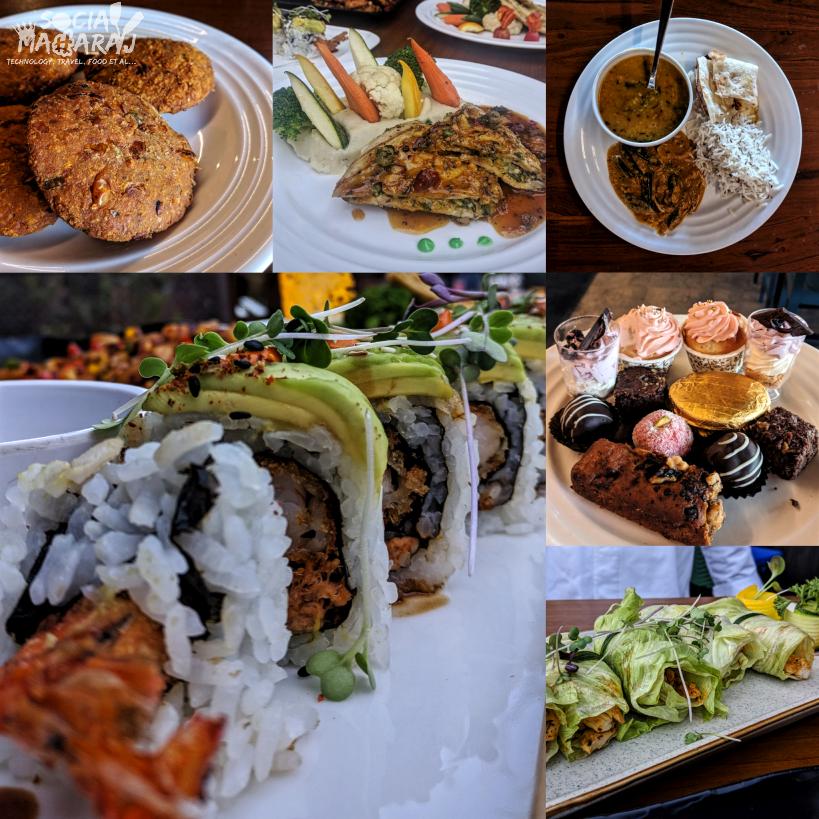 For the main course, there was a continental spread with a variety of vegetarian and non-vegetarian food. For vegetarian, we had Salad, Roti, Mixed Veg, Burmese Veg Curry, Moong Dal Tadka, and Rice. I quite liked the mixed veg curry and moong dal tadka. The desserts were amazing courtesy of the Baking Culture. We had a variety of pastries, cookies, cakes on offer, and all of it was pretty nicely done.
Coming to the goodies, there was fresh flower bouquets from Mr. Bloomin, Sustainable items from Sacred Goods, Assorted biscuits from Pista House, Cookies from Sofrehh, and munchies/namkeen from The Chaat Company. Thanks to all of them for providing the hamper, looking forward to trying them and might see if I can get a dedicated blog post for each of the above-mentioned brands.
A fun afternoon at Hyderabad Food Insta Meet 3.0
Overall, it was a pretty good event like the earlier edition. While we did see fewer participants and some of them moved out to their hometowns, there were many new faces at the event too. It's always good to meet and greet fellow foodies. While others meet quite often during tasting and food sessions, I'm not a regular face over there so the Hyderabad Food Insta Meet was perfect for me to meet everyone.
The venue was perfect, the music was amazing, the desserts were outstanding and the food was good. I was glad to be a part of two editions of the Hyderabad Food Insta Meet, looking forward to the next one! Were you a part of the event too?
Are you a foodie or food influencer based out of Hyderabad? Mention in the comments below, Tweet to me at @Atulmaharaj or follow me on Instagram. If you are a brand, restaurant looking to feature your product/service on this blog, please get in touch with me.