Though I don't have a sweet tooth like everyone else in my family does, I'll admit that once in a while I do love to indulge in sweets. Brownies, Cheesecakes, and Milkshakes are my guilty pleasures. And if they are Coffee flavored, it's even tougher for me to resist. Further, I'll also admit that in the last few days I've been relishing desserts often, thanks to House of Desserts for their delicious eggless desserts.
Last Sunday being a part of a long weekend, I was invited to The Chocolate Room Madhapur to taste their offerings. When the name of the place has chocolate, how could the Maharaj miss out on the opportunity? Also, there were my good friends coming in as well, I knew it was going to be a fun afternoon. Read on my The Chocolate Room Madhapur review & get your sweet cravings satisfied.
Colorful and Elegant Ambiance at The Chocolate Room Madhapur
If you have been to Madhapur and HiTech city of Hyderabad, you know how crowded these places are. And one of the reasons is the number of eateries on the way. Both sides of the road have some of the finest eateries serving finger-licking food. One such outlet is The Chocolate Room Madhapur. Located at a stone throw's distance from Durgam Cheruvu Hyderabad Metro station, the Chocolate Room Madhapur may look congested from the outside, but it's colorful and elegant from the inside.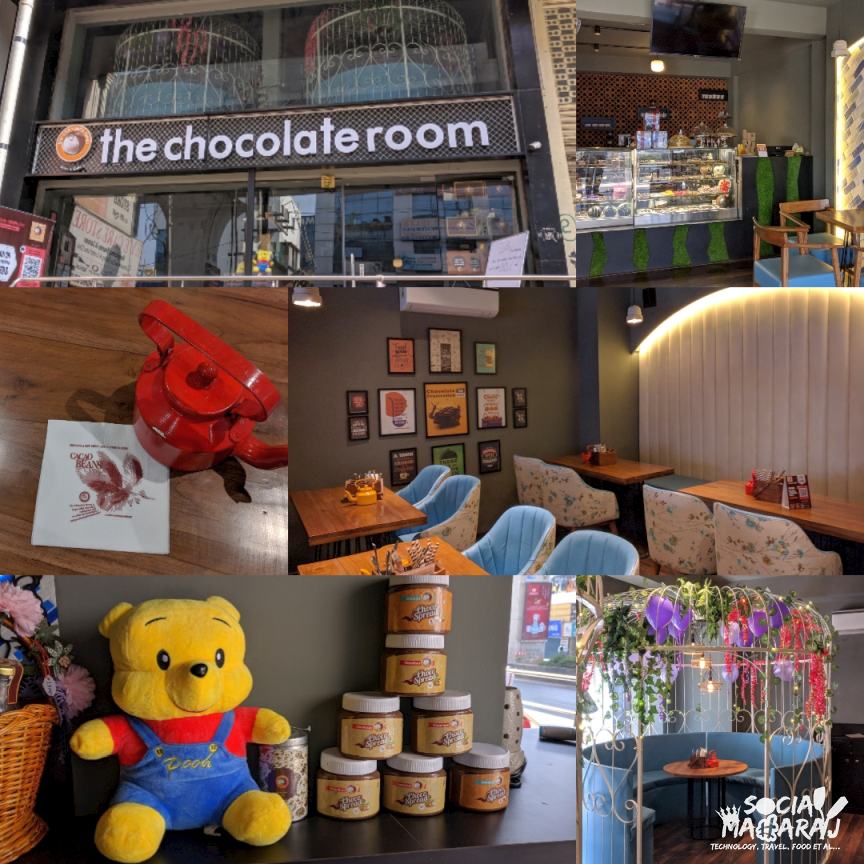 The Chocolate Room Madhapur has two floors with seating on both of them. The ground floor has a couple of tables while the one on the first floor has the maximum space. The interiors are pretty nicely done with quirky photo frames, cool blue chairs, and chic kettles on every table. They also have two birdcage seating areas that are perfect for a large group or a perfect date! In terms of ambiance, everything was spot on. In fact, you won't feel like you are in Hyderabad once you are inside The Chocolate Room Madhapur.
The Chocolate Room Madhapur Review
As the name suggests, The Chocolate Room Madhapur has quite a few chocolate offerings in the form of chocolate bars, milkshakes, cakes, and brownies. While they are good with their chocolates, they also have a decent food menu as well. We tried a few dishes and here's my honest The Chocolate Room Madhapur Review.
Delicious Continental Food
They have quite a few starters on their menu ranging from a variety of french fries to garlic bread. We had a plate of Tandoori Garlic bread. While I thought it would be a Tandoori Garlic bread, it was rather Paneer marinated in Tandoor Sauce baked on regular bread. But since I like the Tandoori sauce, liked this one too 🙂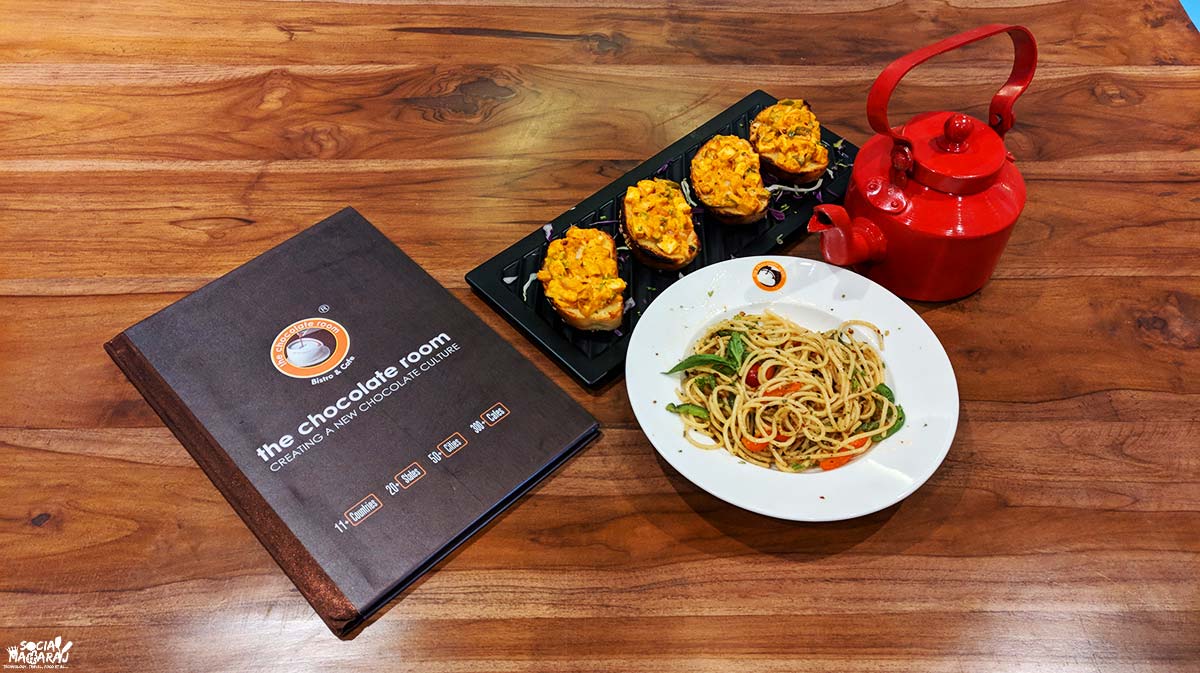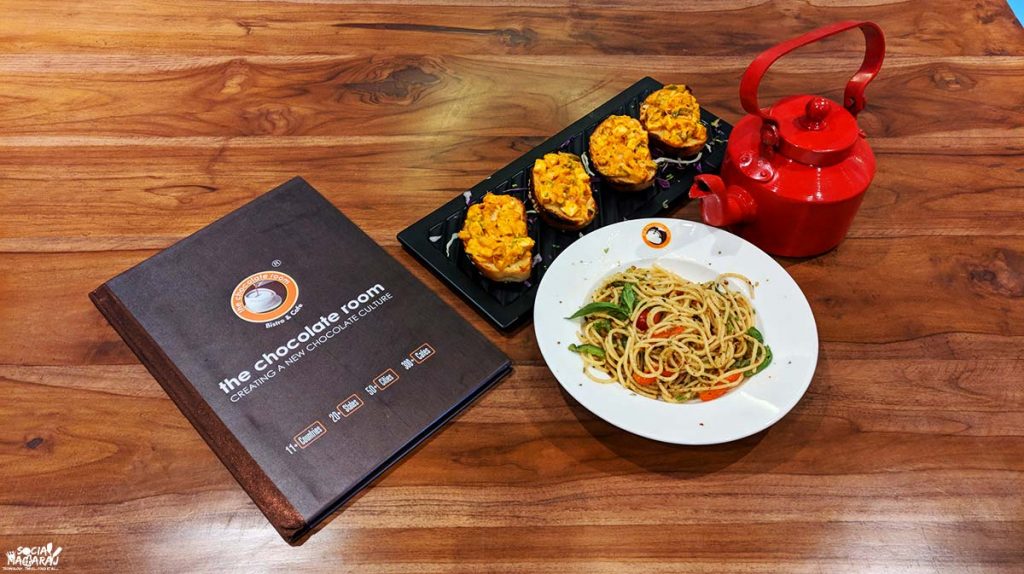 Next was Spaghetti Aglio e Olio. (Had to take help from YouTube to get the pronunciation right) The Spaghetti was simply amazing. It was lazed with garlic, bell peppers prepared in Olive Oil without the cheese. Yes, they can prepare Vegan versions of dishes on request. It had subtle flavors and I totally recommend trying it here. We also had a thin crust Margherita Pizza which I would say was average.
Soothing & refreshing drinks
One of the things that always accompanies food, friends, and gossip are drinks. The range of drinks at The Chocolate Room Madhapur is pretty good. From hot coffee and chocolate to milkshakes, sundaes, fondues, and even mocktails. We did try quite a few drinks including a brownie milkshake, Cucumber & Mint Iced Tea, Peach Mojito, and Sugar-Free Iced Coffee. The Iced Tea and Mojitos were nicely done with mild flavors and sweetness, just the way I like.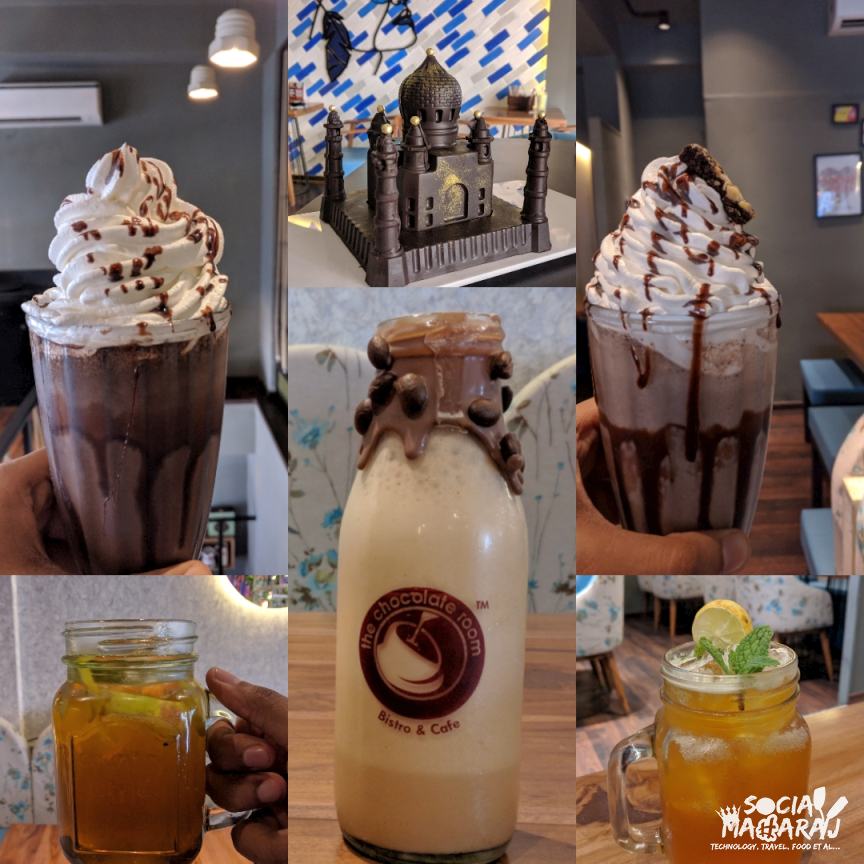 The milkshakes on the other hand were rich, creamy, and sweet. I'd prefer the whipped cream to be a little less. However, if I had to choose the best drink of the day, it has to be the sugar-free diet Coffee milkshake. It had a strong bitter coffee flavor with mild sweetness. All the coffee lovers will surely enjoy this.
Get your sweet cravings satisfied at The Chocolate Room Madhapur
Located right opposite Image Hospital, The Chocolate Room Madhapur is easy to locate. The outlet may look small from the outside, but the nicely done interiors tell a different tale. Considering how busy the road is, parking can be a concern, so do keep that in mind. In terms of food and drinks, they have a variety of offerings to choose from. Though the name is The Chocolate Room, the outlet serves some good food as well. The Pastas, Lasagnas are worth a try and the diet coffee milkshake is recommended.
Go ahead and give The Chocolate Room Madhapur some love. I'm sure you can get your sweet cravings satisfied here. My experience on a Sunday morning with friends, sitting inside a birdcage and relishing the food & drinks was amazing. And though this was by invite, this Chocolate Room Madhapur review is honest and based on my experience. Do you have a sweet tooth? Let me know in the comments below, Tweet to me at @Atulmaharaj, DM me on Instagram, or Get in touch.