Ever since I've moved to Hyderabad, the one thing that I've been complaining about is that there aren't many getaway places from Hyderabad that are like a one-day trip. Cities like Pune, Mumbai, and Delhi have a lot of places within a 2-3 hour drive from there. From Mahabaleshwar to Lonavala in the west to Jaipur and Agra in the north. Ananthagiri is one place that's close to Hyderabad and makes a good road trip from Hyderabad. Even a road trip from Hyderabad to Bidar is good. But how many times can one go there?
So a few days ago, my friends invited me to visit Unique Trees in Hyderabad. I'm sure not many people are aware of this place but I'm hopeful that after reading this blog post, you'd sure want to plan a visit soon. Here's all you to need to know about us discovering a hidden gem in Unique Trees Hyderabad.
What is at Unique Trees Hyderabad
I'm sure that you would have come across a lot of plant sellers across the streets in our cities too. For instance, we see a lot of them near Forum Mall in Hyderabad. But Unique Trees is unique in its own sense. Unique Trees Outdoor luxury is how they portray themselves. It's basically a plant nursery but with a global touch. It houses some of the finest species of plants, trees, and statues from across the globe.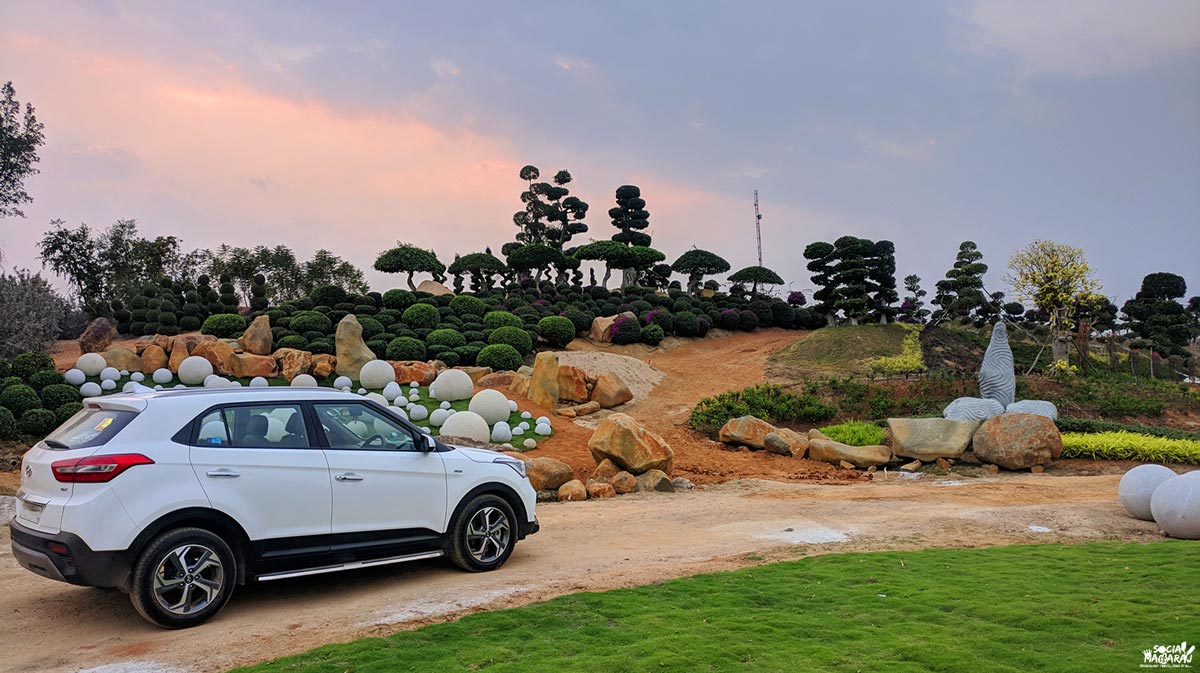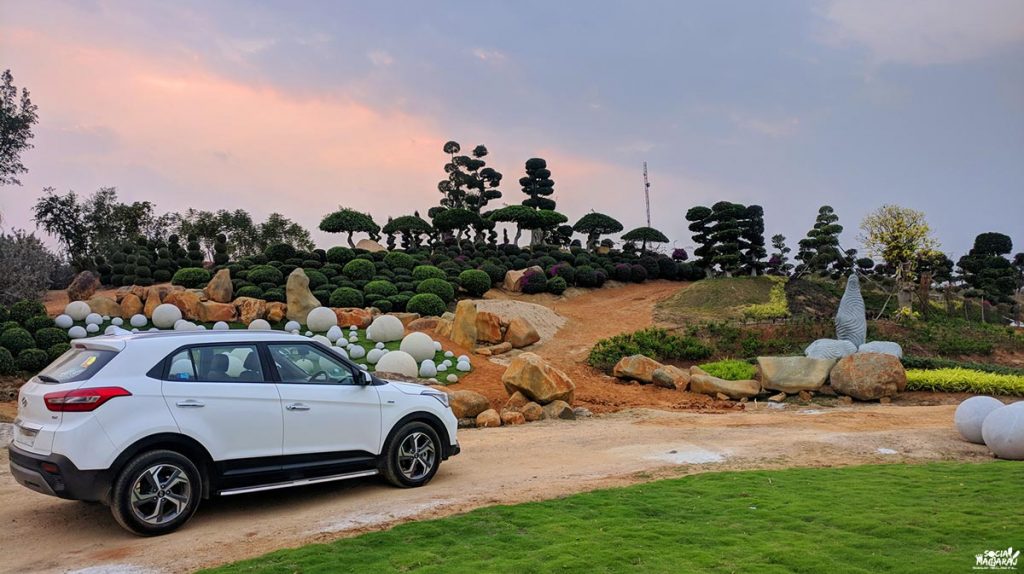 It's spread across 80 acres and has three different zones that house some of the exotic species. You can find varieties of the same plant from a small pot to a fully grown tree. And the best part is you can buy all of these. Yes, Unique Trees Hyderabad has all unique trees for sale.
How can you visit Unique Trees
Located about 30kms from Hyderabad, Unique Trees is located near Pragathi Resorts, a little further from the famous Chilkur Balaji temple. You can simply key in the location on maps and you should be good. They have a large banner outside the place so you can definitely not miss it.
Since the place is large, it's best to take a car. In fact, they allow cars inside Unique Trees Hyderabad. You will have a guide who will help with the route and also assist you with the plants and trees that suit your requirement.
Unique Trees Hyderabad Entry Fee
When you get to witness some of the finest trees in the world, you surely need to pay some price for it. And it's no different with Unique Trees Hyderabad. In fact, their entry fee is quite different. The entry fee at Unique Trees Hyderabad is Rs 1500 per car. Yes, it's per car. You can pay this fee to the security guard either in cash or GPay. You'll get a brochure that explains all the plant varieties that are present at Unique Trees Hyderabad. The brochure is pretty good in terms of explaining the species, their requirements, etc.
However, the Unique Trees Hyderabad entry fees will be refunded if you buy a plant/tree from the nursery. Also, after paying the fee, you are entitled to multiple visits for the next 30 days. While it sounds good, we'll have to try to verify the same. Also, the minimum cost of a plant there that we enquired about was Rs 40,000.
What to expect at Unique Trees Hyderabad
As said, it's a huge nursery, you need at least 2-3 hours on hand to explore the complete park. If you have a car it's much easier, else, walking in the premises can take a lot of time. You're free to take as many photos as you want. And I must say that some spots in the park are pretty good. They have some great bonsai plants and exotic trees which you don't get to see normally. They have a huge variety of palms and ferns too.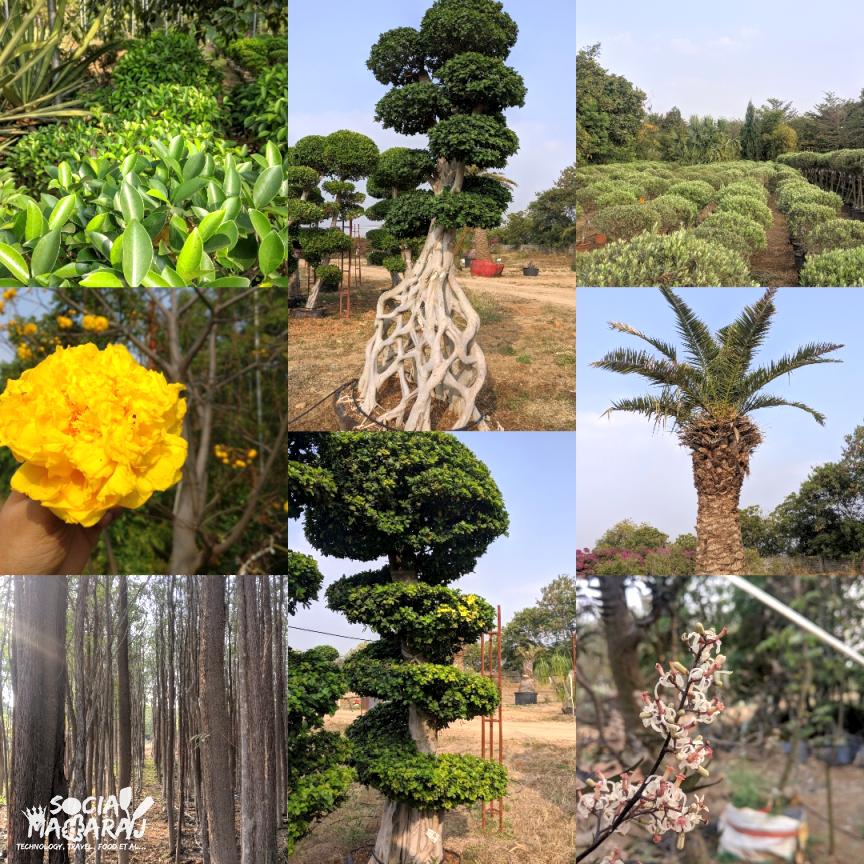 For instance, we saw a black neem tree, a tree that shed all the leaves when it flowers, etc. The highlight of Unique Trees Hyderabad however is the 1400-year-old tree that's right at the entrance. It has been bought in from Italy and is the highlight of the place.
Further, since it's a huge place, I suggest reaching the place by 2-3 PM and exploring the place till the closing time. Also, with so many plants around, it seems a place to visit during monsoons because of the greenery you can expect. Apart from the trees themselves, Unique Trees Hyderabad has got absolutely nothing. You don't have a restroom, a place to eat or drink, etc. So make sure you are prepared before you go there.
Upcoming Unique Trees Park in Hyderabad
While the original Unique Trees park was good, there's an upcoming park right opposite the property. It's even grander and promises to be a wonderful destination once it's ready. While it's still under construction, we were allowed a sneak peek inside the new park. As per what was told to me, there are going to be Japanese, Italian, and other types of parks inside.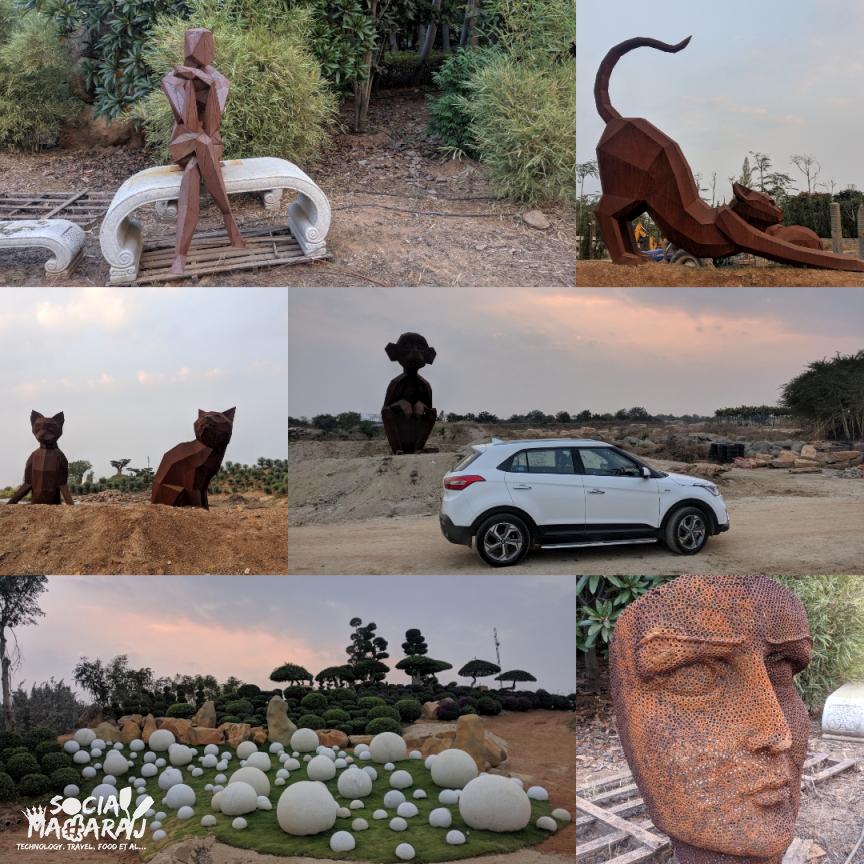 They have some large, interesting art installations which are simply amazing. There weren't many plants as yet, but based on what I saw, I'm sure whenever the new Unique Trees park comes up, it will be an amazing destination for sure. It would be grave to compare this to Gardens by the Bay in Singapore, but it sure seems like they want to get something like that for Hyderabadis. The photos that you see here are some of the exclusive Unique Trees parks photos on the internet!
Unique Trees Hyderabad Worth a Visit?
If you are looking for a one day trip from Hyderabad, Unique Trees Hyderabad makes for a good destination. Might not a great place to visit during summers, but winter and rainy season I'm sure you'll have a good time. Also, there weren't many flowering plants when we went.
For the price, it does seem priced high for the amenities you get. The existing Unique Trees Park does have exotic trees but lacks back amenities like restrooms, cafeterias, etc. Having these would make it a good destination. But again, the upcoming park does have these setups and I'm sure that will be a good place in the times to come.
That's about the hidden gem we found in Unique Trees Hyderabad. Did you know about this place earlier? Would you want to plan a visit? Let me know in the comments below, tweet to me at @Atulmaharaj, DM me on Instagram, or get in touch.