It's been close to 2 years since most of us have seen our workplace. Locked up in our houses, we all have been wanting to go out. In fact, I wrote an article about remote working destinations in India. The list includes a lot of places along with what you should look for while considering a remote working destination. However, not everyone can visit different places and hence might want to have a staycation in their city. There are a lot of options when it comes to doing a staycation in Hyderabad. There are some places that offer exquisite staycation in Hyderabad and I was at one such place last week.
One of the well-known hotels in Hyderabad is Novotel. There are a couple of Novotel hotels in Hyderabad – one near the Hyderabad Airport and the other one at the Hyderabad convention centre. I have been to Novotel Airport during my Tata Hexa Bloggers Meet a few years ago. I was invited for a staycation in Hyderabad at Novotel HICC. We spent a couple of days at Novotel HICC and I'll share my staycation experience in this blog post.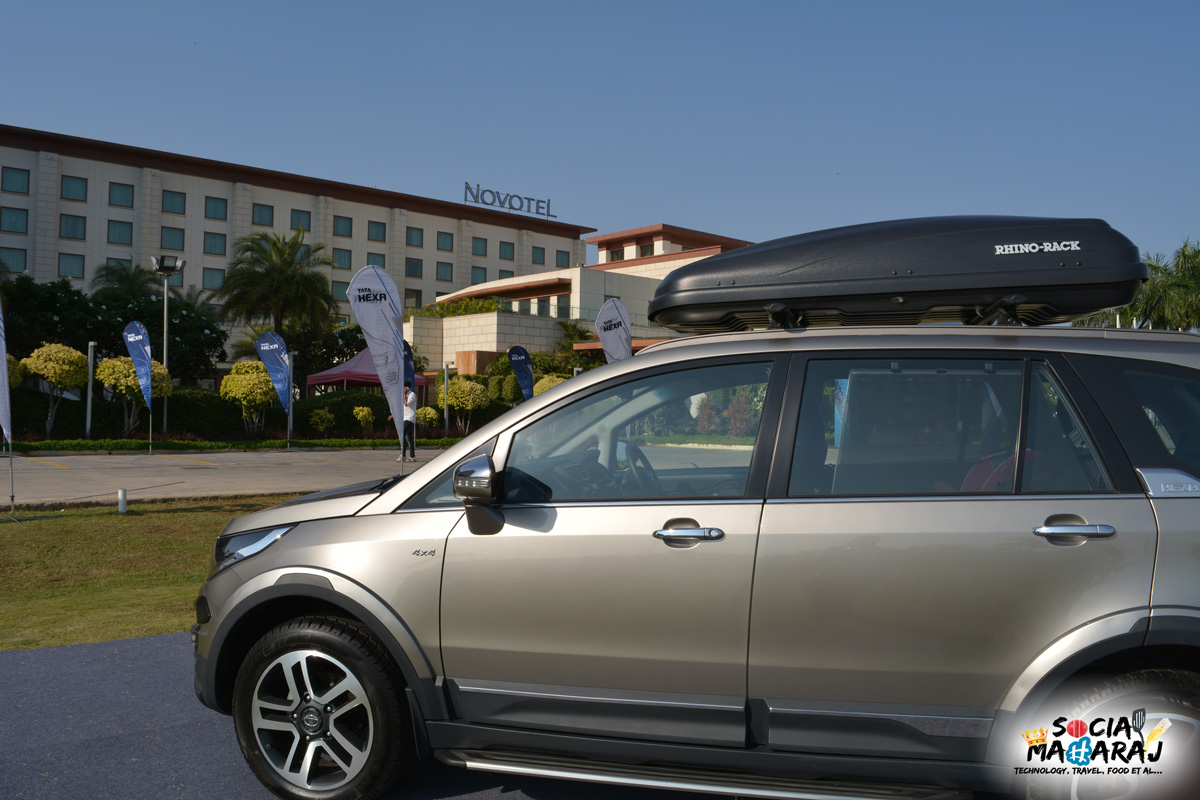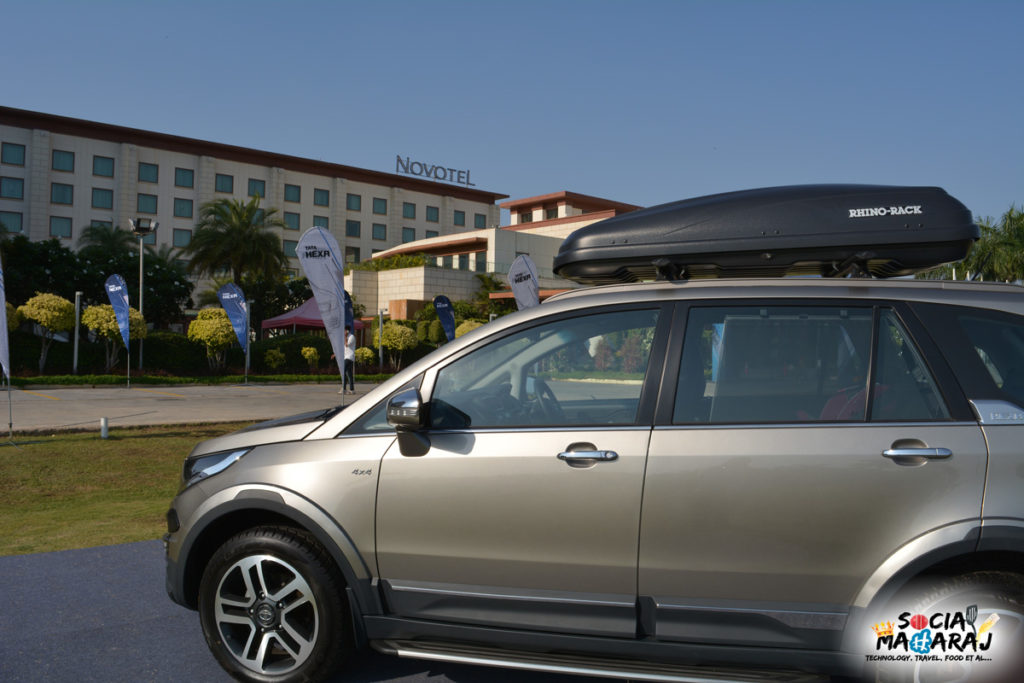 Fun & Work at Novotel HICC
Novotel HICC is located in HiTech city where most of the offices are. Being a part of the Hyderabad Convention Center, Novotel HICC is the perfect place for work. Its close proximity to offices makes it a preferred place for people to stay for work. But does that mean, it's a complete business hotel? I'd disagree.
Novotel HICC has got all the elements that would make it a perfect place for families to spend time. From video games and air hockey stations to a beautiful garden overlooking a well maintained swimming pool. They also have a small play area that is perfect for kids. There are even bicycles for your kids to ride along while you relax under the coconut trees and enjoy the cool breeze.
I absolutely loved the open spaces the property has got. The garden is surely one of the highlights. Being the last place on that road, it's extremely peaceful. And you don't feel like you're staying in Hyderabad.
My Perfect Staycation at Novotel HICC
I along with my friends was going to spend a couple of days at Novotel HICC and experience their hospitality. The hotel has got 6 floors and a variety of room options to choose from. You can select a standard room with a queen-size bed or a swanky superior suite. All the rooms provide you either with a city view or the pool view. The hotel has free and paid WiFi with good speeds to ensure you can work uninterrupted.
Covid Protocols Followed
Keeping up with the pandemic, the hotel has taken all measures in place for the safety of everyone. Apart from thermal checks and sanitization centres at the entrance, the keys and rooms are thoroughly sanitized. You'll find no staff in the hotel without a mask and gloves. In fact, the mask is mandatory on the premises.
My cozy room
Coming to my room, I was put up in their Junior Suite on the sixth floor. The room had a queen bed, a couple of work desks, huge windows overlooking Hyderabad city and a luxurious bathroom. The team had prepared an exclusive platter with an assortment of desserts along with an edible Charminar replica made out of chocolate. There were also some goodies too.
Whether it's a staycation or not, I simply love the work desk. And this one was just perfect. I quickly plugged in my laptop, connected it to the WiFi and was all set to work. The location of the property is such that, it was peaceful. That coupled with a good WiFi ensured that my work calls were crystal clear.
The bathroom was large too and had a bathtub too 🙂 While I love relaxing in a bathtub, I also feel guilty about wasting that much water. I don't know if it's only me or does this happen to you as well. Nonetheless, the bathroom is well equipped with all the essentials along with a hairdryer in case you need one.
Overall, I loved my room. It was quite spacious which meant that I could walk about in the room when on calls. The work desk and the chair were just perfect and ensure that I didn't have a backache working. The bed wasn't too soft or hard and I did get a good sleep after a hard day at work.
Why Plan a staycation at Novotel HICC?
Many of us, especially the working folks, are looking to move out of our houses and work. While I had been planning one myself, this staycation in Hyderabad at Novotel HICC came in at the right time. It was during the start of the week and getting pampered with their hospitality was needed to cope up with work.
Having stayed at Novotel HICC for a few days, I think I can talk about this – why plan a staycation at Novotel HICC? Here are 5 reasons why you should plan a staycation at Novotel HICC:
Distance & Location of Novotel HICC
One of the most attractive things about Novotel HICC is its location. It's located well within the city limits. It's easy to reach either by road, metro or MMTS. You don't need to drive a hundred kilometres, a short drive and you're already at the hotel.
Safety Norms followed stricty
I was stopped from entering the premises because my mask was on my chin. The security didn't allow me to enter unless I wore my mask and got the temperature check. They even have one-time use sticks to help you operate the elevators and shields at the reception and restaurants. In short, all safety norms are followed strictly.
Good Wifi & work options
The most critical part of doing a Staycation in Hyderabad is network connectivity. The mobile signal was good and so is the Wifi. The regular free Wifi is good enough for your regular work and team calls. If you want high bandwidth, you can opt for their paid plans. Also, being a large property, you can work from anywhere – your room, lounge, lobby, garden, swimming pool. Literally from anywhere.
Delcious Food with variety
What's a staycation unless you don't indulge in your favourite dishes! Novotel HICC has got you covered. Apart from the 24 x 7 room service, they have a coffee shop, a bar and a restaurant that caters to everyone. The restaurant Food Exchange has also been awarded for being one of the finest places in the city. And hence I'll talk about food and Food Exchange in a separate blog post.
Fun & Work
Lastly, if you're out for a staycation in Hyderabad, you don't only want to work. Whether you are visiting with your family or your loved one, the property will ensure you have a good time. From a well-maintained pool to a gym and massage centre, Novotel HICC will ensure that you have all the fun and work during your staycation.
A Date To Remember
This wasn't my first rendezvous with Novotel HICC. I've been here a couple of times earlier, but as a visitor. This time, however, I was a guest. It's a completely different experience. My Staycation in Hyderabad at Novotel HICC was surely a date to remember. Hospitality was top notch and the team left no stone unturned to ensure we had a good time. The staff was extremely polite and receptive to our needs. The personal touch they gave in our room was pretty good.
All in all, it was a wonderful staycation I had. I wouldn't mind going back again and spending a couple of nights. They have some really sweet deals which might want you to plan a staycation, so you can head to Novotel HICC's website to book your stay.
That's about it. Before I conclude, I'd like to ask you about your favourite place for a staycation in your city? Let me know in the comments below, tweet to me at @Atulmaharaj, DM me on Instagram or Get In Touch.