One city that is synonymous with Gold, it is Dubai, thanks to the Gold Souk. And for many of us a gold car, a gold watch, a gold iPhone would all be found in Dubai. But what if I told you that you don't need to travel to Dubai to get gold ice cream! Yes. You can experience the ultimate 24K Gold Ice Cream in Hyderabad. You don't need to go to Dubai to have Gold ice cream.
I'll admit that I'm amongst those folks who don't have a YouTube premium subscription. And hence I do see a lot of ads. While most of them are useless, there are a few ads that I've watched till the end. One of the recent ones that I've loved is the Dubai ad with Shah Rukh Khan. I don't know, I just find it refreshing. Dubai has been associated with everything large, massive and full of bling-bling.
PS: Dubai is a destination that I'm longing to visit, wonder when that will happen.
Huber & Holly
Hyderabad is home to some of the finest dishes in the country. From delicious Biryanis, Haleem to lavish meals, bakery biscuits and Irani Chai. To add to the list, Huber & Holly has come up with another iconic dish – the 24K Gold Ice Cream. Huber & Holly is one of the many ice cream parlours in the city. Some of the others that I like are Creamstone and MyFroyoLand.
It has been there for quite some time but I visited it only recently. They have a couple of outlets in the city, but this one is right opposite KBR park. In fact it's in the lane next to Panchakattu Dosa. The outlet has nice decor and some good photo spots. The lighting is also perfect for photos. Apart from ice creams, they also have some sandwiches, Pizzas, kinds of pasta and Nachos. Since I was here post-dinner, I didn't eat anything except the gold ice cream.
So the big question is, is the 24K Gold Ice Cream in Hyderabad worth it? Read on to find out.
Making of the Gold Ice Cream
One thing that I need to let you know is that the gold ice cream is a fully loaded ice cream. Huber and Holly offer two variants of gold ice cream. The mini version is priced at Rs 499+ and the larger one is priced at Rs 1050+. At this point, you might wonder as to how is gold ice cream so cheap? Well, that's because there's a layer of Gold foil on the ice cream.


The ice cream creation process itself is something that you must witness. It starts with a chocolate waffle cone placed in a specially designed stand. Items like brownies, roasted cashews, almonds, nuts and a whole of interesting stuff that goes in next. Delicious hot, liquid chocolate is then poured on top of it. A few scoops of ice cream before topping it up with some more.
What happens next is they take some ice cream and top the cone with a lot of it. It initially looked like whipped cream, but it wasn't. And that's a whole lot of ice cream in the waffle cone. This is when the gold actually comes in. They then add a small Gold foil to the ice cream. Top it up with a few coloured nuts along with a chocolate spoon.
How does the 24K Gold Ice Cream Taste?
It's large ice cream and unlike other cone ice creams that you can have directly. And hence it's placed in the specially designed stand. It was three of us who dug right into it. To start with, the ice cream on the top tasted the best of the lot. This part of the ice cream tasted a lot like desi rabri and was quite good.
As we dug in, the crunchy items along with the chocolate came to the fore. It was good but way too chocolatey. Also, the flavour of chocolate here could have been a little better. It was chocolaty to a level that you couldn't taste anything else. As for the gold bit, it's tasteless. Naturally, it's just a thin layer of Gold that doesn't have a taste of its own.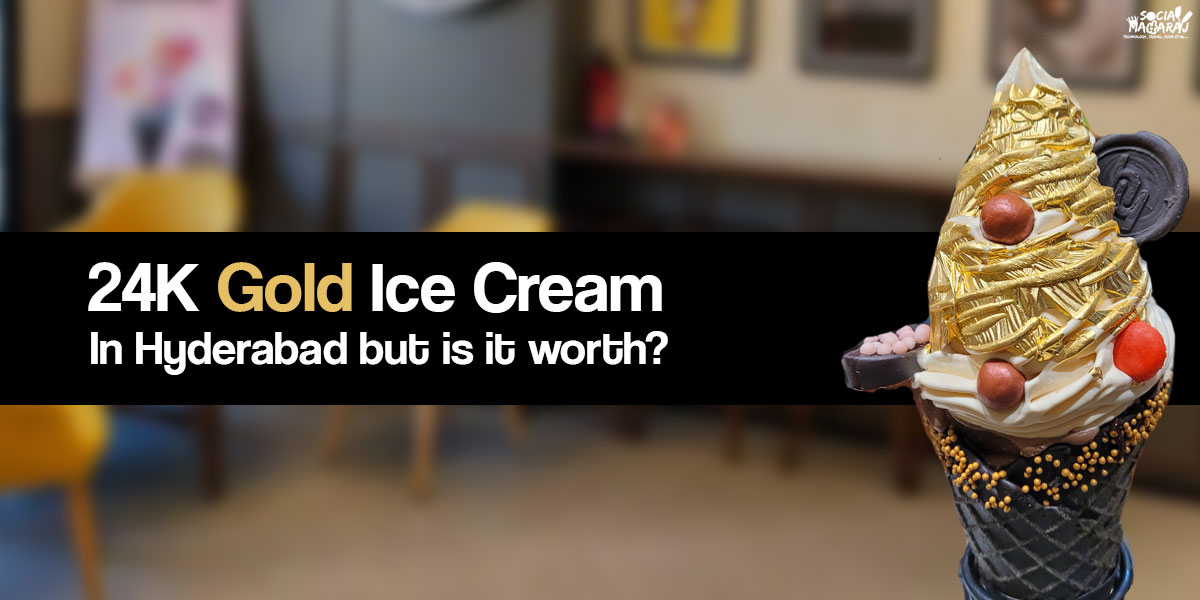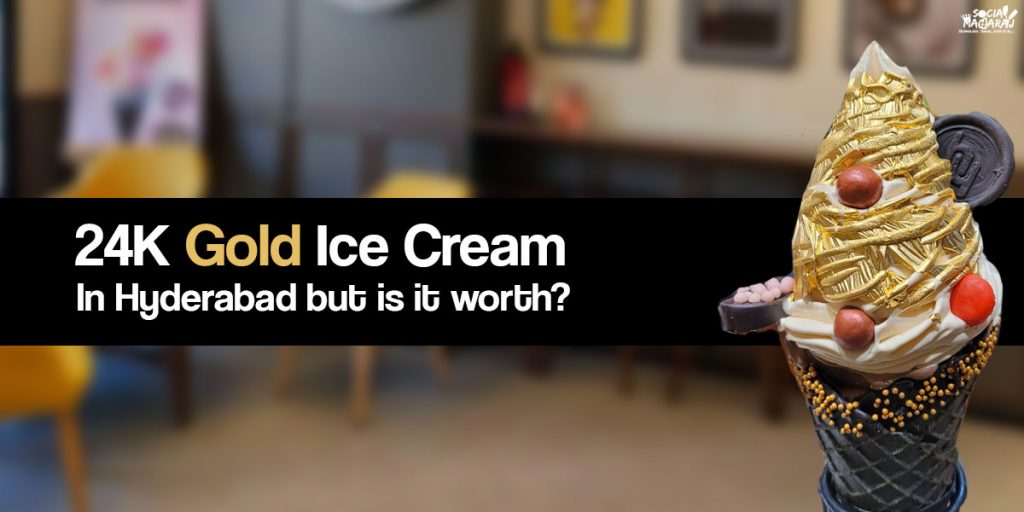 Final Verdict – try this once
I had always thought this 24K Gold Ice cream was a gimmick, and to a certain level, it is. It's a thin layer of gold foil that doesn't have any taste. However, to give it to them, the ice cream is good for the price. The nuts, brownies, ice cream, waffle, and everything else makes it good and loaded.
We had the mini one which costs Rs 522 post taxes and three of us couldn't finish it. However, if you are going all-in without having a meal before this, two people can probably finish this all. The bigger one might be a bit too much and would mean going overboard unnecessarily. Overall, I liked the ice cream and moreover, I can say that I have had a 24K Gold Ice Cream in Hyderabad!
What are your thoughts on this? Have you ever had a gold ice cream before? Let me know in the comments below, tweet to me at @Atulmaharaj, DM me on Instagram or Get In Touch.