Hampi as you all might know is popular for Hindu temples from the 9-10th centuries. The entire district of Vijaynagara is the cradle where the Dravidian style of building temples was born. Places like Aihole, and Pathadakal are a testament to this.
In fact, if you visit Hampi, you should also try to cover places like Badami, Aihole, and Pattadakal and complete the circuit. Everyone talks about these places, however, there are these 3 stunning posts near Hampi that I explored during my road trip to Hampi. While these aren't places of importance, a drive-through or a stopover is totally worth your time.
On my first day, I was in Hampi, I visited these 3 spots beyond Hampi that you could explore. I'm hopeful that not many portals, or sites would talk about it. So go beyond Hampi and explore these 3 stunning spots. PS: All of these places would look way too beautiful during rain.
Off-beat Places Near Hampi
I don't know about you, but even before I visit a place, I plan quite a lot. And my way of planning is usually opening Google Maps and moving around the place I'm visiting. Use street view extensively and find places that I'd love to visit. That's probably why I loved the Geoguessr game as well. Do try this game if you love the street view and you think you're great with maps and locations.
That's how I found the following offbeat places that I wanted to visit. Some of you might not find this interesting, but I enjoyed them.
Narihalla River View Point
If you have time at hand and can drive about 40 km one side from Hampi then the Narihalla river viewpoint is a must-visit place. From Hampi take the road that goes to Vaddu. You'll probably pass by the Atal Bihari Vajpayee zoo on the way. You'll be on the state highway for most of the ride. The roads are fairly good, some part of the stretch is double laned while other is 4 lane.
Below is an approximate route that you can follow. Google suggested me a route that was longer, but I didn't mind as I got to see the JSW Vidyanagar steel plant on the way. It's a complete township that they've built. PS: There's extremely heavy truck traffic on the way so please drive safe.
Located about 10km from the town of Sandur, the Narihalla river, and dam viewpoint is located amidst hills covered with trees. While I was here in March, I'm sure this place would be super beautiful during rains. Narihalla is a tributary of the Tungabhadra river and a dam has been built on top of it. The river viewpoint provides very scenic views of the reservoir. It's so calm and picturesque. With hills around and the reservoir, it resembled islands from Thailand. The place is extremely breezy and the temperatures can drop after sunset.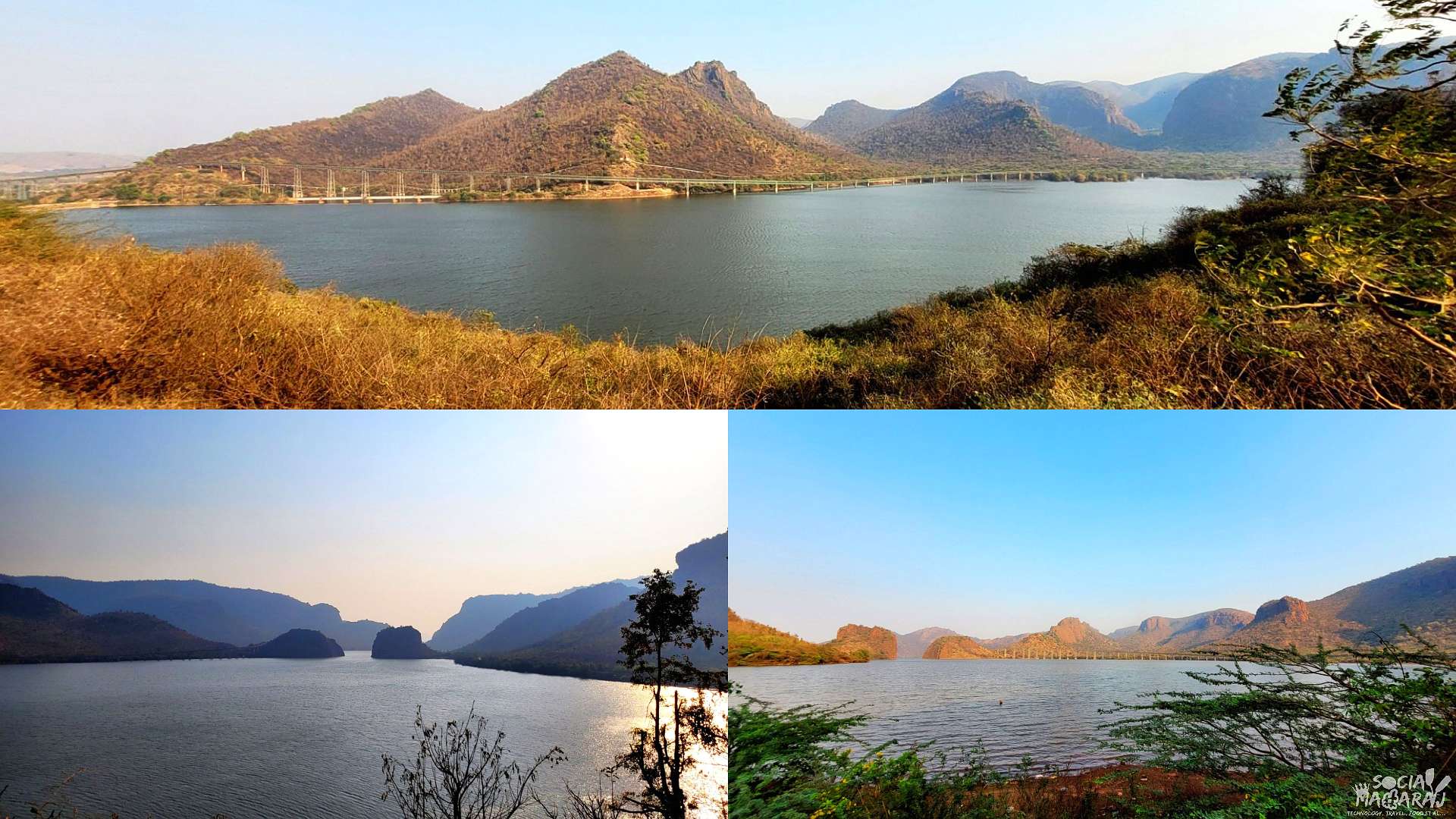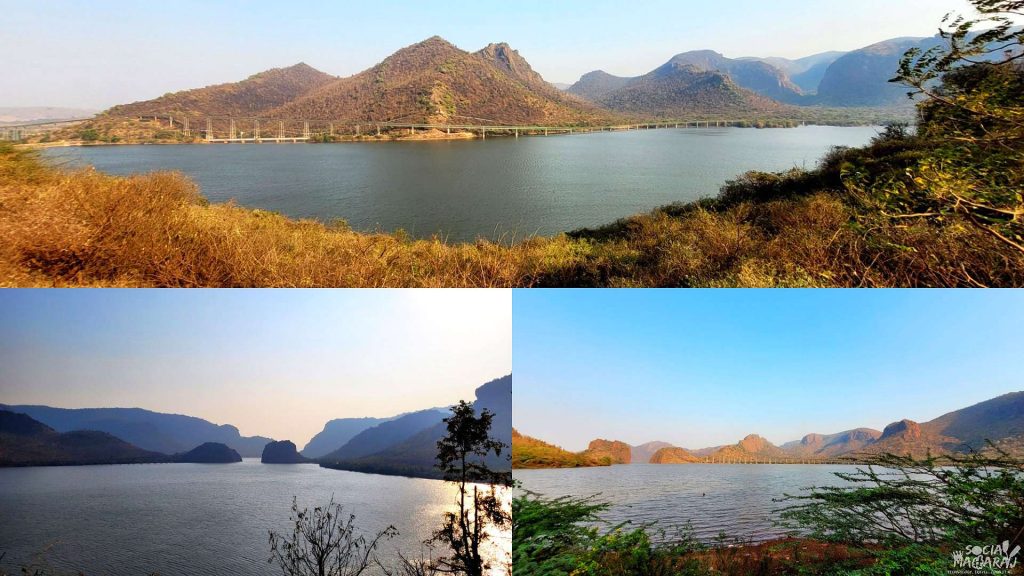 There's also a railway track on the other side of the reservoir and I can only imagine how things would look from the other side. If you can get a chance, you can go to the other side and also visit the Nandi Hill railway station. Though I haven't been here, I can vouch for it to be one of the most scenic railway stations in India, especially during rain. If you have time, you can also visit the dam viewpoint that is a little further away from this river viewpoint. If you love to drive and love beautiful views, you must visit here.
Tunnel View Point
Once you're done with the Narihalla river viewpoint, you can drive back towards Hampi and stop at the tunnel viewpoint. There are 2 tunnels that are built on NH 50. The stopover is worth it here because of the green hills, the visible light at the end of the tunnel, and the windmills that just add to the view. In fact the moment you start driving from Narihalla viewpoint you'll start spotting a lot of windmills.
There's no one spot that gives you a good view, you can stop either on the highway that takes you to Hampi city or take a diversion to the route that takes you to Hosapet. But be wary that it's a very active highway with heavy traffic, so make sure you look around and spot. A 5-10 min stopover is good enough to appreciate the human marvel of tunnels and windmills while appreciating the nature, hills, and greenery.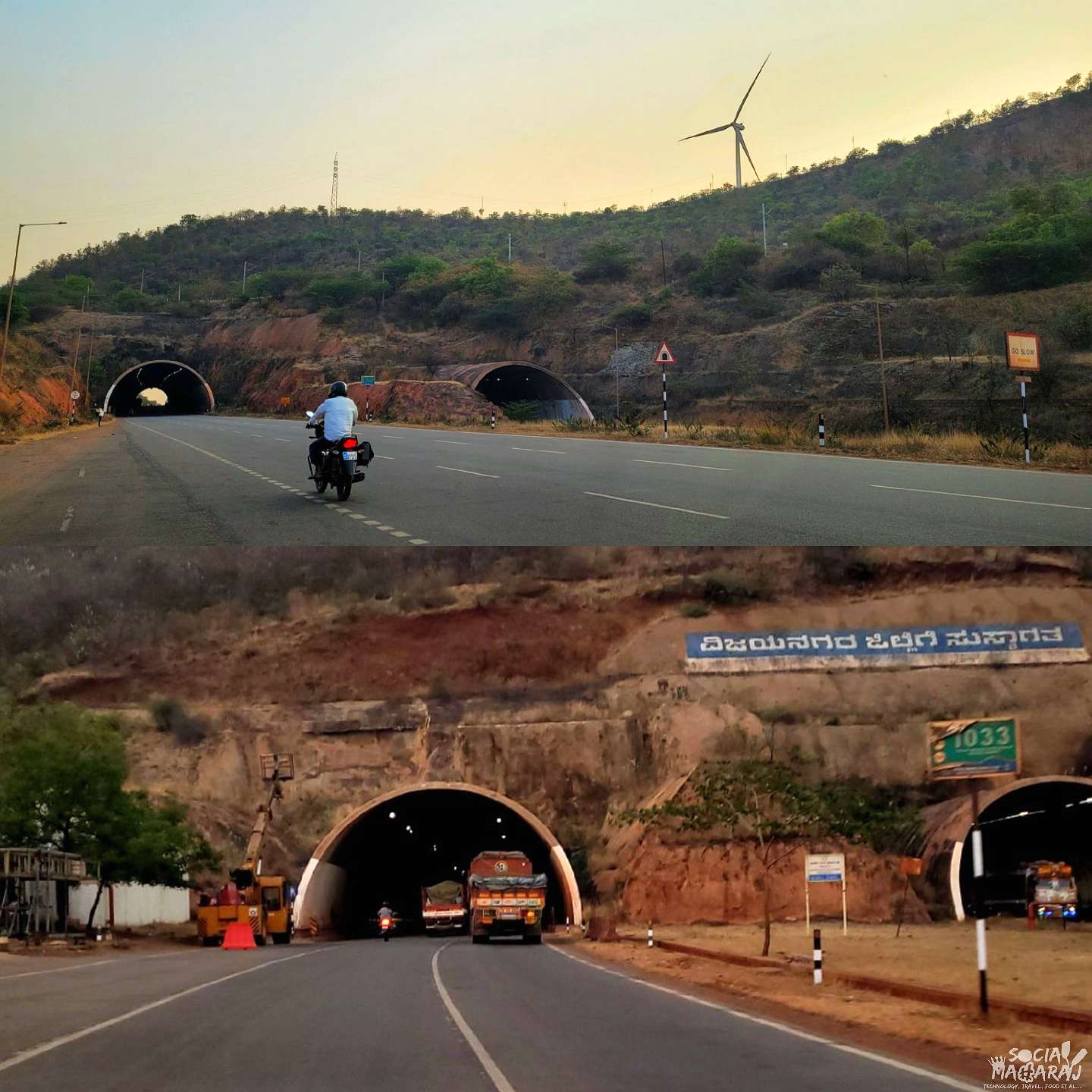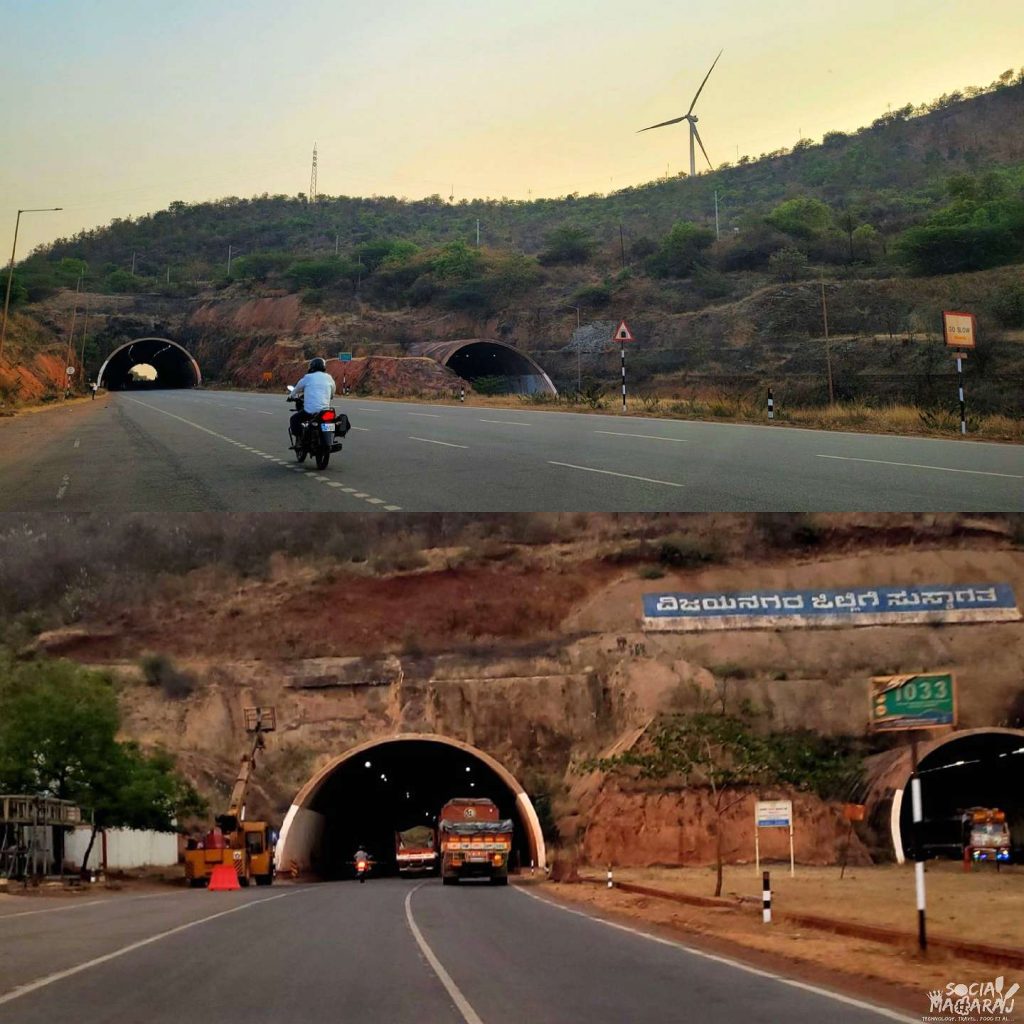 Gunda Forest Sunset Point
After you drive from the tunnel point, you can visit Gunda forest park that's on NH 50. After you cross the tunnel, you'll have to drive for a minute and there's a u-turn right in front of Gunda forest park. It's a park with a good walkway located at the side of the Tungabhadra reservoir. There's an entry ticket to the place and has a car park as well which isn't quite large. This spot (I assume) is not that special during the day, however, evenings here are magical.
On one side you have mountains with windmills spinning followed by a railway track. If you're lucky, you can also spot trains on this route. Then there's the beautiful NH-50 with trucks all over and finally, you have this beautiful point that gives you amazing views of the sunset.
The reservoir is very large, no less than a sea and the hues of the sky change rapidly and every moment is capture worthy. I just loved the few minutes I spent here mesmerized by the sunset. If you don't have any other plans in the evening, it's worth driving up to this point and witnessing the sunset.
Other Spots To Explore Near Hampi
I found all of these spots while planning my road trip to Hampi using Google maps. And all these points were totally worth the time. Since we were short on time, I didn't visit a few other places that I wanted to, but I'll still list down some other places to explore near Hampi.
Tungabhadra Dam – Located about 20 km from Hampi, visit the Tungabhadra Dam. There are a couple of viewpoints, parks, fountain shows in the evening, and a walkway perfect to enjoy a walk.
Kamalpur Lake Sunset view – On the way to Tungabhadra Dam is the huge Kamalpur lake. There's a nice track made with benches and is quite popular among the locals as well as tourists who just sit here and enjoy the view.
Sanapur Lake – If you're interested to experience a lake amongst the rocky terrain, Sanapur lake is another point that you can visit.
Shivapura Lake – If you're up for a short hike to some views, Shivapura lake does provide some good views and is away from the hustle and bustle of the city.
Matanga Betta – If you love sunrise and sunset then Matanga Betta is a must-visit. It's a good hike and the views I've heard are amazing. Since I was with my parents, I didn't go for this.
So these were the 3 spots that I visit during my trip to Hampi and feel that apart from the temples, one must visit these. The Narihalla river viewpoint is totally worth the time and so is the dam viewpoint. If I'm ever in the area again, will surely plan to go to the other side of the Narihalla river viewpoint during rains and visit the Nandi Hill railway station.
That's pretty much it for this blog post. Let me know your thoughts in the comments below, tweet to me at @Atulmaharaj, DM me on Instagram, or Get In Touch.