Indians love discounts and you have to agree with me on this. No matter how much a person earns, the discount he/she gets is above all. Be it the small cashback on mobile recharges or the bigger ones on eCommerce websites. We love them all. Don't We ? One such event happened in July with the Amazon Prime Day Sale. And how can Flipkart be behind when Amazon is holding a sale. While the Amazon sale was exclusive to prime members only, Flipkart was open to all. Almost every thing you can think of was on offer – bags, clothes, shoes, TVs, mobiles etc. Many of you reading this would have definitely purchased something or the other. Me being a prime member, didn't have a list in place. It was on the last day of the sale I was in a dilemma to choose between the Echo Dot, Amazon Fire stick, Google Home and Google Chromecast. All of these items were offered at a good discount. No prizes for guessing what I bought finally – the Amazon Fire stick.
It's been close to 3 weeks now that I've been using the Fire stick. (Not so frequently though) Based on my use and experience I thought to write this post. There will be a handful of people around who would be wondering whether to buy the Amazon Fire stick or not. Is the Amazon Fire stick worth ? Today I'll answer all of them and hope to clear all your doubts.
Amazon Fire stick – Packaging
The item was delivered quite late because it was out of stock. Originally sold at Rs 3999, during the Amazon Prime Day sale, it was priced at Rs 2799 which to me was a great deal. I had also earned some cashback in my Amazon Pay wallet so effectively I paid around Rs 2500 which was a sweeter deal. Anyways the item was delivered almost a week later after it was in stock. Packed in a punchy orange box, the Fire stick comes inside a black box. The box has a premium look at first and everything inside is placed to perfection.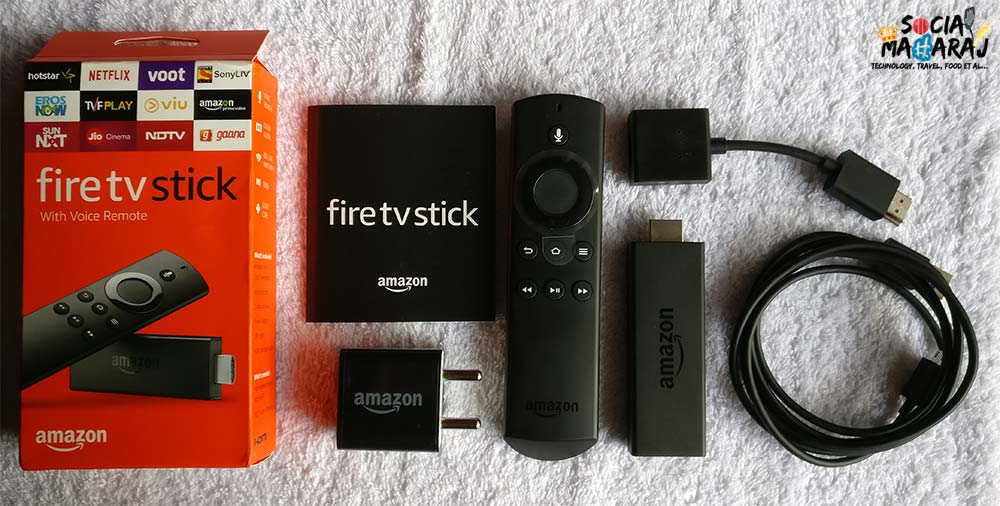 What you get inside the package is a the Fire stick itself, the voice enabled remote control, a HDMI extension cable, a charging cable, adaptor, a couple of batteries and the regular documents. Overall the packaging is pretty good with the all black theme inside an orange box.
Honest review of Amazon Fire stick
It didn't take much time to hook up and setup the Fire stick. Initially I did think that the HDMI connector was useless. However, my TV has my Set top box and my desktop already hooked up and the Fire stick wouldn't fit perfectly in the limited space. There the HDMI connector came very handy. Thanks Amazon for that ! Further after hooking it up with the TV, when I launched it, it gave a warning that not sufficient power was available. I then had to use the adaptor and the cable that was supplied. So right now, everything that came inside the Amazon Fire stick box is being used (except the documents of course)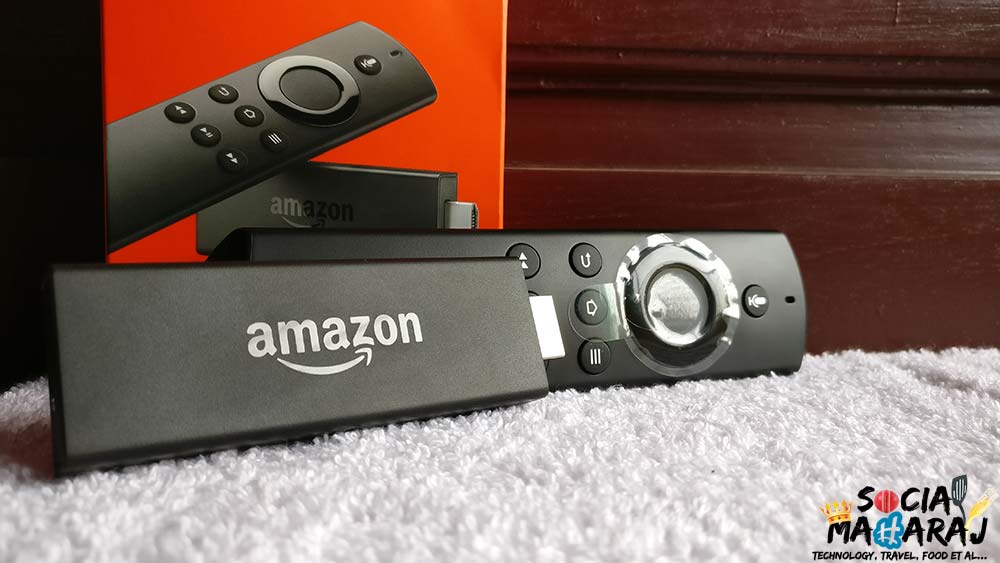 Setting up the Amazon Fire stick was a breeze. Just hook it up to the TV, connect to the WiFi and you're ready to roar. I was surprised to see it automatically detect my account and prompt me to accept the same. There's an introductory video talking about the Fire stick which I couldn't find a way to skip (let me know in the comments if there was a way to skip that) Once everything is done, you'll land up at the home screen. The home screen has a list of apps/services that you can use along with the slider of all the latest shows/movies on Amazon Prime. The Fire stick comes with 8GB on inbuilt storage and that's enough to install a handful of apps. Apps like Jio TV, Airtel Movies, Netflix, Hotstar etc are available too.
Things I liked about Amazon Fire stick
Clean Interface & easy navigation
The interface is clean and refreshing. Just like Amazon Prime Music. Navigating the options is easy but some of you might take some time getting used to it. The settings section would take some time to master as removing apps isn't straight forward. Further, while watching movies it shows the list of actors/actresses in the movie at the bottom. Moving forward/backward during a movie is a breeze. Even if you leave the movie in the middle, it will be at your home screen the next time you switch on the Fire stick.
Amazing Video Quality with No Buffer
This is by far the best thing about the Amazon Fire stick. The video quality is supreme and makes watch videos an amiable experience. The default playback quality is 1080p which can be changed to 1080p 60fps on the fly (you can change the quality while watching the movie by simply tapping a button on the remote) I've seen an episode of comicstaan and few minutes of one my favourite movies Zindagi Na Milegi Dobara and I totally fell in love with the video quality. However, I've been told that the Amazon Fire stick consumes a lot of data. For instance it might take upto 6GB for 1 hour to Full HD video streaming.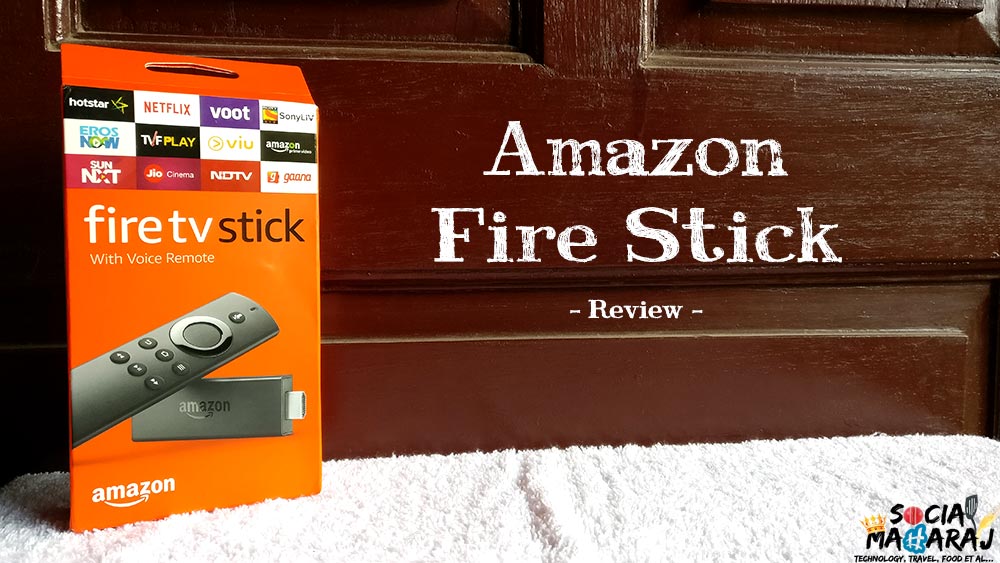 Things I didn't like about the Amazon Fire stick
No Official YouTube App
One thing that disappointed me was the absence of the official YouTube app. Prior to this, I used to use the YouTube app supplied with my TV but that had lot of connection issues. One of the reasons I got the Fire stick was to watch YouTube videos on a large screen with family. But that was a shock. So after browsing the internet I learnt that Google pulled off the official YouTube app in January this year from the Amazon store. What that means is that you need to install a web browser – Mozilla Firefox, Silk Browser – and head to YouTube.com to watch your favourite videos.
Nothing much without Amazon Prime subscription
After using it for a while, I did realise that being an Amazon Prime user made a lot of difference. For instance, the movie database is huge and you can watch any movie on demand. Further their Amazon Music is does have fresh songs and the ability of the Fire stick to play the music in background while you browse the internet is cool. So I wonder how would things be if you aren't an Amazon Prime subscriber ? I don't say that there's nothing. There are a lot of other apps you can install and use. But the sheer size of offering for Prime customers makes it a better deal in my opinion.
Love watching videos ? Get The Amazon Fire stick
If you love watching videos and tv shows, the Fire stick is a wonderful device to own. Unlike Chromecast that allows only(mostly) mirroring capabilities, the Amazon Fire stick comes with a lot more. The ability to install 3rd party apps mean you can browse the internet, play casual games and do much more with the Fire stick . Moreover if you are a Prime customer you will have access to Amazon's best and original TV shows available at best quality. Without the prime subscription, I feel the experience wouldn't be that good. I'm not a binge watching person – because I rarely have time to watch TV, videos. I watch close to an hour daily and similarly on weekends. Because of the good deal offered, I decided to get the Fire stick instead of Echo Dot, Google Home or Chromecast. What do you think ? Was this a good decision ? What are your views about the Fire stick? Let me know everything you feel about this in the comments below or tweet to me at @atulmaharaj