For anyone traveling to any part of the country, when it comes to hotels many would choose Oyo Rooms. I've been a loyal customer of Oyo Room for quite some time now and have always had an amazing experience with them. All my trips – Visakhapatnam, Ooty, Bengaluru – have been with Oyo Rooms. There had been few hiccups in the middle but the team at Oyo always ensured those were resolved quite quickly. Anyways, I'm off on a vacation (details in coming weeks, check insta for updates) and was looking for a hotel. And like always turned to Oyo Rooms. And to my shocking surprise, they have silently introduced Dynamic Pricing !
I did come across few tweets where people vented their dislike towards the skyrocketing prices, and this was way back in 2015 too ! However I never faced that till yesterday. So here's my booking experience on Dynamic Pricing with Oyo Rooms and everything you should know.
Dynamic Pricing, Oyo Rooms
I was browsing through the list of hotels on Oyo. Most of the places I found had the average charge per night around 3000 Rs. This, after discount was around 1500 Rs. Oyo App is smart, the moment you search for a hotel, they will send notifications, emails with various coupons/offers to lure you to book. I had the same thing. Looked for a hotel for few days, couldn't decide where to stay until a notification came in.
I went ahead and applied the so-called coupon on the room and the room price came down from Rs 1100 around to Rs 981 for a night. I was elated, I went ahead and confirmed the booking. To my shocking surprise the next screen showed the amount that I had to pay Rs 1300 ! How did that happen ?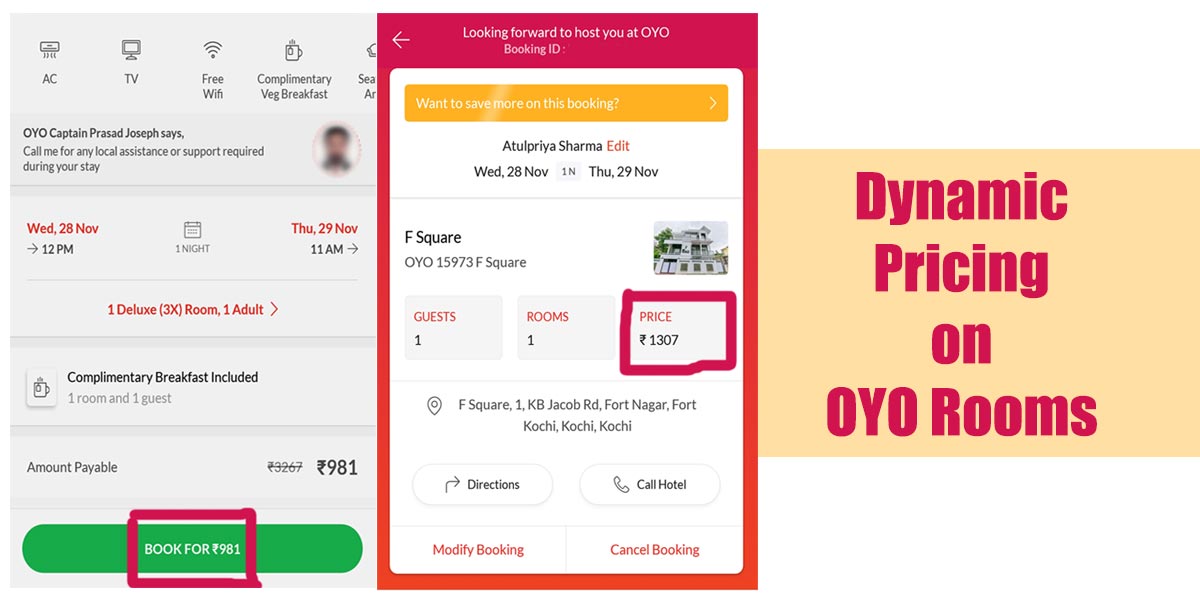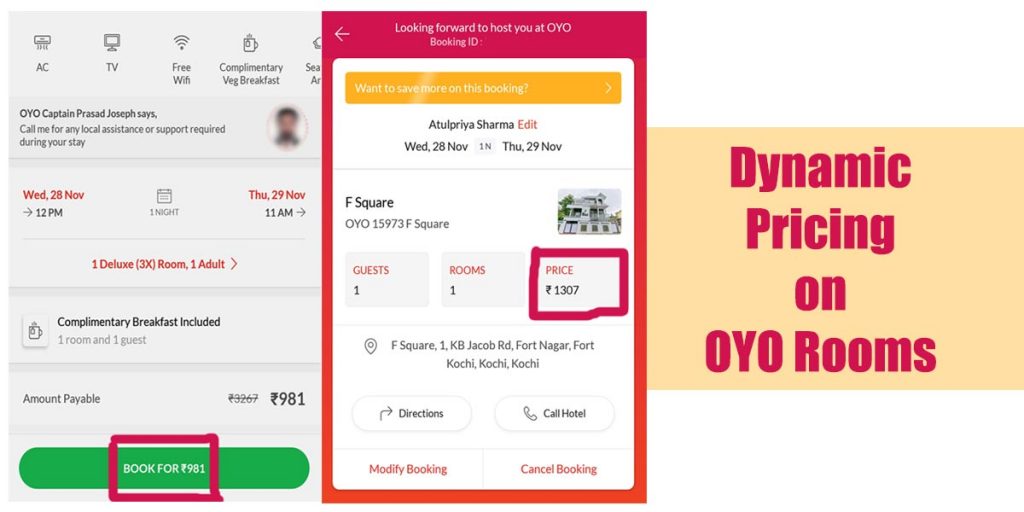 Oyo Rooms confirm Dynamic Pricing
Like always I took the screenshots and got in touch with their twitter teams. After some time they did send a response. And that was a shocker again ! They polite replied "We checked for the same and we would like to inform you that the prices are dynamic in nature and keeps on varying from time to time." But Dynamic Pricing at the tap of a button ? I haven't seen that ever either with flight pricing or with Stock Prices. Everything freezes once the book(for flights) or buy/sell(for stocks) is hit.
To be fair, this is NOT fair on the side of Oyo Rooms. Even if the prices are dynamic there should be some indication of it. Well I did see a tiny up arrow while searching for the city. However didn't know that the dynamic pricing would be this dynamic. Secondly, the dynamic pricing should be shown before pre-booking and NOT after booking. I would book based on my requirement then and not shell out extra price. I did the same booking again and it was the same thing. Rs 981 prior to booking, and Rs 1300 after hitting the booking button. Would request the team to help me understand some bit of their Dynamic Pricing Algorithm used.
So the next time you are booking with Oyo Rooms, you need to keep this in mind. What you think might be a great deal, would turn out sour with just a tap of a button. I'm not writing this to vent out my frustration on this, but to make you aware of the practices the company is following. If you have experienced something like this, do mention in the comments below or tweet to me at @Atulmaharaj