The one place that is always bustling with locals and tourists alike in New Delhi is Connaught Place. And weekend evenings have a totally different vibe. I spoke about the Tiktok lane in Connaught Place in the last post. This post will be about an evening at Local CP Review. I was here in January to attend an event during which I also decided to meet my friends. Since Connaught Place is kind of central to post, decided to meet them here. There was a Local in Hyderabad too, but I guess that has been shut down. Anyways, let's continue with the Local CP review post.
Relaxed Ambiance at Local CP Ambiance
Local Connaught Place is located off KG Marg in Delhi and is right opposite to the outer circle of Connaught Place. The nearest Delhi metro station to Local Connaught Place is Rajiv Chowk. Few other restaurants around Local CP are Junkyard Cafe, Rajdhani, KFC etc. The place is quite spacious with a DJ station right in the middle with seating along the sides. They also have a seating on the first floor. Since we were here on a weekend, there were lot of people and hence the place was quiet noisy.
The sofas are comfortable, however if you are going in a large group, make sure you choose a spacious area. Preferably on the first floor. The lighting is poor, I mean I kno that's how bars should be. But it was too dim for my liking. Maybe you may like it. Lots of branding and photo spots inside. Overall a relaxed ambiance at Local CP.
Local CP Review – Food & Drinks
When you are meeting friends after a long time, the focus isn't quite there on the food. Like any other bar Local CP too doesn't have a variety when it comes to mocktails. Iced Tea, Masala Soda, Cold Coffee and mint-lemon based variations. Though I visited in January, I ordered a lemon Iced Tea. The drink was refreshing as always, but it was on the sweeter side which reduced the tea flavour. Some of my other friends ordered coffee.
Coming to the food, we ordered quite a few items. We ordered Tandoori Veg Platter which had an assortment of starters. Pani Puri shots, Ulta Tawa Paratha ki Mushroom Galouti and a Fried Veg starters. Pani Puri shots was a let down, full marks for presentation but the pani lacked the punch. They did have few variety of pani but could have been better. The Mushroom Galouti was pretty nicely done, soft and flavorful. I've had it a couple of times earlier too (not here though). The Fried Veg was good with mushrooms, babycorn and other items. The typical desi Chinese types.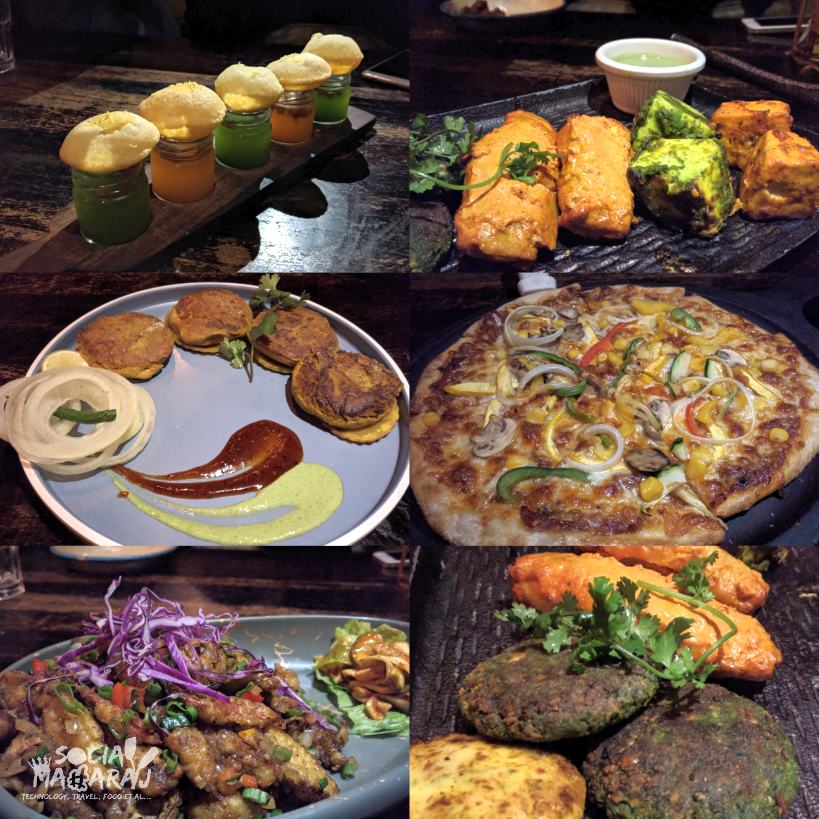 The Tandoori Veg Platter was a nice combination of all vegetarian starters at Local CP has to offer. It had everything from Paneer Tikka, Dahi Kebab, Hara Bhara Kebab and Soya Chap. Of all, I liked the Hara Bhara Kebab and Soya Chap. A little spicy but good taste. Pizza was a thin crust one loaded with veggies. Base could have been better though.
Final Verdict: Visit Local CP with Friends
We were a group of 6 and visiting Local CP was a good decision. The place has a relaxed vibe which is perfect to chill and hangout with friends. Though there was Hookah being served which made me uncomfortable at times. The service is good and the food is decent. I'm sure people who consume alcohol might be able to give more insights into Local CP review. Also, the place accepts Zomato Gold Payments, which is a sweet deal. Overall, it was a good visit. Have you been to Local CP already ? What are your thoughts about the place ? Is there a Local in your city ? Mention your views in the comments below or tweet to me at @Atulmaharaj or DM me on Instagram.