Even though laptops are becoming powerful with each iteration, the cameras haven't been leapfrogging that much. The web cams on laptops are miserable, especially when it comes to indoor lighting conditions. So when I was asked to do a live stream with Blogchatter, I wondered if I could use my Nikon D5200 as webcam. After a bit of research and a small tool download, I was able to use my Nikdon D5200 DSLR as webcam.
If I were to create a list of Top 5 items that happened due to the pandemic, live stream would surely be there in the list. No matter what platform you go to, there's some sort of live stream already going on. As per me, the craze of the whole live stream started a few weeks into the lock down. Every person was doing an Instagram live – I too was a part of a few of them.
This slowly caught up with the Facebook community and finally YouTubers too started doing a lot of live streams. One of the key considerations while doing a live stream is video. The quality of your camera matters a lot followed by audio and obviously the network connectivity. So why use a DSLR as webcam ?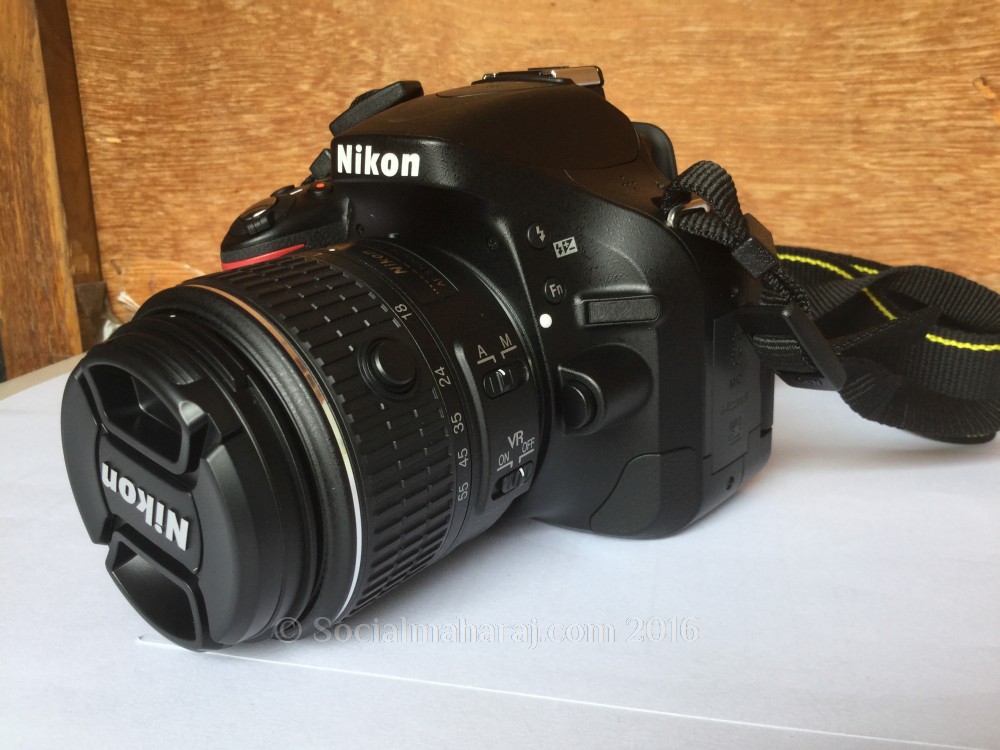 Benefits of using a DSLR as webcam
With a webcam already in my Dell 5370 laptop, and a OnePlus 3T, why do I choose a DSLR as webcam ? Like I said earlier, the laptop camera is terrible in indoor lighting (and I don't have a ring light or something). OnePlus 3T camera is good, but I'm unable to connect an external mic to it especially the Fifine K670. Hence wanted to figure out a way to join the Facebook Live session with my DSLR as webcam. So what are the benefits of using a DSLR as webcam ?
DSLR has a much bigger sensor than what is available on any smartphone (laptop is not close at all) a larger sensor means a better video quality.
Also when you use a DSLR as webcam, you can leverage various lenses to enhance your video quality. The prime lenses will give a nice bokeh effect while keeping you in focus always
Ability to use an external mic for the live stream, which means much better and clearer audio
With all these benefits, it does make sense to use a DSLR as webcam if you have one handy around. Also, do invest in a good tripod for such sessions. I regret not having one and had to pile up few boxes and place the camera on top.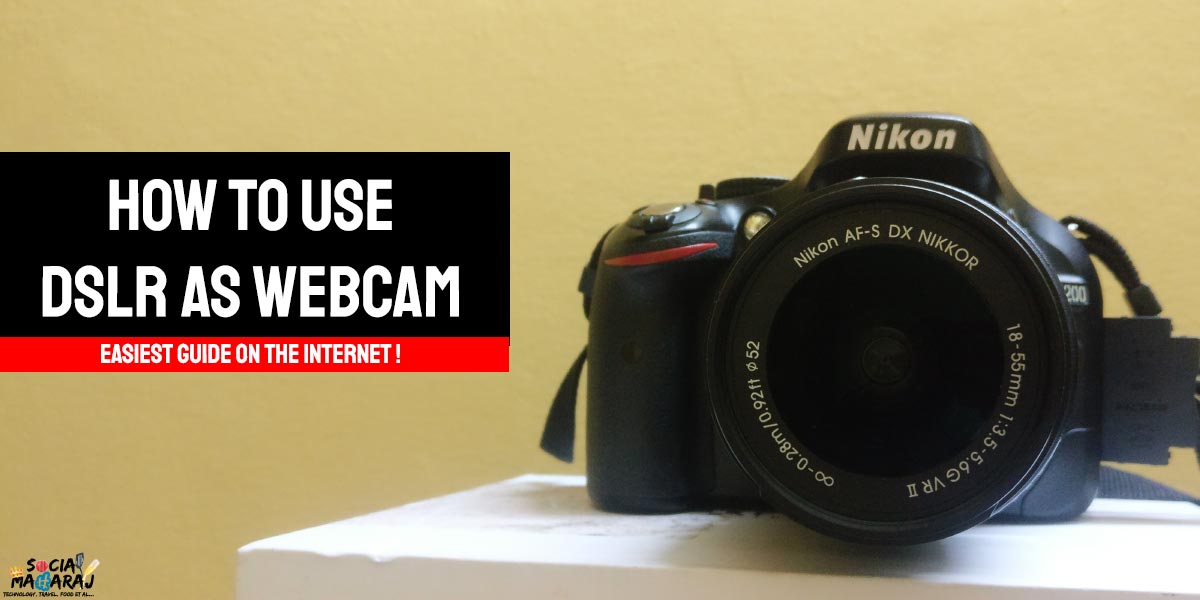 How to use a DSLR as webcam
From my initial research, Canon already has a webcam utility for some of its cameras. And Nikon released a beta version of the webcam utility recently. However it is limited to only some DSLR models. Also, there are a few freemium softwares available that let you use your DSLR as webcam. Sparkocam is one of it. It does the job, however the free version put a huge watermark right in the center of the video feed. And the premium one costs around 50$ a year. So that doesn't make sense and hence I ventured out to figure how to use my DSLR as webcam for FREE.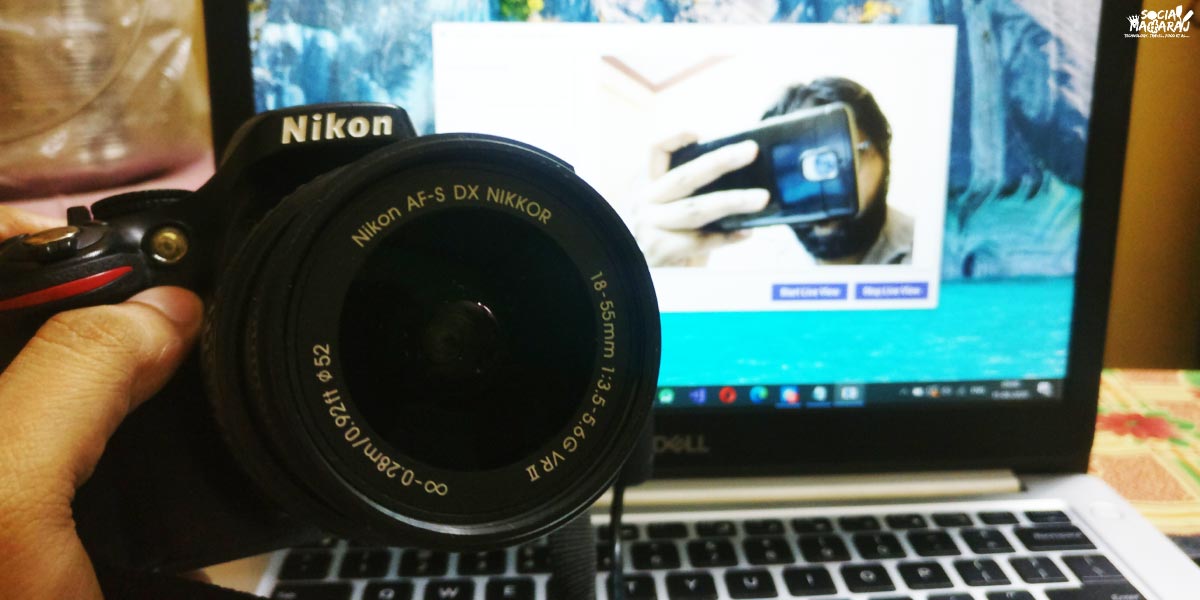 Here's a way how you can use your DSLR as webcam for free
1. Download DSLRCam Software
To do this, we first need to install a small software named DSLRCam. The software can be download from here
2. Install DSLRCam Software
It doesn't actually have any installation process, simply unzip the file and and launch DSLRCam.exe file. It will ask to run as Administrator. Hit Allow to launch the app.
3. Connect your DSLR to Laptop/Desktop
Once launched, make sure you DSLR is connected to your laptop/desktop and turn the camera on. I used the original USB cable provided with the camera.
4. Start Capturing Live Feed
Click on the Start Live View button in the DSLRCam app. If everything is correct, you should see the live feed from your DSLR camera.
5. Stream using DSLR as webcam
Now open your favorite video conferencing app and navigate to settings. In my case, it was the BeLive app which is a chrome plugin. Hence I had to navigate to the BeLive setting and choose DCCCamera as webcam from settings and voila !
Your DSLR's feed is now routed to the webcam.

Point to note:
The application doesn't capture audio, hence you need to have that setup done on your laptop/desktop. I used my Fifine K670 mic as input and my Bluetooth earphones as output.
The DSLRCam application needs to be running for the during of your live stream or video chat. If you close the app, you will not be able to use your DSLR as webcam
Ensure that the DSLR's battery is fully charged. Also you will note that your DSLR heat up a little.
Also during my Facebook live session, the camera did stop working a couple of times. The error it gave was that the "server stopped responding" That is something I need to figure out, maybe it's getting idled out. However if you see the live feed, you'll see the difference between the quality of the image 🙂
Leverage your DSLR for your next live stream
I hope this simple and effective guide on how to use your DSLR as webcam for free helped you. All we needed was this small software that did the trick. If you do live streams or video conferencing often and don't have a decent webcam but you have a DSLR. This guide will surely help you to stream better quality videos to your viewers.
This was something new to me and I'm glad that it worked. Hence decided to share with all of you. Hope you guys found it helpful. Do try it and let me know if this works for you. In case if you have a better trick than this, let me know. Comment down below or tweet to me at @Atulmaharaj or DM me on Instagram