Just yesterday I came across my favorite quote – "The world is a book and those who do not travel read only one page" and that's so true. When you travel, you learn more than what you would by actually reading a book. When you travel, you meet people, learn about their way of living through their culture, languages, and food. Food and language are the two things that I feel help you bond with people.
Being a foodie and a traveler, I get to meet so many people and taste different cuisines. And a similar thing happened last weekend when I was at Guilt Trip. We were served a drink that's called Kombucha. It was my first time with Kombucha in Hyderabad, and this post is going to be my experience of trying out Kombucha.
What is Kombucha?
I will admit that I didn't get the name the first time. The only K-word that I know which sounds Japanse is Kimchee 😛 So pardon me. I'm sure many of you reading this would be wondering what is Kombucha? So here's all you need to know about Kombucha.
Kombucha is a drink made from tea – black or green tea usually – and it is a fermented drink that adds a little fizz to it. It is a healthy, probiotic drink that is enjoyed by a lot of people especially vegans. Kombucha is made by fermenting the tea with yeast or similar SCOBY items.
In the process, we get Kombucha which has an alcohol content of less than 0.5%. These living bacteria are probiotic and one of the reasons this is popular as a health drink. While there is no solid evidence to support the earlier statement, people have benefited by drinking Kombucha.
Where do you find Kombucha in Hyderabad
Kombucha is an ancient Chinese drink that was found in a place called Manchuria (yes there's a region in China called Manchuria) about 2000 years ago! While the drink was found in China, the name is a Japanese one while loosely translates to tea made from Kelp. While the drink is quite popular in other parts of the world, it is gaining popularity in India as well. As a matter of fact, I came to know about it just last week and had to read extensively before writing this blog post.
So coming to the question where do you find Kombucha in Hyderabad? As I mentioned earlier that I got to taste it during my Guilt Trip visit. A brand called Wildberry Organics is one of the few brands where you can find Kombucha in Hyderabad. While it is may be available at cafes like Fab Cafe, Sage farm, Wildberry make it themselves and deliver it. So you can Kombucha delivered to your doorstep!
Kombucha in Hyderabad by Wildberry Organics
Wildberry Organics is the outcome of the lockdown. A passionate group of people coming together to form Wildberry Organics. While they themselves are healthy eaters, they decided to take it up a notch. They started by making health ragi cookies which got a good response which eventually pushed them to try other healthy items including Kombucha.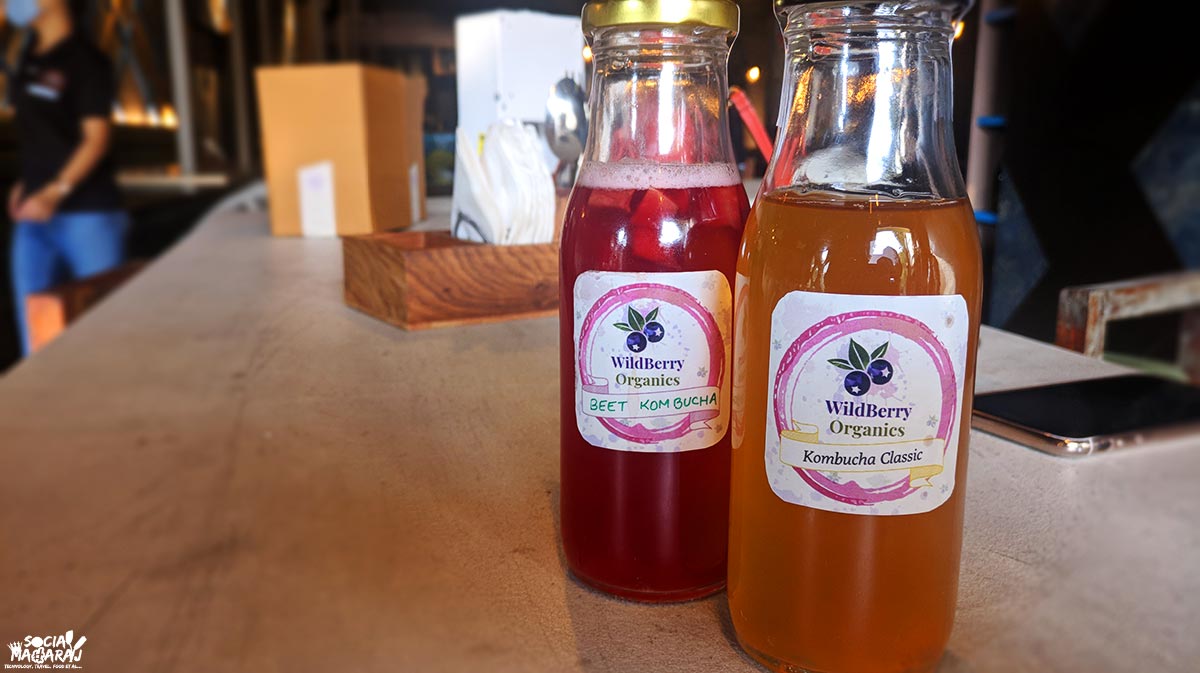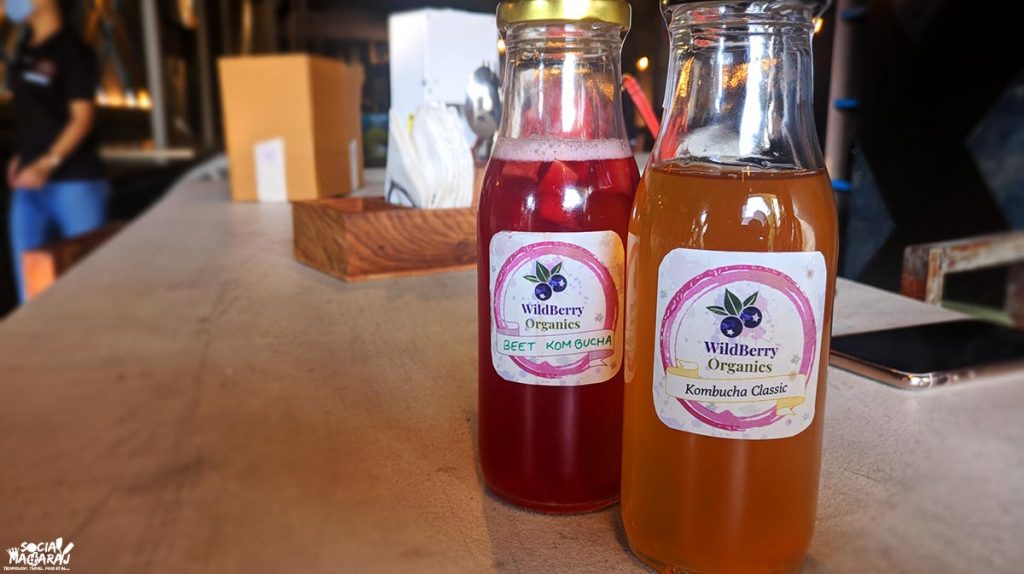 They use penicillin as the culture for making Kombucha and have a stringent process in place. Kombucha can be flavoured and Wildberry Organics have done quite a bit of experiment with the flavours. They brew Kombucha themselves and have quite a few flavour options including classic, beetroot, ginger to name a few. If you have not been able to find Kombucha in Hyderabad yet, DM Wildberry Organics on Instagram.
My date with Kombucha – How Kombucha tastes?
Before I share my experience do note that this was my first time with Kombucha and I had no idea what to expect. As a matter of fact, this was my first time trying a fermented drink. The packaging was nice with glass bottles and subtle branding on it. Coming to how Kombucha tastes, it's a tangier and zingier version of tea. Due to the fermentation, there's a tartness in the drink and with the fizz, it just wakes you up. Depending on the flavor, these can vary though. I took a few sips and still wasn't able to register the taste in my mind. It did taste different, I'd say.
If you are trying it for the first time (like me), you might feel it like a Center Fruit-based tangy drink with fizz. If you like those flavors, you'll probably relish this too. While there are traces of alcohol in this due to the fermentation process, there's nothing to worry about. However, will I try it again? Maybe.
My ongoing effort to support new #StartUps is rewarded as the excellent range of @Wildberyorganic provides the perfect partner for our family Boxing Day lunch.

Kombucha Classic
Ginger Beer
Tepache (a 👌 🍸 mixer – recipe on my @instagram handle)

Show your support Hyderabad! pic.twitter.com/Zpagw6gn2v

— Dr Andrew Fleming (@Andrew007Uk) December 26, 2020
So here's what Mr. Andrew who is the Dy High Commissioner to AP & TG, tried for boxing day lunch with Kombucha.
Give Kombucha a shot
Like I said earlier, I loved exploring places and trying new cuisines. Kombucha was one of them. It was a different experience altogether. Being a fan of Chai and Iced Tea, this was different. However, the fermentation and the fizz which makes it a different drink all together and maybe I'll need few more of them to get used to the taste. But that's how it is supposed to be.
So if you are not able to find Kombucha in Hyderabad, give Wildberry Organics a try. They have some unique flavors up their sleeves that will tickle your taste buds. So, have you tried Kombucha ever? If yes, how was your experience? Let me know your thoughts in the comments below or Tweet to me at @Atulmaharaj, DM me on Instagram, or get in touch.