I've always mentioned about three things that are related to anything you eat. Those are taste, looks, and aroma. But as times changed and people started eating out, there was another thing that got added to this and that's the ambiance. Many people today would go to a restaurant with great ambiance and average food. So ambiance has started playing an important role nowadays.
If I talk about Hyderabad, themed restaurants are quite popular and one brand that is synonymous with themed restaurants is Ohris. From the typical south Indian ambiance at Ohris Uppu to musical, royal ambiance at Ohri's Tansen, they have quite a few themed restaurants. Another name that pops up when I talk about ambiance is Exotica and that's exactly what I'm to talk about today.
Rooftop dining at Exotica
Exotica is a well established multi-cuisine restaurant in Hyderabad. The first outlet is at Banjara Hills and their newest one in HiTech city. Exotica, apart from its food, is known for its calming ambiance and a rooftop view. You'll notice a lot of plants, fountains, and a Buddha statue at all of their outlets. While I've already been to Exotica Banjara Hills and had a good time.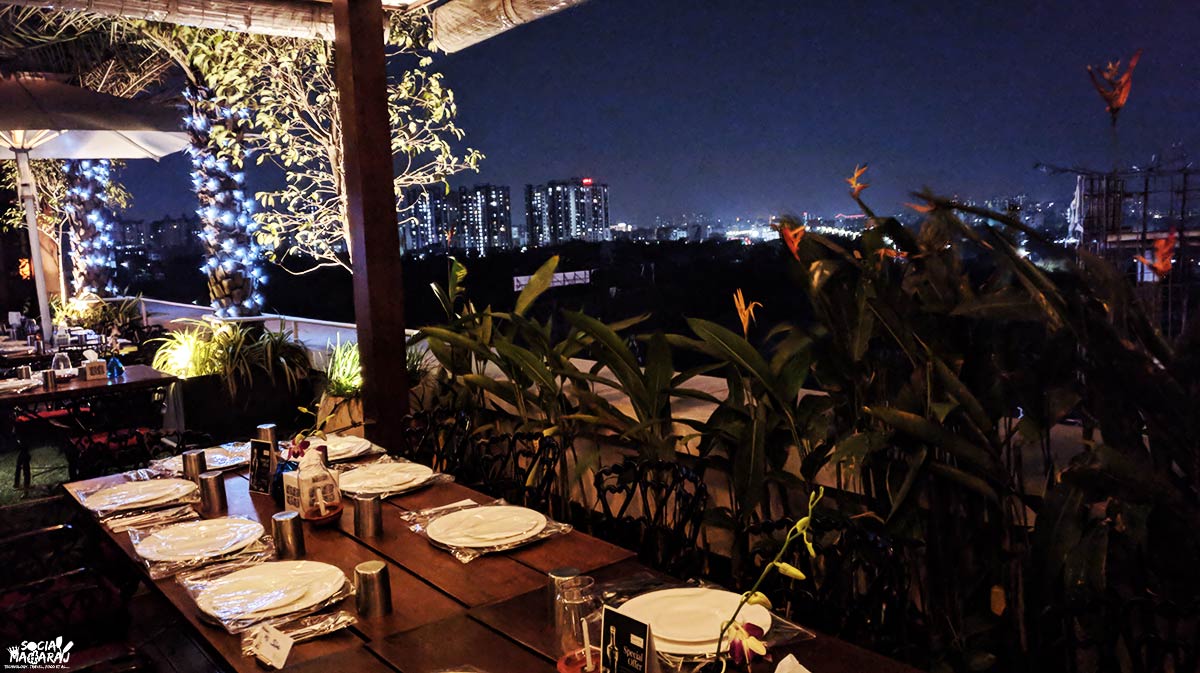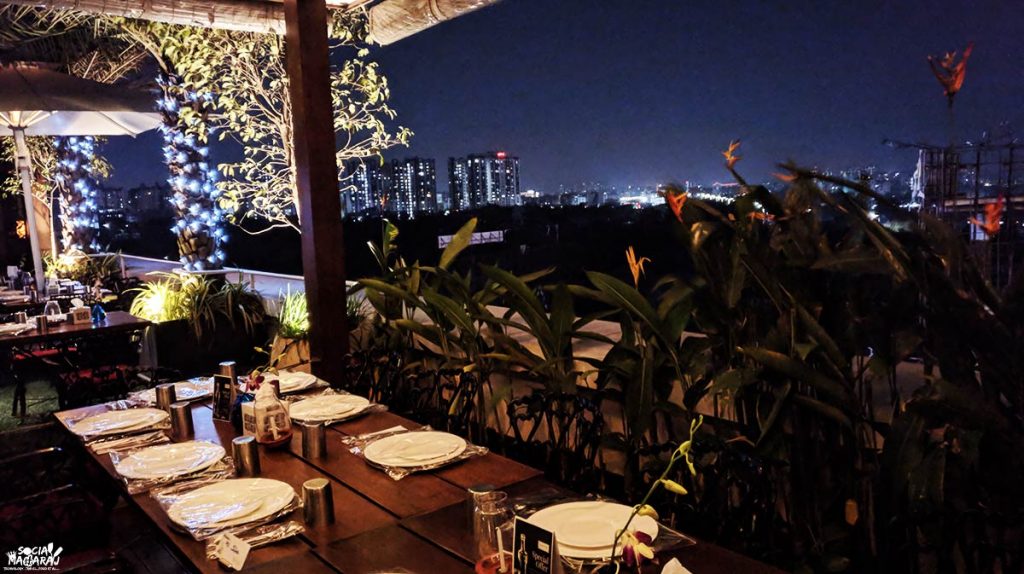 Compared to Banjara Hills, I felt Exotica Hitech city was spacious. The place is rectangular in space, so one side gets the view, and the other gets the wall. And that's the downside. Based on my experience, if you are going in a large group, you will easily get the view. But if you are a couple, chances are less. So you might want to confirm that before reserving your spot.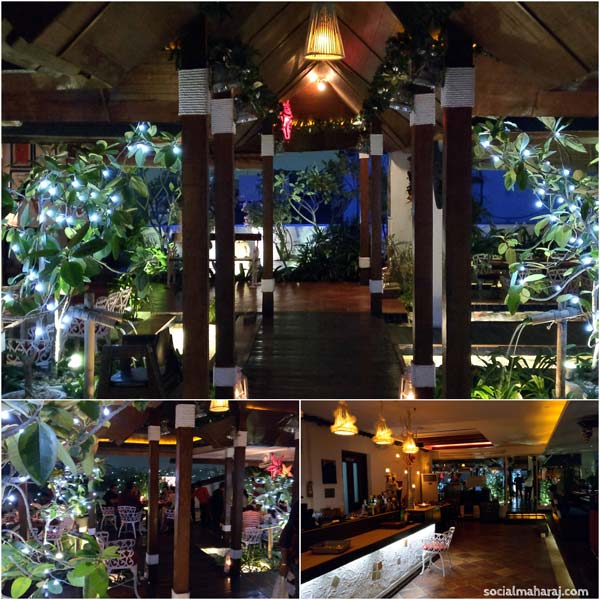 Further in terms of hygiene, they have taken utmost care. Right from the elevator to your table. Everything on your table is carefully sealed in a plastic packet. Every table is sanitized before a new guest comes in and everyone wears a mask. Rest assured about the safety at Exotica HiTech city.
Exotica HiTech City Review
As mentioned, I've already reviewed Exotica Banjara Hills earlier and the menu isn't quite different at Exotica HiTech city. Even the prices are the same. So you get a consistent dining experience irrespective of which outlet you choose. My Exotica HiTech City review wouldn't be a detailed one, so here it goes. We started off with two drinks, a virgin Paan Mojito and Pinacolada. Paan Mojito was different, refreshing but sweet also at the same time.
Like always, I'll talk about vegetarian food only. I had Tandoori Broccoli for starters. Huge florets of Broccoli marinated with the creamy gravy baked in a Tandoor and topped with Cheese. It wasn't as creamy as I had expected, but it was perfect. If you are someone who prefers masala and heightened flavors, I suggest you give this a miss.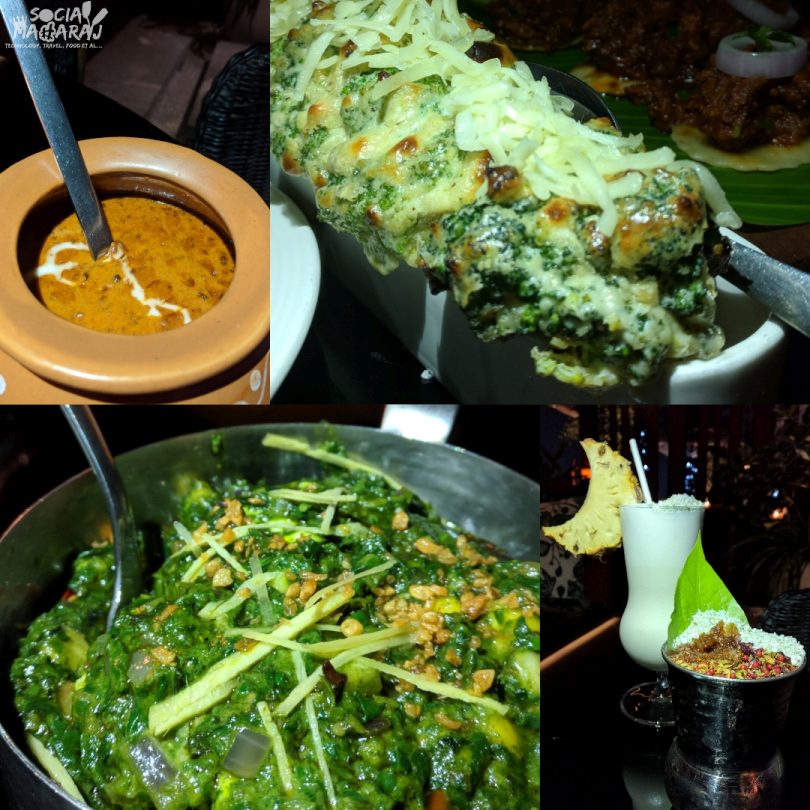 For the main course, we had Lehsuni Palak Paneer Corn, their signature dish Dal Zafraan along with Tandoori Roti. The palak curry was good and flavorful. It didn't look like they've used any artificial coloring. Huge chunks of paneer with corn and palak gravy were good. About the Dal Zafraan, as I mentioned in my earlier blog post as well, it is one of the finest Dal Makhni in Hyderabad. Served in a handi, Dal Zafraan was the show stopper. Hands Down.
Final Verdict – Recommended
If you are looking to spend an evening with your loved one or family, Exotica is a good place. The ambiance is top-notch and the service is great too. Shout out to Siraz and Gajendra for serving us. The menu isn't as expansive as some other eateries where it runs into pages. Limited but quality items. If you consume alcohol, then you'll have a good time too. Overall, loved the place and I will recommend it to people for sure.
In terms of prices, it's slightly on the higher side. We paid about Rs 3100 for 2 people for the items mentioned above. So if you want to have dinner with a view, head to Exotica Hitech city. Let me know your thoughts on dinner with a view in the comments below, tweet to me at @Atulmaharaj, DM on Instagram or Get in touch.