If you've been following me on Instagram, you already know that I've been working from Lucknow for quite some time now. The normal and boring routine at Hyderabad prompted me to step out and get a change in the surroundings. And my maternal home, Lucknow seemed to be just perfect. Though I'm born here, never have I ever explored Lucknow as much as I did during the last few weeks. Being a vegetarian in Lucknow isn't as tough as it is in Hyderabad. Hence I thought, to talk about the 10 Best Vegetarian Food in Lucknow that I ate off late.
The City Of Nawabs has a rich legacy when it comes to art and culture. There's in fact a saying that mornings are to be enjoyed in Varanasi while evenings in Lucknow. Nawabs were known to appreciate art and food and that has become one of the major attractions of Lucknow. There are a lot of things to eat in Lucknow. In fact every nook and corner you'll find something unique. While this list of Best Vegetarian Food in Lucknow isn't THE only list but captures all the vegetarian restaurants in Lucknow. So if you are a vegetarian and planning to visit Lucknow, these are the 10 best vegetarian food in Lucknow that you MUST try.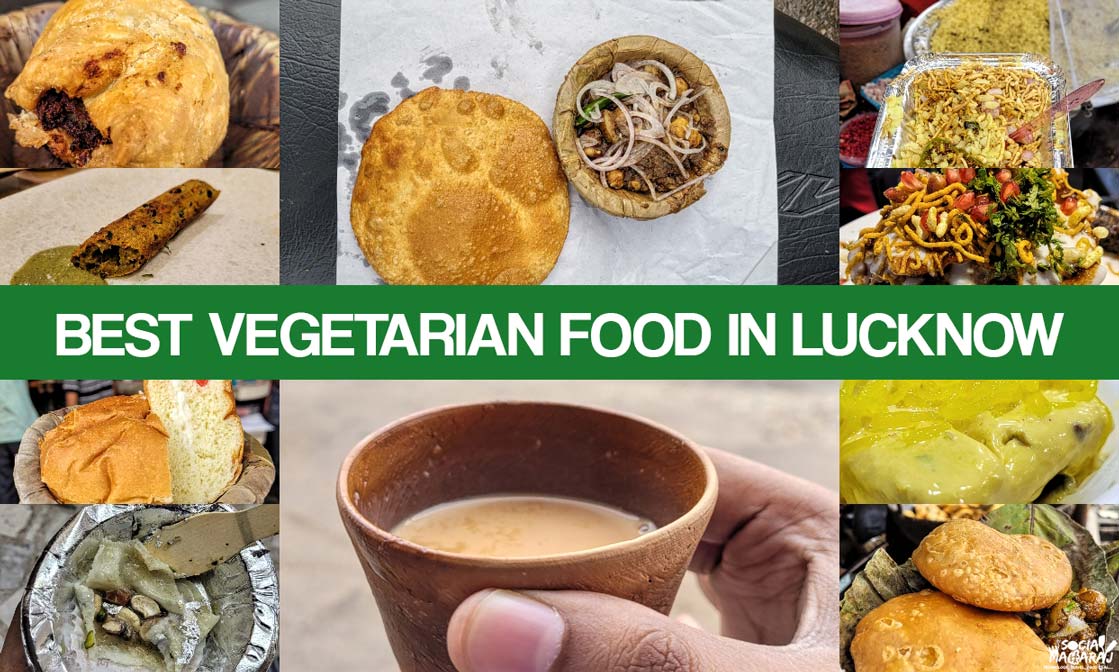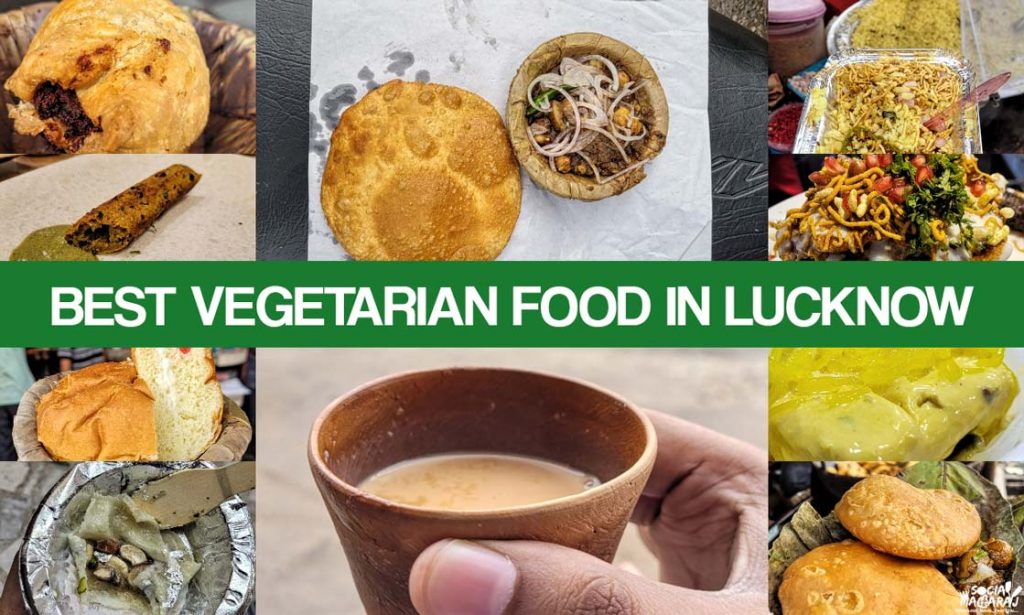 Vegetarian Food in Lucknow You Must Try
Samosa & Bun Makhan at Sharma ji ki Chai, Hazratganj
One of the iconic places in Lucknow is the Sharma Ji Ki Chai located in Hazratganj. It's right in the heart of the computer market of Lucknow and is a popular breakfast destination. While Sharma Ji Ki Chai is known for its chai, there's a better chai according to me. However, that doesn't mean you should skip this chai. Have the chai along with their iconic round Samosas. Yes, the samosas here aren't the regular triangular ones but round and have a spicy, blackish potato filling. Also, their bun makhan is the perfect partner for the chai. Sweet, soft bun with a generous serving of desi white butter.
Price: ~Rs 70 for everything. Doesn't accept card/digital payment only cash.
Location: Hazratganj, Google Maps
Chai & Pakoda at Shukla Tea Stall, Hazratganj
While Sharma Ji Ki Chai is THE place for chai, Shukla Tea Stall in Hazratganj isn't far away. In fact, I loved the chai at Shukla Tea Stall than Sharma Ji Ki Chai. The chai is flavorful here with the addition of cardamom and has a good ratio of milk to water. Further, even during the pandemic, they are serving chai in Kulhad which Sharma Ji ki Chai isn't. They also serve Samosa and Bun Makhan, however, it wasn't ready when I was there. We tried Pakodas and chai which was perfect. A small plate of hot and crispy pakoras and hot chai in kulhad. They also serve Poha in case you want to try it. Lastly, this isn't as crowded as Sharma Ji Ki Chai.
Price: Rs 40 for chai and a plate of pakoda
Location: Hazratganj, in the lane next to the cathedral. Google Maps
Indori Poha at Sehat Indori Poha, Hazratganj
When at Shukla Tea Stall, take a view on your left while facing Shukla tea stall and you'll find a small cart with a green banner. This small, little cart sells only one thing – Indori Poha. I realized that not many locals also know about it. He has a heap of Poha that is warm. Every time there's an order, he'll take some of it, add some peanuts, pomegranate seeds, onions and mixture. The Poha is soft and flavorful. I don't know how Indori it is though, but as per Lucknow standards, it's pretty awesome and a must-try.
Price: Rs 30 for a full plate
Location: On the same side as Shukla Tea Stall, green colour food cart. Google Maps
Poori Chole at Bajpayee Kachori, Hazratganj
Take the lane next to the Indori Poha cart and you'll find a small outlet with a hundred people queued up. An old shop, Bajpayee Kachori is another local favourite. Famous for its Kachori, Bajpayee Kachori also sells Poori, Khasta and Kachori. At the time I was at the outlet, Kachori would take time and hence I settled for a place of Poori. Poori anywhere in Lucknow is served with a small serving of dry potato curry along with chole. Both of them were extremely hot for me, with lots of garam masalas used. The place can get extremely crowded hence recommend you to go early.
Price: Rs 20 for a plate of Poori
Location: From Indori Poha take a right. Google Maps.
Khasta at Rattilal, Ghasyari Mandi
Khasta is another delicacy of Lucknow and is surely one of the best vegetarian food in Lucknow. Like I said before, there are multiple places selling Khasta, but there are a couple of names that are quite popular. One of them is Rattilal. Located in Ghasyari Mandi, Rattilal is a sweet shop serving Khasta, Poori as well. A small establishment in the basement, the khastas are prepared at the shop right across the road. Steaming hot Khastas are served with spiced potato and chole. The khasta is crisp yet soft and extremely flaky – a characteristic of a good khasta. The chole and aloo accompanied are again very spicy for my palate. If you are here, Khasta is surely one of the best vegetarian food in Lucknow that you must try.
Price: Rs 35 for a plate of Khasta
Location: Ghasyari Mandi. Google Maps
Khasta and Vada at Durga Khasta Corner, Latouche Road
Another popular name for Khasta in Lucknow is Durga Khasta Corner. A 5 min walk from Rattilal, Durga Khasta Corner is a small shop off Latouche road. Khasta is the national breakfast of Lucknow If I can say so. Though the name of the place is Durga Khasta Corner, they serve Poori, Khasta, Bhature, Kachori, Vada and Rice. It is a proper breakfast place and a lot of people drop by again. I was in a hurry so instead of eating here, I got a plate of khasta, vada and rice parcelled.
The Khasta was crispy and hard. There was a filling that wasn't flavorful, and it was served with spiced potato & white peas curry instead of chole like others. The curry seemed to be overcooked though. Vadas were pretty good, loaded with onions and coriander. Rice was surprisingly good, it was laced with cardamom which was different.
Price: Rs 132 for a couple of plates of Khasta, 2 pieces of vada and a half plate of rice
Location: Walking distance from Rattilal, Google Maps.
Kulfi Falooda at Prakash Kulfi, Aminabad
After all that heavy breakfast – lots of oily food. You could travel to Aminabad and try the famous Prakash Kulfi. Whenever you talk about desserts, one of the best vegetarian food in Lucknow is Kulfi Falooda at Prakash Kulfi. Located in the busy streets of Aminabad market, Prakash Kulfi is the perfect place to cool down yourself after heavy shopping. From books to clothes and jewellery, you can find everything in Aminabad. Prakash Kulfi is a small outlet that is packed with people most of the time. They don't have a huge variety of Kulfis though. I tried the Kesar Kulfi Falooda. It was rich, creamy and flavorful.
Price: Rs 70 for a half plate of Kulfi Falooda
Location: Aminabad Main Market. Google Maps
Malai Gilori & Chenna Chaap at Ram Asrey, Chowk
Talking about sweets and desserts, another name that is quite popular is Ram Asery. Founded in 1805, the original shop of Ram Asrey is located in Chowk near Bara Imambara. Reaching this outlet isn't easy and the narrow alley that leads to the shop isn't that clean as well. This original shop has had the honour to serve the last Nawab of Lucknow – Nawab Wajid Ali Shah. They also serve some snacks, but I was here for their sweets. I tried the famous Malai Gilori and Chenna Chaap.
There's an interesting story behind Malai Gilori. It is known that the Nawab had the habit of chewing paan, and his well-wishers wanted him to quit. That's when they reached out to the chef to create something for him. That's when the chef came up with Malai Gilori – a layered pan like dessert made from milk cream and stuffed with dry fruits and sugar (mishri). The original recipe is still served here.
I tried both Malai Gilori and Chenna Chaap. Malai Gilori is a nice preparation however it was too sweet for my liking. Chenna Chaap on the other hand is something I loved. It has two layers of chenna with cardamom based stuffing. It was served chilled and I'd highly recommend trying it.
Price: Rs 65 for one piece each of Malai Gilori and Chenna Chaap
Location: Chowk , Google Maps
Basket Chat at Royal Cafe, Hazratganj
Every city has some iconic spot when it comes to food. Like Nimrah in Hyderabad, Kesar Da Dhaba in Amritsar and so on. Similarly when you are in Lucknow one of the places for the best Vegetarian Food in Lucknow is Royal Cafe. They have a full-fledged dine-in restaurant as well, however, people come here only for the chaat. They have quite a variety however their iconic chaat dish is Basket Chaat.
Conceptualized by Hardayal Maurya, the head chef at Royal Cafe, the Basket Chaat is a MUST try. It's chaaton ka chaat. It's a fully loaded chaat enough for two people. For a single person, you'll surely not be able to finish it. Read more about my experience of eating Basket Chaat at Royal Cafe.
Price: Rs 200 for full Basket Chaat
Location: Hazratganj main market. Google Maps.
Baati Chokha at Baati Chokha, Gomtinagar
Though the dish Litti Chokha is attributed to Bihar, it has travelled to every corner of India if I can say. There's Dal Baati churma in Rajasthan. Lucknow also has its very own Baati Chokha restaurant. The themed restaurant is extremely popular in Lucknow which serves only Baati Chokha along with rice and a few regional starters and beverages. I was here first in 2016, and since then I've been to Baati Chokha every time I visit Lucknow. They sever a variety of Baati – Plain, Paneer and Sattu filling. Along with a flavourful dal and nicely done chokha, the Baati Chokha here is one of the best vegetarian food in Lucknow.
Price: Varies based on what you order.
Location: Gomtinagar. Google Maps
Street Food at 1090
If you're a fan of street food and don't prefer poori and khasta, you should try street food at 1090. 1090 is Lucknow's Khau Galli – a dedicated street with lots of food around. From Soya Chaaps to momos, dosas and Pav Bhaji, there's a lot 1090 has to offer. Considering the humid weather here in Lucknow, the place can get extremely hot. Nonetheless, people don't bother about it. The food here, in terms of variety, isn't much, however, the taste is good. Tandoori Momos, Paneer Tikka are something worth a try and affordable. There are even drinks like shikanji, mojitos, golas available.
Price: Varies, affordable.
Location: Behind 1090 crossroads. Google Maps
Lucknow is a Vegetarian's Paradise
Both Hyderabad and Lucknow are known for their non-vegetarian delicacies. However, one thing that I can say is that Lucknow has a lot more vegetarian options. In this blog post, I've mentioned some of the best vegetarian food in Lucknow that you must try the next time you are here. No to forget, the food in Lucknow is extremely affordable. Coming from Hyderabad, I'm amazed at how cheap the food here is. At such prices, you get some really delicious food. Hence, next time someone tells you that Lucknow is a non-vegetarian's paradise, share this blog post with them.
Have you ever been to Lucknow? Which of the places listed above you've visited? Any place that you think that I've missed in my list of best vegetarian food in Lucknow, please mention in the comments below, Tweet to me at @Atulmaharaj or DM me on Instagram or Get In Touch.