Ever since I moved out of Hyderabad and started living on the outskirts, my visits to restaurants in the city have declined. Obviously because of the distance and the time it takes for me to travel. However, that hasn't stopped me from trying out places that are on the highway to various destinations. I've been taking numerous road trips from Hyderabad to SriSailam, Nagarjuna Sagar, Ramappa Temple, and Lucknow to name a few.
A few weeks back I decided to go on a road trip for lunch with family, this time on Hyderabad Suryapet Highway. The destination was Feast House in Rayangudem, Suryapet and in this blog post I'll share my Feast House review and why it's the perfect highway pit stop.
Hyderabad Suryapet Highway – Good Road
One of the best things about doing road trips in India is the food stops and dhabas on the way. Seldom you'll find a stretch where you don't get any. My Hyderabad to Lucknow road trip did have such a stretch from Adilabad to Nagpur, no good places to stop with family. Anyways, Hyderabad to Suryapet is connected via NH-65 which is a wonderful stretch.
There's a slight rough patch near Ramoji Film City until you hit the toll road which is sublime. The landscape along the route is pleasing and you'll find yourself around hills, farms, and large water bodies along the way. There are also a lot of pit-stop options along the route. From food courts to stand-alone restaurants and dhabas, there are a lot of places that are perfect highway pit stops. 7 Food court is one of them where Feast House is located.
7 Food Court – Rayangudem, Suryapet
We left home at about 9 AM and were at 7 food court around 11:30 PM. The drive was smooth except for the small rough patch in the middle. Of all the recent road trips I've done, the 7 food court is one of the best I've been to. Located off NH65, 7 food court is massive. It is surrounded by trees all around and with birds chirping and cool breeze blowing, couldn't have asked for anything better.
In terms of parking, it has plenty of space to house a huge number of cars. The food court itself has many outlets with different food options to choose from. Dominos, Creamstone, Starbucks, Feast House are some of the popular eateries located in the food court. There are also other small shops from where you can buy condiments, toys and other stuff. They have clean and large washrooms as well. Even if you don't want to eat and just want to take a break, this food court is perfect for it.
Let me now share my thoughts on Feast House. Read on.
Lunch Pit stop at Feast House – Review
Feast House is probably the largest outlet in the 7 food Court. Once you enter the food court, there's a red carpet that leads to the Feast House. There's also a modified limousine version of the famous Premier Padmini. It's a spot where many take photos and why not, not every day you get to see it.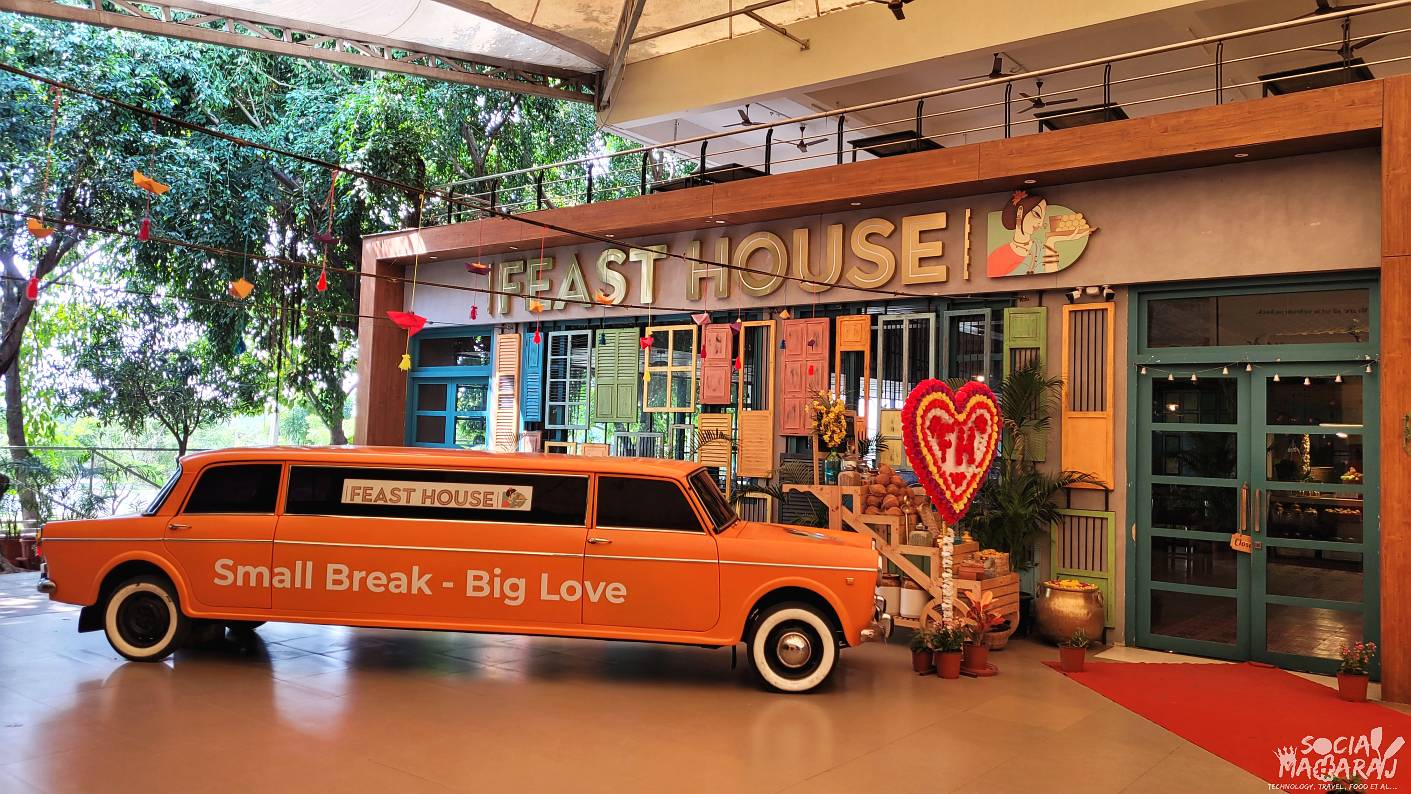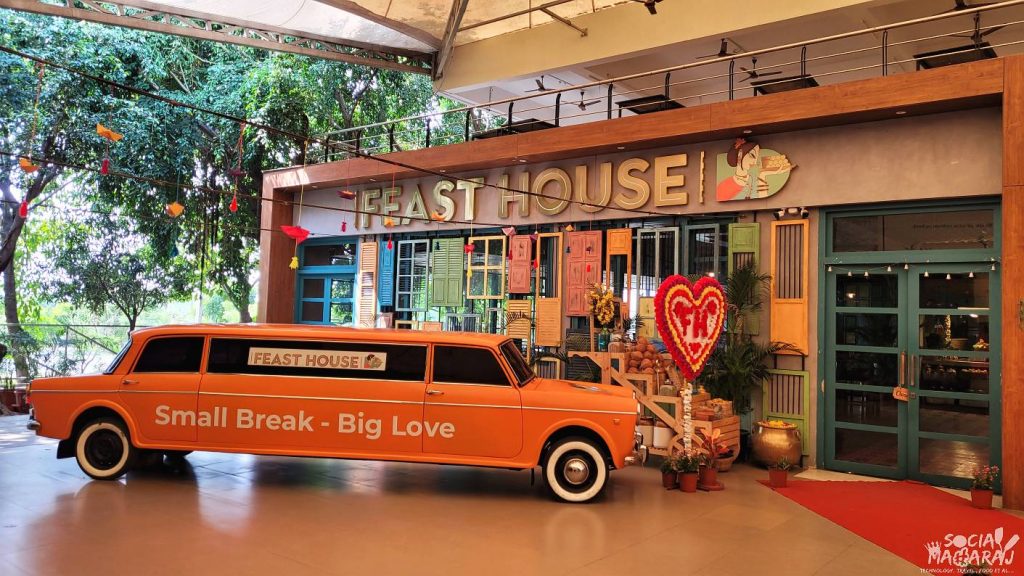 One thing you must note is Feast House timings. It's open from 7-10 AM for breakfast and 12 – 3 PM for lunch and 7-10 PM for dinner. While Google says, it's open all the time, it's not. I had to wait there for 20 odd minutes for the restaurant to open.
Refreshing Ambiance
Having traveled thousands of kilometers on Indian roads, I'm well aware of the condition of dhabas on highways. Most places have a very basic & minimal setup. But Feast House is exactly opposite. It's no less than a cafe/lounge in terms of ambiance. Extremely Instaworthy and every corner of Feast House is bustling with colors.
Amidst all the colors and decorative floors, you simply cannot miss the mural on the wall as soon as you enter. I mean you can spend hours just noticing various elements that are present. In terms of sitting, there's a basic setup, from small tables to larger ones, they have options. Since there was a chill in the air, we decided to sit by the window overlooking the highway. As the sun peaked in from the window, the whole place came to life. It felt like someone just increase the saturation of the whole place!
They also have this tradition of lamp lighting by the first few customers everyday. Since we were the first one that day, they asked one of us to do it. My mother went and did the honors of lighting the lamp and initiating the proceedings.
Food – Only Meals no A'la carte
Feast House serves classic Andhra meals for lunch. They don't have an a'la carte option. You do however have the option to add a few non-vegetarian options to your meal, but that's it. No rotis, rice, desserts, cold drinks, etc. can be ordered. That did come as a bummer, but that was fine as it wasn't a deal breaker for me.
It took a few minutes before we had banana leaf shaped thali with a banana leaf reaching our table. For my parents, this was the first time they were having an Andhra meal at a restaurant, so they were quite excited. The service started and soon we had all the items coming to our plate. I had requested them to fill my plate with everything first as I wanted to click a picture. But they have a fixed order they follow.
It started with two shots of watermelon and sugar juice as welcome drinks. Followed by Paniyaram and kachori sort of sweet thing. Paniyaram was one of the best I had in recent times, asked for multiple serves of it. Papad, Ragi Dosa, Podi, Gongura, Pachadi, and ghee followed suit. Dosa isn't quite a part of meals, but again no complaints! We were then served Bendakaya fry (Okra fry), Pappu, and Thotakoora Liver Fry, along with a tangy and yummy Pumpkin chutney. The fry and Pappu were delicious, just as I like them.
There was no poori in the meal, so we had a variety of rice options. Pulihora, Tomato rice, and plain rice were on offer that day. I had them with ghee-podi, Rasam, Sambhar, Pachi Pulusu, and obviously Perugu (curd). Sambhar was good, different from the sweet sambhar we get in Hyderabad. Pachi Pulusu was my favorite. Perugu was served from a clay pot and was thick and creamy. It had been ages since I had such creamy curd. Anam Perugu (curd rice) with some Avakaya (Mango pickle) was heavenly.
For desserts, there was colorful Rasgulla along with Semiya Payasam. The Rasgulla looked good but didn't quite amuse me. but The Payasm was the perfect ending for such a lavish meal. We spent about a couple of hours and loved every bit of it.
This meal with over 40 items costs just Rs 350++ which is extremely affordable – Rs 1257 AI for 3 people. I recently had similar lunch at Ishtaa Vegetarian restaurant which cost Rs 550++. Comparatively, Feast House was better in terms of variety, taste, and overall value for money.
Must Dine at Feast House
It was a Sunday and India was already out of the T20 world cup, so it made no sense to stay at home and watch the match. Instead, I decided to take my family for lunch at Feast House Suryapet. The ~120 km drive for lunch was totally worth it. From the warm hospitality to the food, everything was spot on at Feast House. Not every day do you get to experience such ambiance on Indian highways.
If you're driving down this road, I strongly recommend taking a pit stop at Feast House. Plan your drive in such a way that you reach here by 12 and have a scrumptious lunch. PS: it's a heavy lunch, so unless you're driving a shorter distance, be careful.
Overall, a wonderful dining experience. There are other places as well on the highway that I'll probably try. Until then, relish this post and plan a drive if you're in Hyderabad. One of the best experiences for sure. That's about it for this blog post,let me know what you think in the comments below. Tweet to me at @Atulmaharaj, DM on Instagram or Get In Touch.