About 8 months ago as India announced lockdown, I received a WhatsApp forward. It read, "Post the month-long lockdown, Modiji would address everyone as, Mere Pyaare Haathiyon!" (My dear elephants, the fact that everyone would be home without much physical activity) While I did have a good laugh, somewhere it the gravity of the joke hit me hard.
Having a desk job I knew, I was at a risk. That's when I turned to dance fitness on CureFit and it's been about 7 months I've been regular with it (albeit last few weeks since Diwali) During that phase I also realized that eating healthy was important too and that's when I started reading more about fitness food and healthy food.
Over the past few months, my eating habits have changed for the good. Barring the once a week Chilly Paneer order, I am eating fresh, home-cooked meals. But even with that one of the major challenges was to keep a check on the nutrients – Was I consuming the right nutrients required? Ensuring that all these three macronutrients are in the right ratio, can be difficult for most of us. That's when I came to know about Fitness Bowl Hyderabad.
My experience with Healthy Food in Hyderabad
Being a foodie, I've experienced a few places that serve healthy food in Hyderabad. For instance, there's Terrassen Cafe serving Vegan, similarly, there's Fab Cafe, Sage farm, Fruitose (closed now) to name a few. In terms of healthy food delivery in Hyderabad, there are quite a few however I tried Eat.Fit which apparently shut down. With all these places along with their healthy, fitness food offerings, there is always one question – am I getting the right amount of nutrients that I need?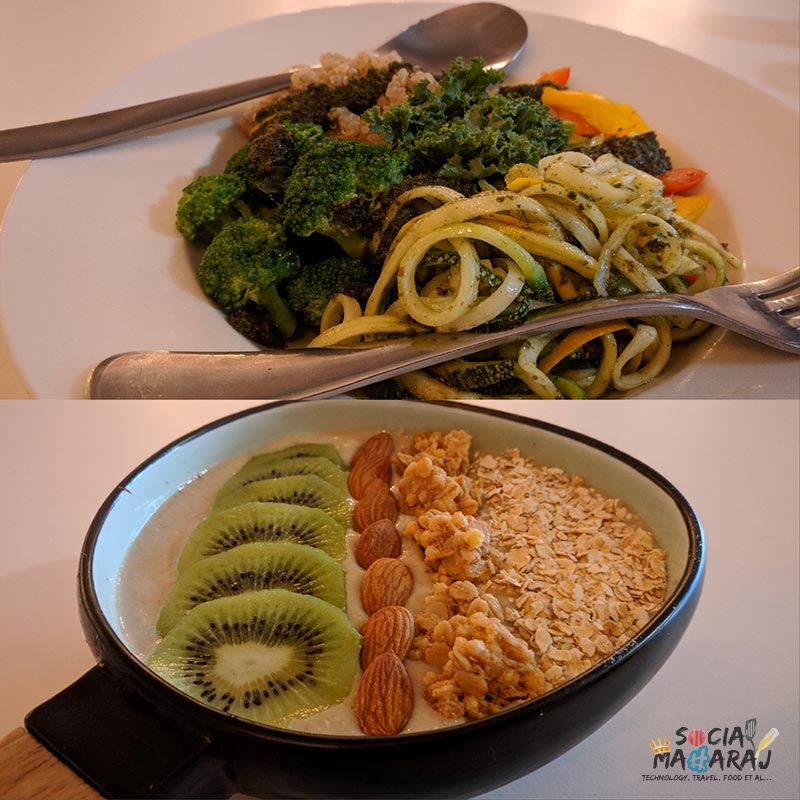 In fact, to understand more about nutrition, I enrolled myself in an online course on Udemy. (Didn't complete it yet) That's when I learned about macronutrients like proteins, fats & carbs, complex carbs, glycemic index, etc. So no matter what your goal is – weight loss, muscle gain, or simply a healthy lifestyle, the proportion of these macronutrients must be right. And that's where Fitness Bowl Hyderabad specializes in.
The genesis of Fitness Bowl in Hyderabad
Healthy eating being the core mantra, the team at Fitness Bowl took it up a notch. While most of us have the notion of healthy food not being tasty, Fitness Bowl is working to change that notion. Being the only healthy food delivery service in Hyderabad, they have an interesting modus operandi.
On their website, you first start by choosing what your eating preferences are: Vegetarian or Non-Vegetarian. Then you specify a goal, why are you eating healthy? Is it to Stay Healthy, Lose Fat, Keto Diet, or Detox Diet. If you don't know your goal, use their simple calculator to help you identify your goal.
You then simply choose a subscription plan starting from a minimum of 5 days and 1 meal a day to 75 days and 3 meals a day. The choice is yours. Considering that you'd want to try before choosing a subscription plan, they offer a 2-day trial where 3 meals would be delivered to you.
Fitness Bowl Hyderabad Review
I'm sure most of you would be wondering how is the fitness food from Fitness Bowl Hyderabad. I was sent a vegetarian lunch meal to try. Like I mentioned earlier, the meal consisted of all the 3 macronutrients and was weighed accurately. Fitness Bowl Hyderabad operates out of Madhapur, however, they deliver across the city from what I know.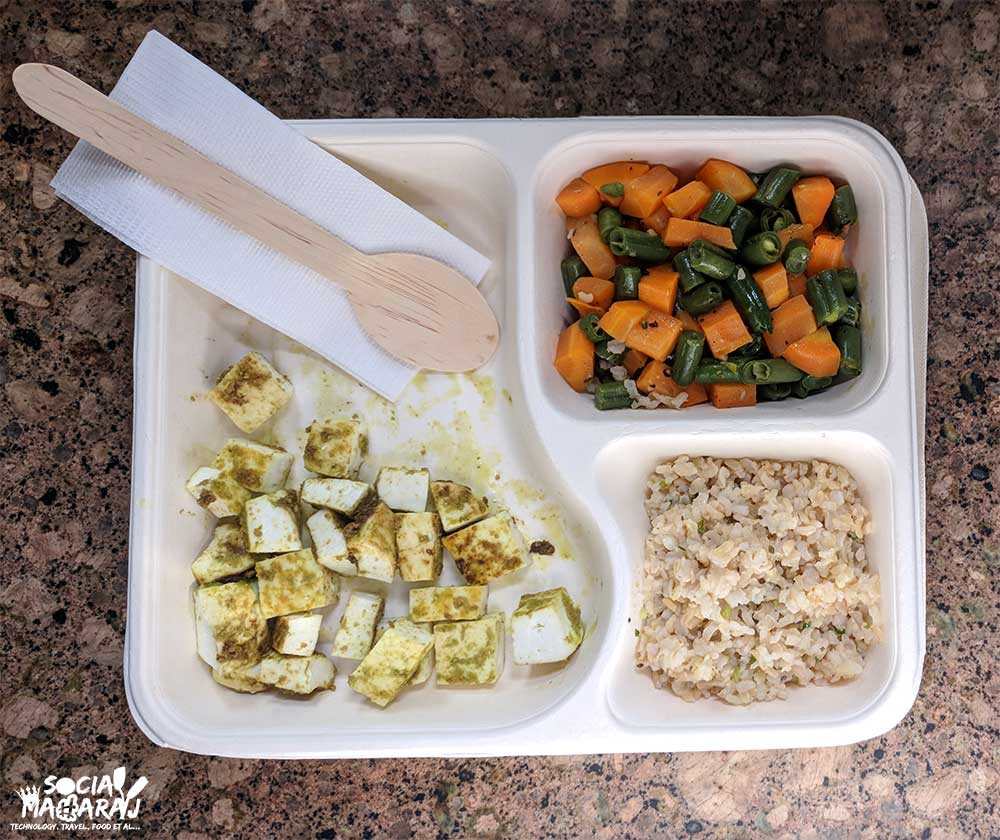 The item arrived in a nice biodegradable container. The plate had 3 items – Grilled Paneer, Brown Rice, and boiled vegetables. While I expected a bowl since it's Fitness Bowl, it wasn't one. (Just wanted to clarify that)
Moving on to the meal, the items were fresh and I could say just by looking at the vegetables and Paneer. Grilled Paneer was marinated with a tinge of coriander imli paste. With barely any oil on it and fresh Paneer cubes, I just loved this. I was in fact sad that the amount was less. But that's what you want – fixed quantity. So can't complain about it.


The veggies were nice and crunchy. Again no oil and sprinkled with a little bit of salt and grounded pepper giving it a good taste. Brown Rice was apparently pretty good. It was cooked (again) in very little oil. Had a tinge of garlic in it and a pinch of salt and pepper. Even with such fewer additives in terms of masalas, the whole meal was tasty.
Should you try Fitness Bowl Hyderabad? Definitely Yes
We all want to eat healthily but blame it on our routines, we barely pay attention to it. That's where Fitness Bowl comes in. You give them your fitness goal and they'll tell you what you need to eat. With an army of renowned chefs, Fitness Food from Fitness Bowl Hyderabad will surely tickle your taste buds.
However, a few things that I'd like to call out would be:
They could actually have a bowl with all the items mixed rather than a plate.
On the plate, they could mention the ingredients, their weights, and calories.
So you see, there's no complaint on the fitness food from Fitness Bowl from my side. I truly enjoyed it. Though the prices might seem slightly on the higher side, I'd highly recommend you a 2 day trial of Fitness Bowl. Chances are high you might extend it if you're really serious about your health.
That's about my review of Fitness Bowl Hyderabad. Do share your thoughts and tips on healthy eating. Also, let me know if you try Fitness Bowl in the comments below. You can also tweet to me at @Atulmaharaj, DM me on Instagram or Get in touch with me.