My first trip to Hyderabad was way back in the late 2000s. I was here on an educational trip from my boarding school. I had no idea that 14 years later, I'll come back again to the city. I moved to Hyderabad in 2014 for work and since then it's been an amazing ride. Being a vegetarian and trying out vegetarian food in Hyderabad is something that I have been doing for the last 8 years. Apart from taking my relatives to Charminar and Ramoji Film City!
One question that many people from other cities ask me is regarding vegetarian food in Hyderabad. Everyone knows that Hyderabad is famous for the Hyderabadi Biryani and Haleem. And hence many of them have a query regarding the availability of vegetarian food in the city.
I guess I can be the best food blogger in Hyderabad to talk about vegetarian food in Hyderabad. Trust me there are a lot of vegetarian restaurants in Hyderabad serving good food. From breakfast to dinner and desserts, you'll find a variety of food options on offer.
Restaurants for Vegetarian Food in Hyderabad – Updated 2023
There is a lot of Marwadi population in Hyderabad and hence the availability of vegetarian food in Hyderabad is good. The idea of this blog post is to have all the amazing vegetarian restaurants in Hyderabad in one place. I'll try to keep this list updated. Further, I've personally been to all these restaurants in Hyderabad so you can be guaranteed vegetarian food.
About this list, I have curated a list of restaurants that serve delicious vegetarian food. This list is divided into two parts:
Pure Vegetarian restaurants in Hyderabad
Restaurants serving good vegetarian food in Hyderabad
Note: The names of restaurants are in random order and don't indicate a rank or position.
Pure Vegetarian Restaurants in Hyderabad – Updated 2023
Tatva Fine Dining
A fine dining puer vegetarian restaurant in Jubilee Hills, Tatva is a popular place for pure vegetarian food. It has got good ambience, service and food. The food is mostly North Indian with curries, dal and rotis. The food is good, balanced in flavours with good preparation. The menu keeps changing often and you'll have something new whenever you visit. The Mushroom Galauti and Til Aloo Tikki are my favourites here.
Read my detailed review of Tatva.
Smoky Pitara
Another restaurant right next to Tatva that deserves a mention is Smoky Pitara. A pure vegetarian restaurant with a banquet hall, Smoky Pitara has a buffet as well as an a la carte menu available. Their food is multi-cuisine so you can get your favourite Paneer curry and also that fiery desi Chinese Chilly Paneer. I have not tried their buffet as yet, however, their Dal Makhni is pretty good and flavourful.
Read more about my experience of Smoky Pitara.
Mahamudra
If you're looking for a simple, homely and no-nonsense meal, Mahamudra is the place to be. Part of the Isha foundation by Sadhguru, Mahamudra serves delicious vegetarian food sans onion, and garlic too. They have an unlimited south Indian buffet on weekends and a la carte on the other days. The place is often crowded and the ambience of the place is as simple and classy as it can get. The buffet items are quite good and comprise authentic south Indian dishes.
Read my detailed review of Mahamudra.
Rajthali
If you are craving a Rajasthani/Gujarati thali in Hyderabad, Rajthali is one place you can visit. Located in Jubilee Hills, Rajthali is an unlimited thali restaurant with a rotating menu and good service. The thali has a variety of dishes from Gujarati and Rajasthan like Undhiyu, Gatte ki Subzi, Kadhi, and Khichdi to name a few. They also have a free thali offer if it's your birthday!
Read more about my experience at Rajthali.
Chutneys
What Bikanervala is to Delhi, Chutneys is to Hyderabad. A chain of south Indian restaurants in the city, Chutneys is a popular restaurant. You get a consistent experience in terms of food, ambience and service irrespective of the branch you visit. Be ready for some waiting, especially during weekend lunch and dinner hours. As the name suggests, they serve a variety of chutneys – hence the name Chutneys. My favourite here is Guntur Idli and MLA pessarattu dosa. I also love their thali, but they have stopped serving it now 🙁
Read more about my experience at Chutneys.
Subbayya Garri
If you are new to the city and craving some authentic Andhra vegetarian food in Hyderabad, Subbaya Garri is one restaurant that you can try. They have multiple outlets in the city and I've been to the one in Kondapur and KPHB colony. Priced under Rs 300, this unlimited meal on a banana leaf is worth a shot. There are more than 30 items served and all of them have good taste and rich flavours. The Gutthi Vankaya (Brinjal curry), Rasam, Sambhar, Rice and the three podis are not to be missed. Also the bobbatlu and payasm.
Read more about Subbayya Gari.
Mumbai Masalaa
Mumbai Masala is one such restaurant serving good vegetarian food. They have branches in Narayanguda and Secunderabad. A multi-cuisine restaurant, I like their Punjabi dishes. The flavours are good and so is the service. They do have a banquet hall for parties and celebrations. They also have a separate page for typical Mumbai street food dishes like Vada Pav, Pav Bhaji etc. and I must say that they are quite good.
Read more about Mumbai Masalaa.
Taaza Kitchen
Looking for a budget-friendly vegetarian breakfast in the city? Taaza Kitchen in Madhapur is the place to be. Cousin of the famous Taaza Thindi in Bangalore, this restaurant is a popular place in Hyderabad too. From Idli Vada and Masala Dosa to Chow Chow bath and Filter coffee, everything here is affordable and delicious. I've been here multiple times for breakfast and loved it always. The restaurant opens at 7 am and I suggest being there as early as possible to avoid the rush.
Read more about Taaza Kitchen.
Panchkattu Dosa
If you're craving dosas and want to try a Rayalseema version of it, head to Panchkattu Dosa. This food cart serves some of the best crispiest dosas in the city. They also have multiple outlets in the city – Madhapur and Banjara Hills. Their Neyyi Karam Dosa is loved by all and also their Ghee Podi idli is a hot seller. The place is crowded during breakfast hours and I recommend eating here and doing a takeaway. Also, you MUST try the Nannari here – a classic summer drink.
Read my experience of Panchakattu Dosa.
Ohri's Jiva
The first pure vegetarian restaurant I visited after moving to Hyderabad was Ohri's Jiva. Located in Begumpet, this used to be our go-to place. A lavish vegetarian spread with desi Chinese, Punjabi and South Indian dishes. The menu kept changing and there was always something to look forward to. The ambience is also good and so is the service. A perfect place to organize parties and large gatherings.
Read more about my experience of Ohri's Jiva.
A La Liberty
Another competitor to Ohri's Jiva is A la Liberty. They have outlets in HiTech city and Banjara Hills. A restaurant that serves both a la carte and buffet, A la liberty has a loyal customer base. The food here is good and you have a lot of options to choose from. They also have some of the other food festivals often and thus you can expect something new whenever you visit.
Read my review of A la Liberty.
If you're visiting the Charminar side, then the below vegetarian restaurants are something you should try.
Govind Ki Bandi
Located within a walking distance of Charminar is Govind Ki Bandi. A food cart serving delicious idlis and dosas for the last 40 years. Govind ki Bandi is popular amongst the locals and is a hot breakfast joint. I love their Masala dosas and their Tawa idli is to die for. More than the dosas, the process is something you must watch. Prices are slightly on the higher side for a food cart, but surely something you must try.
Read my experience of Govind ki Bandi.
Anand Bhavan
Looking for a place for lunch around Charminar? Anand Bhavan is where you should go. They serve this delicious south Indian thali for lunch that's pretty good. With a variety of curries, pooris and rice, this is a perfect meal. They also have the regular idli, dosa, and other items as well. It's the only pure vegetarian restaurant in the vicinity. There's also a softy cone guy at the entrance, so you can grab one after you're done with the meal. It's my mom's favourite place.
Read more about Anand Bhavan
Agra Mithai Ghar
If you're craving some chaat, Samosa or even poori subzi, Agra Mithai Ghar near Charminar is the place to be. It's on the way to Govind ki Bandi. The small shop has a couple of tables to sit at and eat. The setup is basic but the food is good. The samosas are pretty good for Hyderabad standards (if not the best). Poori Subzi was pretty good and the masalas were perfect. Top it up with a glass of buttermilk or a plate of Ras Malai and you're good to go!
Read more about Agrawala Sweets and other vegetarian places around Charminar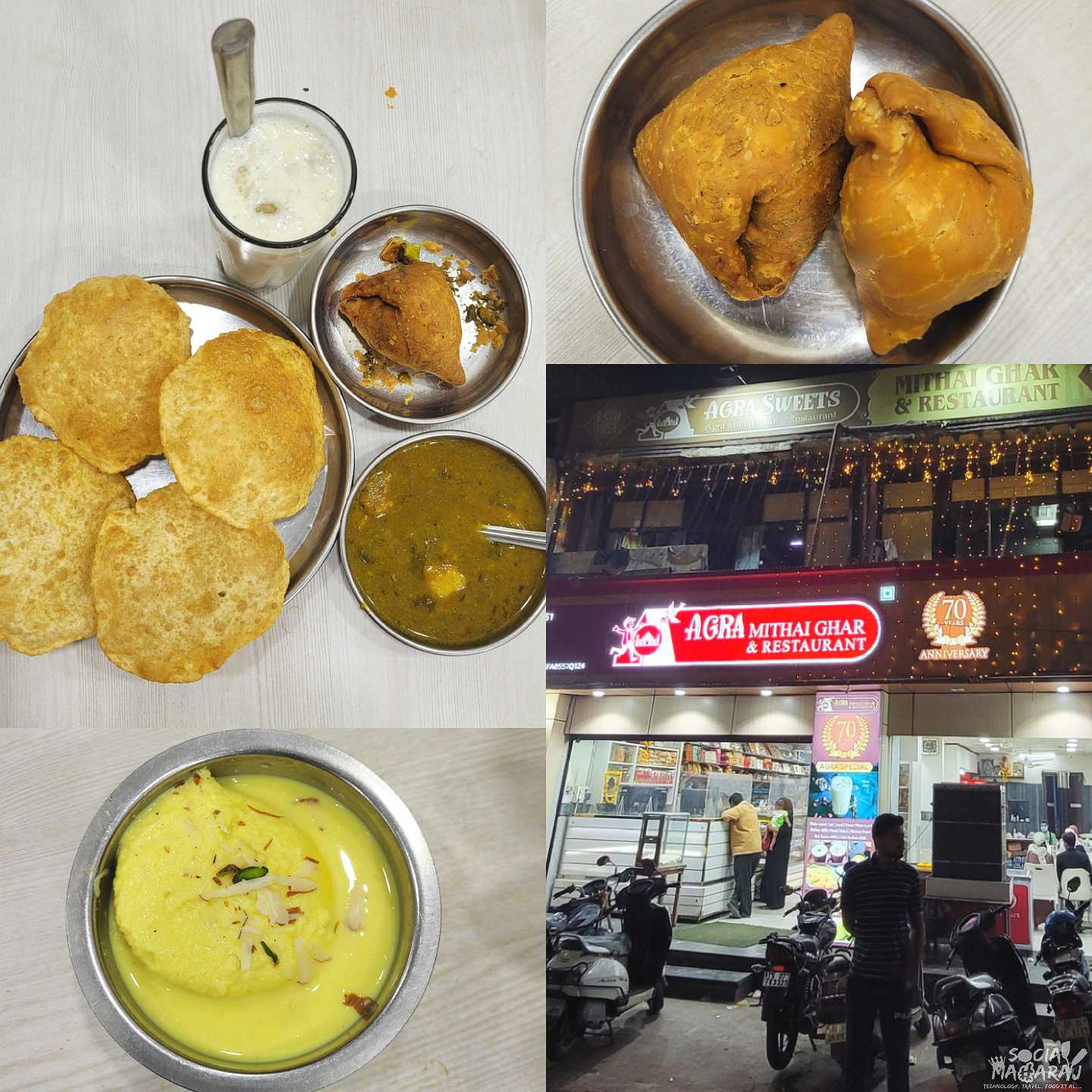 So these were some of the places serving pure vegetarian food in Hyderabad. If you or your family prefer dining only at pure vegetarian places, you can go to any of the places mentioned above.
Ishtaa Pure Veg
One of the recent additions to pure vegetarian restaurants in Hyderabad is Ishtaa pure veg. Located right next to Ikea, Ishtaa has become a favourite. You'll get Chutneys vibes but this is much larger and the menu to is slightly different. I've tried their breakfast, lunch and dinner and must say that the food is good.
The filter coffee, Uggani Bajji, Dosa and Idli for breakfast is pretty good. The sambhar tastes different, slightly sweet. For lunch, their thali is quite famous. I've tried their banana leaf platter and it was good too. For dinner, I tried their north Indian offerings which were surprisingly good. Overall a good place and prices are according to the area. Read my Ishtaa review.
Pragathi Tiffins Center
Pragathi Tiffins is an iconic eatery in Hyderabad that has been around for over two decades and is immensely popular. It's located in Koti opposite Pragathi Women's college. Although it may not be the cleanest place and lacks seating options, it attracts a large crowd during breakfast and lunch hours.
The chutney is delicious and the Idlis are considered some of the best in Hyderabad. Watching the dosas being made is also a satisfying experience, and they are cooked to perfection.
The prices are quite reasonable, with most items costing an average of Rs 40. I tried four items and only spent around Rs 200, which is an excellent value for the amount of food I received. Overall, visiting Pragathi Tiffins is highly recommended and a worthwhile experience for your time and money. Read my blog post on Pragathi Tiffins Center
Signature Grills
Located inside Thrill City, Hussain Sagar is Signature Grills. In my experience, they have one of the largest pure vegetarian buffets spreads in Hyderabad. The live grills option is especially appealing to those who avoid barbecue restaurants that serve meat.
The starters are enjoyable, and the chat items are some of the best I have tasted as part of a buffet. The main course is also pleasant, and the desserts and drinks complete the meal. With a price of Rs 899 AI, it is highly desirable and offers great value for money, especially with the range of options available for vegetarians.
I strongly recommend Signature Grills to vegetarians in Hyderabad, not only for the delicious food but also for the good service they provide. Read my blog post on Signature Grills.
Masala Republic
From the house of Dadu's is Masala Republic, a chain of pure vegetarian restaurants serving some lip-smacking delicious food.
This pure vegetarian restaurant offers a fantastic experience, whether it be through its appealing ambiance or delectable cuisine. Their menu boasts a range of unique and tasty dishes, including the Karari Roomali Roti, Paneer Cigar, Baigan Bharta Cornetto, Chur Chur naan, and ice creams – all of which I highly recommend.
It's an excellent spot to enjoy quality time with your friends and family, and you won't be disappointed with the food. The restaurant offers a wide variety of options that cater to everyone's preferences. Read my blog post on Masala Republic.
Restaurants serving good vegetarian food in Hyderabad
Moving on, there are quite a few restaurants in Hyderabad that serve both vegetarian and non-vegetarian food. The list below has a list of such restaurants based on my experience of eating vegetarian food there.
Exotica
A rooftop restaurant, Exotica is one of the most popular restaurants in the city. They have two outlets, one in HiTech City and the other in Banjara Hills. Their brunch is quite popular if you plan to have it. Otherwise, their a la care menu is good too. I've had multiple dinners here and always had a good experience. Tandoori Broccoli, Kebab platter, Corn Palak Paneer and Pan Mojito are my favourites here. Also, their Zafrani Dal Makhni is possibly the best in the city.
Read more about my experience at Exotica.
Vivaha Bhojanambu
If you are game to try local food, then Vivaha Bhojnambu is a place you must try. They serve an authentic thali during lunch hours only. Other times, you can try their a la carte menu. My favourites are the Ghee roast Paneer, Gutthi Vankaya Pulao, Annam Pappu and the Sithaphal delight. Their Paneer Potlam Pulao is good too. Not to miss the goli soda here. They also have multiple branches.
Read more about my dining experience at Vivaha Bhojnambu.
Rayalaseema Ruchulu
A popular place amongst the locals is Rayalaseema Ruchulu. Serving some authentic Rayalaseema dishes, it's a place worth trying. They have a lavish buffet with some of the iconic local dishes. From Ragi Sangati to Annam Chaaru, Bendakaya Fry and Pachi Pulusu, you'll have a feast here. It's a proper sit-down restaurant and has multiple outlets in the city. From what I know, their branch in Jubilee Hills only serves buffet, other outlets have a la carte only.
Read more about Rayalaseema Ruchulu.
Anna Native
A restaurant that opened just around the lockdown time is Anna Native. Located in Sainikpuri – an area quite far from places like Jubilee Hills and Gachibowli. It's a wonderfully themed restaurant with an equally good menu. They have a proper thali for lunch with local favourite dishes. I've tried their a la carte menu and loved the Gutthi Vankaya curry. Their rice options are also something you could try.
Read my review of Anna Native.
Pakka Local
This one is located in Banjara Hills and Kondapur. A movie-themed restaurant, Pakka local has a good ambience. I've been to the one in Banjara Hills that has both indoor and outdoor seating options. In terms of food, they have quite a good variety of local favorite dishes. I totally loved their Annam Pannu, Spicy basket and Pachi Mirchi Pulao. Even the rasam they served was pretty good. The aim of the restaurant is to promote local food and guess they are doing it right!
Read more about my experience at Pakka Local.
Simply South
Celebrity Chef Chalapati Rao is the man behind this chain of restaurants in the city. Simply South is a popular restaurant for south Indian food. The menu is carefully curated and has dishes from every southern state of India. From rasam vada from Tamil Nadu to Appam & stew from Kerala, there's quite a variety. I've been to their Jubilee Hills branch and tried their thali. The thali is good and has quite a few dishes. If you're looking for simple south Indian food, you should check out this place.
Read my review of Simply South.
United Kitchens Of India
Another popular restaurant that has been here for some time is United Kitchens of India. With outlets in Jubilee Hills and Karkhana, this is a popular multi-cuisine restaurant. Their menu is probably the fattest among the other restaurants – that's because they have dishes from various states of India. From Bhutteyan de Kebab from Punjab to Paneer Chop from Bengal, there's everything for everyone. The ambience is also pretty good and you'll have a good dining experience.
Read my review of United Kitchens of India.
Grand Trunk Road
If you're looking for a well-themed restaurant then Grand Trunk road is worth a try. It's a dhabha-themed restaurant in Madhapur that serves buffet and a la carte. The buffet I was told was stopped during covid, I'm assuming it should be open now. The buffet has a decent vegetarian spread. Their a la carte also has some good starters and desserts. The mattha/chaas that I had here were pretty good. It is popular amongst office goers and hence can be crowded for lunch and brunches.
Read my review of Grand Trunk Road.
The restaurants below are fine dining restaurants at luxury hotels in Hyderabad. Hence the pricing of these restaurants is on the higher side. Nonetheless, all of them have a consistent dining experience.
Food Exchange- Novotel HICC
Novotel HICC is one of the popular hotels in the city. I have done a couple of staycations here and had a wonderful experience. In terms of food, their restaurant Food Exchange is quite busy at all times during the day. Be it breakfast or dinner, it's almost full all the time. I love their breakfast buffet – especially their south Indian options. Talking about the main course, I like their vegetarian preparations. You can share your requirements with the chef and you'll not be disappointed at all. The menu again keeps changing, so you can check what's on the menu when you visit.
PS: Call the chef and tell them Atulmaharaj maybe you can get a good experience 😉 Read my Food Exchange experience.
Bidri
Bidri is the Indian restaurant at Marriott, tank bund. A popular restaurant known for Indian cuisine, Bidri is a place where I've gone multiple times. I've had their a la carte as well as the set menu and liked both of them. The Kaali dal / Dal Makhni was pretty good the last time I was here. They also have live music performances. That coupled with the ambience just elevates the whole dining experience. A set menu is a popular option that you should try.
Read more about my Bidri experience.
Once Upon A Time
If there's one restaurant that I can recommend any time is Once Upon a Time at Greenpark hotels. A popular restaurant in the area, I love their set menus. They have a la carte as well as a set course meal and I highly recommend trying the latter. There are 2 non-vegetarian and one vegetarian menus that you can choose from. Each menu has a few starters, main course and desserts. The menu changes often and every time the chef leaves you wanting for more. A must try in the city, especially if you are in this part of the city.
Read my experience of Once Upon a Time.
Still worried about Vegetarian Food in Hyderabad?
These were just a few of the many restaurants that serve good vegetarian food in Hyderabad. I've been to all of these and hence can vouch for the good food here. My goal is to make this the ultimate list of vegetarian restaurants in Hyderabad and I'll ensure it happens. I hope you found this list to be helpful.
If you're a Hyderabadi and feel that I've missed out on any restaurants, let me know in the comments below, tweet me at @Atulmaharaj, DM on Instagram or Get In Touch.
If you're visiting Hyderabad and want suggestions on places to eat, feel free to reach out to me.