This is my final blog post. (For 2020 ;)) I've been publishing the Socialmaharaj Blogging Report card for 5 years now and this is going to be the 6th year. The blogging report card allows me to look back at the year gone back and sort of reliving the moments. However, in 2020 we all know what just happened – humanity was caught off-guard as COVID hit hard and everything came to a standstill. It's close to 10 months now that I've been working from home. The year allowed me to reflect on all that has happened and adapt to the new normal.
As always this blog post is going to be about blogging statistics of Socialmaharaj. In case you are interested to see my previous blogging report cards, you can click these individual links to know more -> 2019, 2018, 2017, 2016, and 2015. So here's a look back at 2020 – Socialmaharaj Blogging Report Card.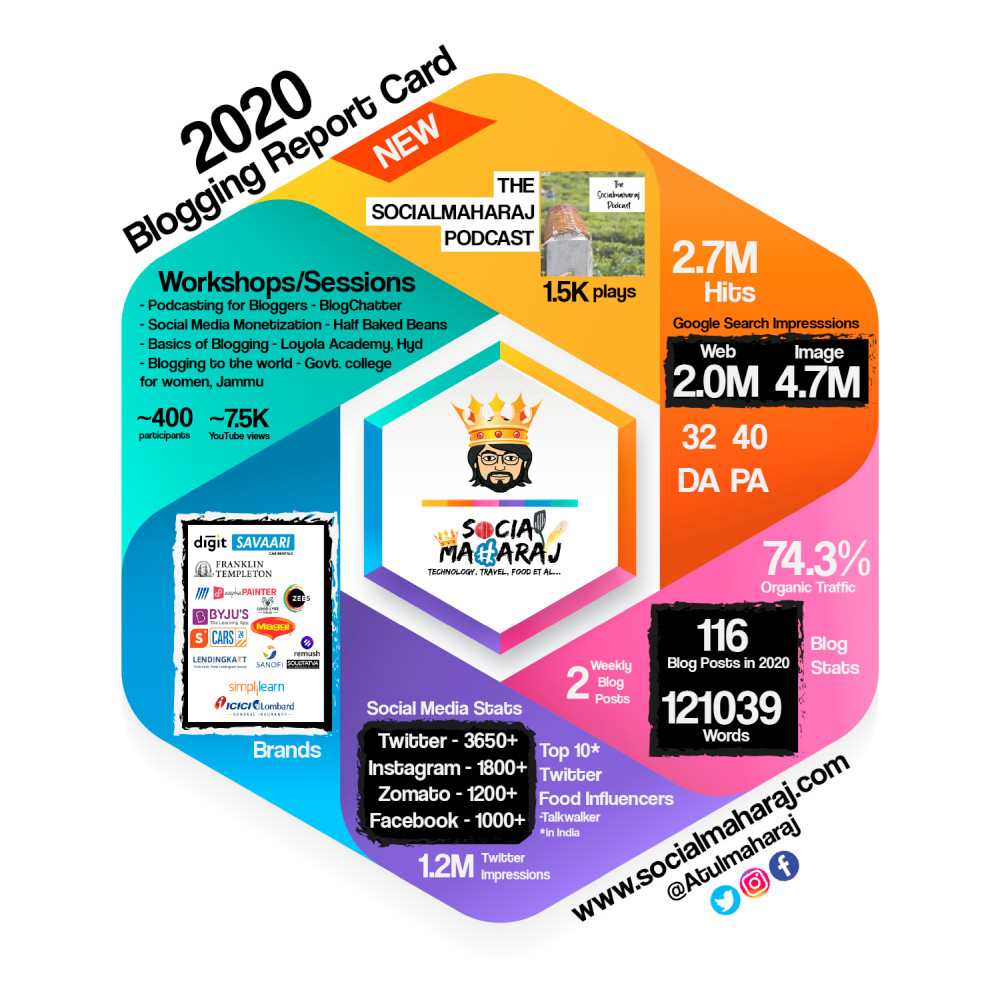 Socialmaharaj Blogging Report Card – 2020
It was a tough year for everyone and it was no different for Socialmaharaj. The year did start on a good note with few events, however, things nose-dived since then. My personal goal of posting at least 2 blog posts a week was getting tougher with every passing week in April, May. Further, the blog hit the lowest traffic in April-May – lowest in over a year. I won't deny but I had few sleepless nights as I was unable to figure out what was going on. Some of my top ranking blog posts on travel were hit hard – I don't know if it was a Google algo update or people just stopped searching about it.
Anyway, I was quick to create a strategy for the next half of 2020 to bring back things on track. To my surprise, things not only come back on track but the blog even witnessed the highest views in its history of 8 years in the last two months! That's something I'm really proud of about this year's blogging report card.
In terms of Social media presence, Twitter remained my biggest and the most active platform followed by Instagram and Facebook. Though the organic growth in terms of followers (what most people look for) has been on the slower side. That's mainly because I haven't been dedicating a lot of time as I do for blogging. Below is the snapshot of Socialmaharaj Blogging Report Card 2020 – month wise.
Month-wise summary of Socialmaharaj in 2020
January
The last year ended with a trip to Bidar as I didn't travel much in 2019 so that was a consolation trip. Neither did I know that 2020 was going to be worse! So I had a few blog posts on Bidar Trip, to begin with. That was followed by the MTR Telugu Ruchulu Food festival where I was invited to experience an array of foods from south India.
I also went to Delhi to attend an event on Power and electricity in Greater Noida – a short 2-day trip. This was followed by a visit to Sofrehh – one of the best cookies in Hyderabad. Also, like my yearly ritual, I had my New Year's dinner at Fairfield by Marriott – good food in budget, but there were too many people.
Fairfield by Marriott Hyderabad New Year Dinner

Hyderabad to Bidar Road Trip by Scooter

Taj Mahal lookalike Hazrat Multani Baba Dargah

Delicious Beverages at Sofrehh

Sandwich and cookies at Sofrehh

MTR Telugu Ruchulu – MTR Telangana Food Festival Hyderabad

Food at MTR Telugu Ruchulu Food Festival

Beautiful Chaukandi en route Bahmani Tombs, Bidar

Mahmud Gawan Madrasa

Solah Khamba Mosque inside Bidar Fort
February
If there was one month that I was eagerly looking forward to was February. You'll know why 😛 The month started with a meeting with the Sri Lankan Airlines chief here in Hyderabad where we discussed Sri Lanka and tourism. It was followed by a trip to Amritsar and further on to Kartartpur Sahib in Pakistan. My dream of crossing the India-Pakistan border on foot was fulfilled finally! Do read my entire Kartarpur Sahib series.
That was followed by a trip to Delhi's Auto Expo 2020 – a lackluster show 🙁 I was back in Hyderabad and back to eating. Started by attending Zomaland – food, and music at its best! Went to Iron Hill Cafe's newest outlet followed by a perfect evening at Enchante Cafe – some of the finest pastries! This has to be the highlight of the Socialmaharaj blogging report card 2020
Kartarpur Sahib Gurudwara in Pakistan

Bus to Kartarpur Sahib Gurudwara

Visiting Kartarpur – Pakistan Immigration

Crossing India Pakistan Border – Visiting Kartarpur Corridor

Welcome to Pakistan – Visiting Kartarpur Sahib

Dal Makhni, Rajma, Kadhai Paneer and Roti

Concept cars at Auto Expo 2020

Electric Vehicles at Auto Expo India 2020

Zomaland Hyderabad 2020

Delicious food at Zomaland Hyderabad 2020

Ambiance of Iron Hill Cafe – Santorini in Hyderabad, Indoor & Outdoor Seating

Iron Hill Cafe Review – Food Served

Heavenly Beverages at Enchante Cafe

Delicious Desserts – Guess which one is which !
March
COVID-19 was already spreading in India, and March was the last month I ventured out before the lockdown kicked in. My last dining experience was at Carpe Diem – first time at a night club for me! I also shared a few blog posts from my Delhi Trip of dining at Local CP, Art House Cafe. Now I realize I haven't posted about few other places I visited in Delhi! With the lockdown in place, the movement was restricted, and was getting tough to get ideas. Wrote a piece on booking online platform tickets in India based on my experience of buying on
April
With on travel and dining, I resorted to my way of overcoming writer's block – going through old photos. Shared my experience of boarding school at New Era Panchgani. Share a couple of review posts on WP Rocket – a caching plugin, Samsung Galaxy S20+ based on my hands-on review. Also shared my experience of a 40hr bus ride from Delhi to Bangalore!
Around this time a WhatsApp forward landed in my inbox, "Modiji in his next address to the nation would greet us as Mere pyaare haanthiyon (My dear elephants) I had a good laugh, but somewhere it struck me hard. So I joined the Cult Live classes. I also shared my prior experience of using Bounce bikes.
Play area in front of Rezwan Dormitory at New Era High School Panchgani

New Era High School Panchgani Campus

Dormitories at New Era High School Panchgani

Avoid buying Samsung Galaxy S20 Plus in India

Delhi to Bangalore Bus Ride Experience

Cult Live Class – 5 Things to know

Bounce Bike Rental Hyderabad Experience paid ₹1425 !
May
May was when I was settled in with my work from home schedule and started spending time cooking too. Made some Watermelon Popsicles, Mamidi Tandra & Khurchan Upma. Apart from that I along with some Twitter friends organized a #VritualFoodiesMeetup and we were trending at 14 in India! It was even covered in a local newspaper! It was also when Cult decided to charge for their Cut live membership, which I eventually subscribed to. I also received a box of mangoes about which I wrote a little later.
June
In June also I didn't step out of my house so the time was spent writing about my earlier experiences and cooking days. I made an Eggless Instant Mango Cake which apparently was a hit on the internet! I also wrote a blog post about my memorable road trips in India cherishing my road trips. Around this time, folks from Paper boat also sent in some really good buttermilk offerings.
While the Indo-Chinese tensions were flaring, I also wrote a detailed post on Non-Chinese smartphones in India. It was a well-received blog post. June was also when I started The Social Maharaj Podcast! You can listen to the episodes here.
July
It was around this time TikTok was banned and I wrote a piece on why it's important for digital content creators to have their own platforms to share content. Cooking also continued as I made Rajma Soyabean Kebabs as I started eating healthy. Was part of an Allergy-Free campaign by Sanofi to raise awareness about allergies. Bought a couple of microphones for podcasting – Boya M1 and Fifine K670. Did a collaboration with ICICI Lombard insurance on the importance of health insurance in COVID times. This was also when I order food first time in 5 months from Swiggy & Zomato.
Rajma Soyabean Kebab Recipe – Healthy Vegetarian Protein Rich Kebabs

Boya BY M1 Review – Cheapest Podcasting Mic in India ?

FiFine K670 Review – Best Budget Microphone in India ?

Active Lifestyle. Photo by Artem Beliaikin from Pexels

Swiggy vs Zomato Covid 19 Delivery Review

Health Insurance Guide for Beginners

Coke Zero vs Diet Coke – the startling differences
August
While August is considered a month of holidays and celebrations, it was completely different as every day was spent at home. I ordered food via Eat.Fit which apparently closed down after that 🙁 I did a couple of live sessions on podcasting with Blogchatter and used my DSLR camera as a webcam. I also explored Google Forms custom auto-response which is quite helpful. I was also gifted a plantable rakhi which was new for me. That was all that I did in August.
September
September was a rather special month as I got my iPad delivered which I won at a contest at work. I won an iPad 7th gen. Yaay! I experimented with using the iPad as a laptop since it was too big for my liking. (But now quite comfortable with it) This was also when I reviewed a few TikTok alternatives Made in India apps by Zee5 and Remush. And September was also when I first stepped out of my house to dine at Ohri's Eatmor. They shut down De Thali in Begumpet 🙁
October
While I stepped out for the first time in September, I also took the first flight in October to Lucknow. The experience was totally different as I saw most people weren't concerned about the virus spread, though the airlines took all the measures. While I was in Lucknow, I also heard this jingle Gadi Wala aaya ghar see kachra nikaal. Started by reviewing a package from SoulTatva organics – a brand started by my school friend.
I also purchased the Case U Stylus for iPad – and ever since I spend time sketching and coloring on my iPad! Further, this was also the time when my web hosting for this blog was near expiry. While Siteground renewal charges were high, I explored and closed in on Digital Ocean. So there were a few guides I wrote on VPS for beginners and 1GB VPS optimization tips along with how to move WordPress from Siteground to DigitalOcean.
November
Things had started to get to normal but our work from home was extended till January. Started by reviewing Microsoft Clarity a new Google Analytics contender. Post that I reviewed the pure vegetarian food from Meri Rasoi – and have become their fan ever since! As facemasks became common, I reviewed the FaceMask 2.0 which is a transparent one with no fogging! As I had started eating healthy, folks from Fitness Bowl sent in their meal for review as well. I also conducted an online session of Social Media monetization with Half Baked beans Lastly, learned and wrote about Byju's Give initiative to donate to educate.
5 Killer features of Microsoft Clarity

Face Mask 2.0 Review – Mask of Millennial

Meri Rasoi Hyderabad Month End Special Meal

Deccan Burgers Review – Desi Burgers with Hyderabadi Twist

Best Street Food in Hyderabad – Sindhi Colony Food Walk

Fitness Bowl Hyderabad Review – Healthy Food delivery in Hyderabad

Samsung Galaxy M21

Donate to Educate a child with Byjus Give
December
December has somehow always been a month where I met people and attended events and workshops. Irrespective of how the year was, I did meet a lot of people. Two things that I'm super proud of are the online blogging sessions I took for the students of Mass Comm from Loyola College, Secunderabad, and for students from Govt. College for Women, Jammu. Always love talking about blogging.
The month started with the yearly Hyderabad Insta Food Meet 3.0 where I met so many foodies from Hyderabad. I also purchased the Samsung Galaxy M21 for my dad so had a review about it. Reviewed some healthy, organic, superfood powders from GoodLyfe. This was also when I attended a food review session at Guilt Trip Banjara Hills – my last dine out of the year.
Considering the scenario outside, my family isn't comfortable dining out. So this is going to be the first time in last 5 years that I won't be dining out on New Year's Eve.
See you in 2021
That's about it for this year's Socialmaharaj Blogging Report Card. While we all thought that 2020 was over, a new strain of the virus is already creating ripples across the globe. I can't comment on anything as to who the things would go. However, I know that I have some exciting content coming up. This is all because I got time to explore my hobbies which I otherwise spent commuting to work.
In 2021 too I hope to write 2 blog posts every week and interact with more and more people on Social Media. Also, would be reading more and recording more podcasts too. (Fingers crossed) If possible I'd love to meet more amazing people too. So that's it from 2020. See you in 2021.
Also, you can reach out to me by dropping a comment below of sending a DM to @Atulmaharaj, DM on Instagram of Getting in touch with me 🙂
Happy New Year!